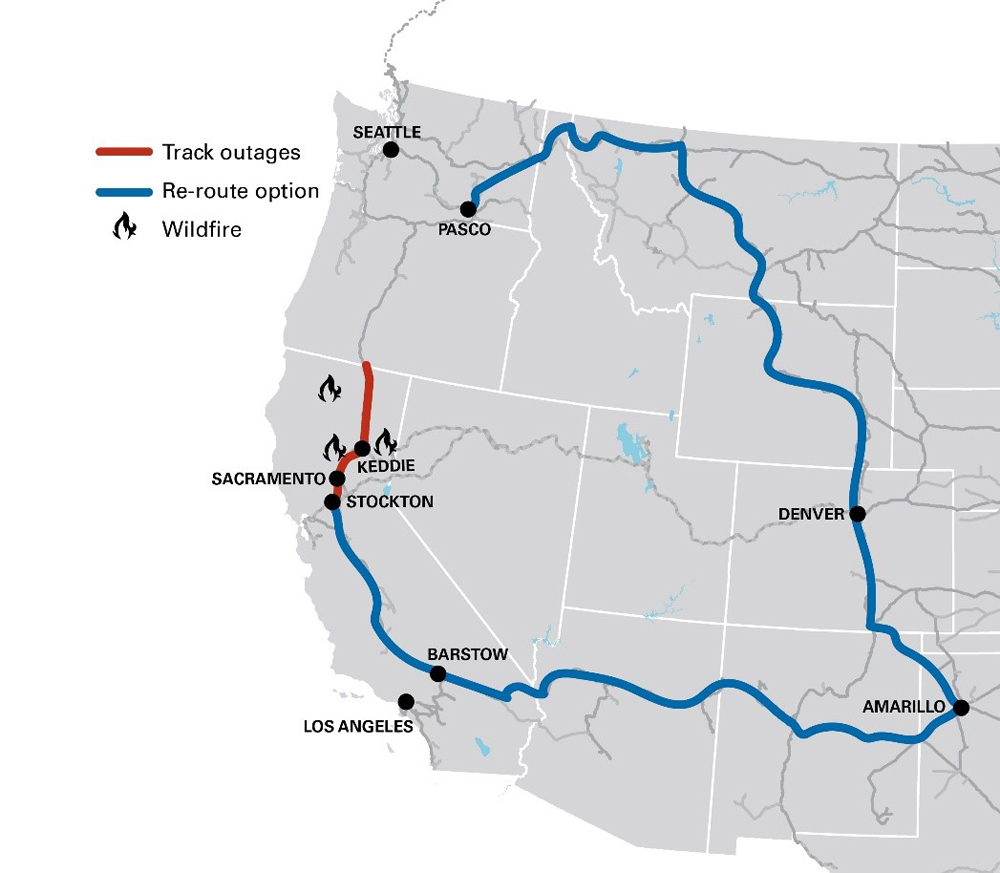 Union Pacific's Feather River Canyon route in Northern California has been shut down by wildfires, but the railroad says its main north-south route on the West Coast, the I-5 corridor, could reopen sooner than original estimates.
Meanwhile, BNSF's Inside Gateway route, which makes use of use of part of the UP Feather River route, also remains closed.
A Tuesday message to customers from Kenny Rocker, UP's executive vice president, marketing and sales, says the I-5 corridor is now estimated to reopen in mid-August, as work continues around the clock to replace the Dry Canyon Bridge near Weed, Calif., and about half the damaged track has been replaced. Trains are being rerouted via Salt Lake City, with additional crews, locomotives, and railcars placed in service.
The route through the Feather River Canyon was closed when the massive Dixie Fire reached the UP mainline in the area of Keddie, Calif. As of Tuesday night, KRCR-TV reported that fire had burned 212,799 acres and was only 23% contained. It has destroyed 34 structures and 19 minor structures, damaged seven other structures and threatened more than 10,000 others.
BNSF's north-south route, which joins the UP at Keddie, has been closed since July 21. In a July 23 service advisory, the railroad said no damage to its infrastructure had been reported, but "conditions remain unpredictable."