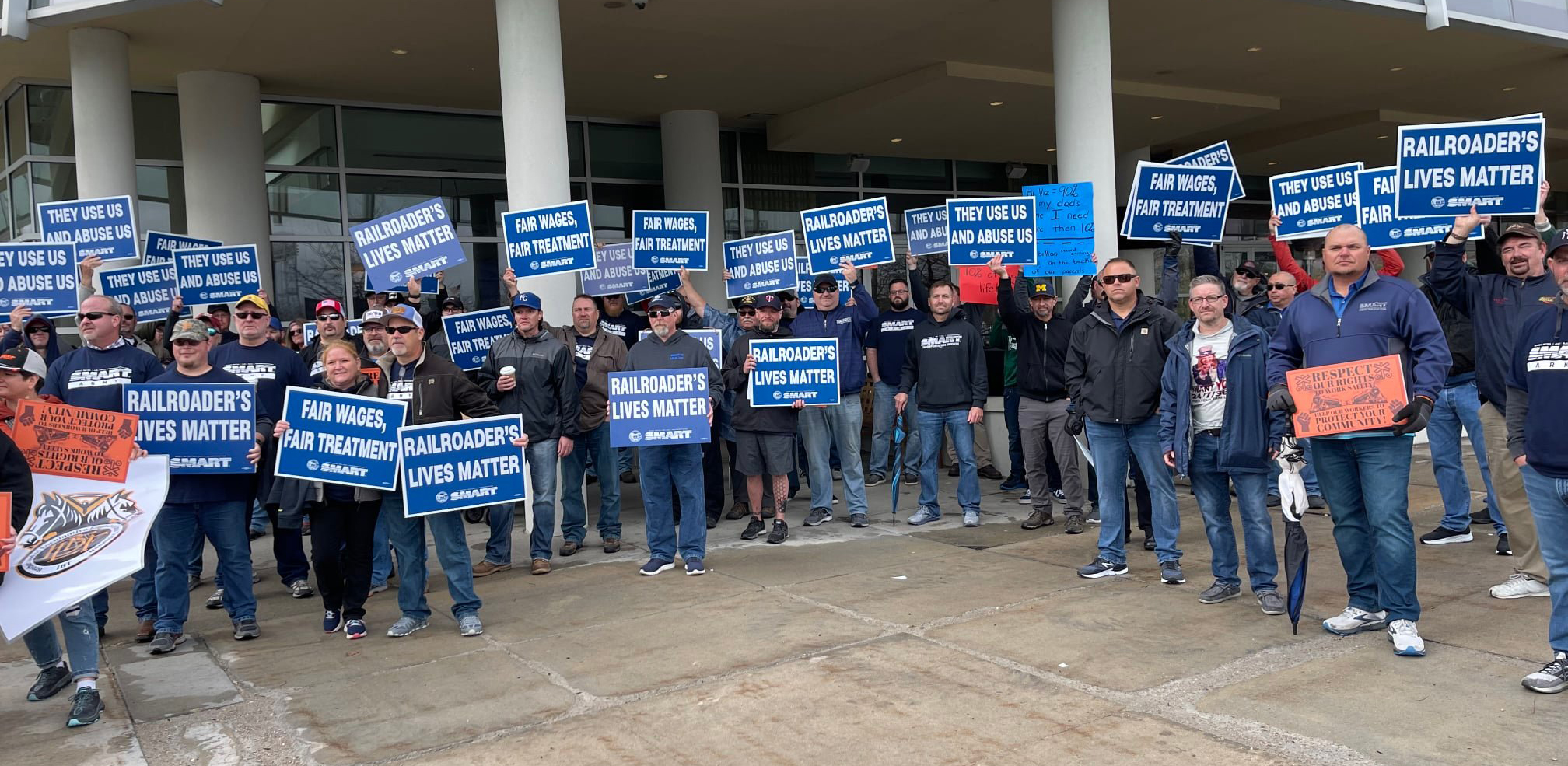 ---
OMAHA, Neb. — Railroad union members, who have been increasingly vocal about working conditions and the lack of a new contract, protested Saturday at the annual meeting of BNSF Railway parent Berkshire Hathaway, picketing and handing out leaflets outside the meeting site.
The Brotherhood of Locomotive Engineers and Trainmen has also taken out ads in the Omaha World-Herald [see "Union ad takes aim at BNSF, UP leadership …," Trains News Wire, April 22, 2022] and employed two mobile billboards to circulate during the Berkshire meeting weekend.
The International Association of Sheet Metal, Air, Rail and Transportation Workers-Transportation Division was among other unions also participating in morning and afternoon protests at the CHI Health Center, site of the Berkshire meeting. The SMART-TD website indicates "about 60" protesters were present.
The World-Herald reports that Dennis Pierce, president of the Brotherhood of Locomotive Engineers and Trainmen, said in a Friday press conference that BNSF and Union Pacific are both "off the rails" for their current labor practices. Along with calling for a resolution to negotiations for a new national labor contract now well into their third year, Pierce criticized attendance policies at both railroads.
"The attempt is to keep people from taking a day off, and it's working," Pierce said. "It's also driving people out of the industry."
BNSF spokesman Ben Wilemon told the newspaper the policy was to provide consistency of crew availability and scheduling, saying, "as with any other business, delivering for our customers requires employees to be available to work their assigned shifts."
The SMART-TD site says union members are also in the early stages of planning another protest at the North American Rail Shippers meeting in Kansas City, May 9-11. Four Class I CEOs are scheduled to appear at that meeting.