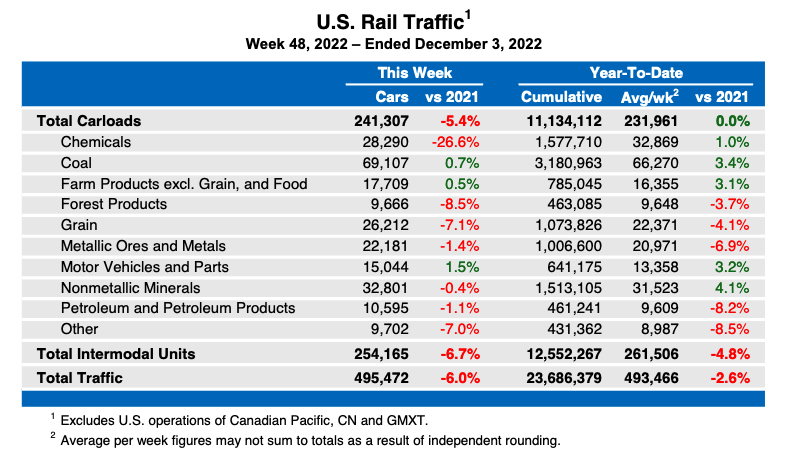 ---
WASHINGTON — U.S. rail traffic dropped by 3.3% in November — a total of 80,544 carloads and intermodal units — with carloads down 0.9% and intermodal traffic down 5.4%, according to the latest statistics from the Association of American Railroads.
Meanwhile, the latest weekly traffic, for the week ending Dec. 3, was down 6% from the comparable week in 2021.
The monthly figure saw 12 of 20 carload categories experience declines from November 2021, including chemicals, which were down by 17,608 carloads, or 10.3%. Categories showing gains included crushed stone, sand and gravel, up 8,726 carloads, or 9.2%.
"Thanksgiving week is one of the lowest volume weeks of the year for rail traffic, which means November rail volumes frequently do not clearly demonstrate underlying sequential trends," AAR Senior Vice President John T. Gray said in a press release. "As has been the case for months, some sectors continue to show strength while others face headwinds. For example, relatively slow lumber carloads are consistent with the weak market for new home construction. Conversely, rail-hauled motor vehicles and vehicle parts volumes have been rising as automakers have increased output thanks to greater parts availability."
Through 11 months of 2022, overall rail traffic is down 2.6% compared to 2021. Carload traffic is essentially flat — up 4,475 carloads, or 0% — while intermodal traffic is down 4.8%.
Weekly figures show large drop
The 495,472 carloads and intermodal units for the week ending Dec. 3 included 241,307 carloads, a drop of 5.4% from the same week a year earlier, and 254,165 containers and trailers, a 6.7% decrease.
North American totals from 12 reporting U.S., Canadian, and Mexican railroads included 344,150 carloads, down 0.6%; 333,927 intermodal units, down 2.8%, and a total of 678,077 carloads and intermodal units, down 1.7%. The 48-week totals for North America are down 1.9% compared to the same period in 2021.