---
The two biggest rail unions don't expect to tally members' votes on their tentative contract agreements with the Class I railroads until the middle of November.
The SMART-TD union that represents conductors and the Brotherhood of Locomotive Engineers and Trainmen that represents engineers both outlined ratification vote timelines this week in updates to their members.
On Sept. 22 the BLET began a 15-day question and answer period during which general chairmen will reply to the national president's office with any questions or clarifications regarding the tentative agreement.
"Those questions will be consolidated into a single document, and the BLET's National Wage Team, alongside SMART-TD, will return to the bargaining table with the Carriers to mutually agree upon the answers to those questions," the BLET said.
Once the Q&A session is complete, ballots will be distributed on or around Oct. 14, with the BLET tentatively set to tally the votes on Nov. 17.
"While we know that our members are eager to learn more about the details of the tentative agreement, the additional clarification gained from the Q&A process will provide more information for the membership as to the terms and conditions of the tentative agreement before they cast their vote. The process also provides our General Committees with clearer and stronger Agreement language should later disputes arise over that Agreement language," BLET President Dennis Pierce wrote.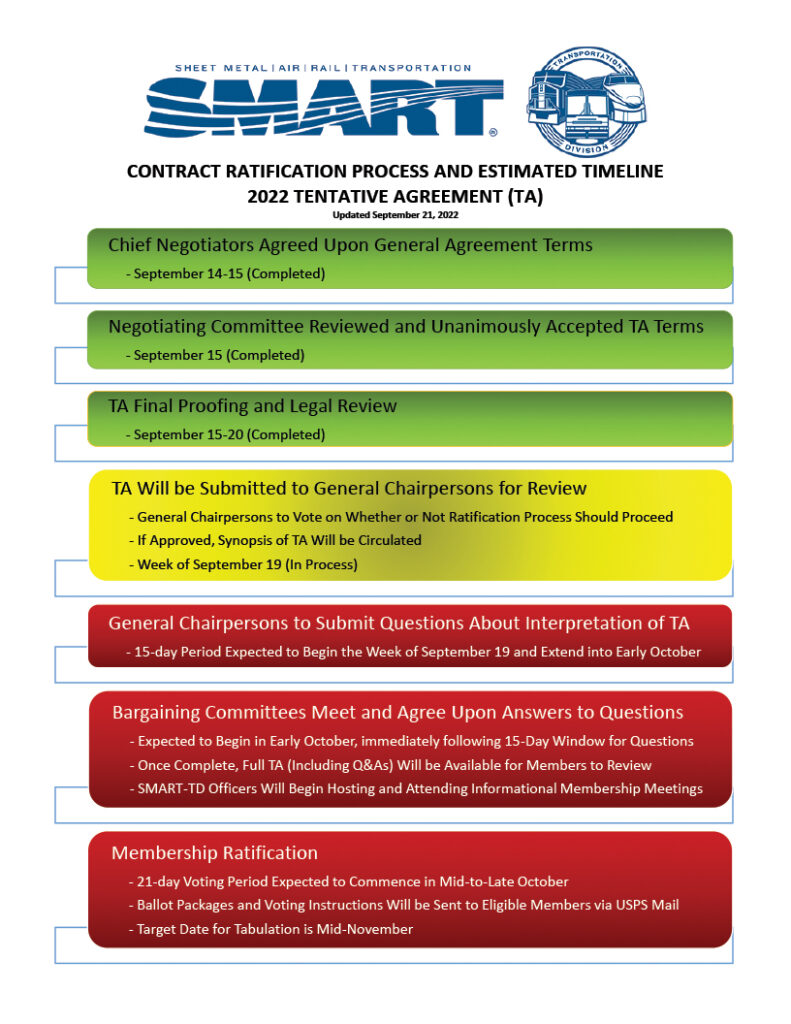 ---
SMART-TD this week outlined the similar steps it will follow during the ratification process, with a 21-day voting period to begin in mid to late October, followed by ballot tabulation in mid November.
Combined, the SMART-TD and BLET represent half of the railroads' unionized workforce. The unions held out for a better contract proposal than what was recommended by the Presidential Emergency Board, with negotiations last week coming down to the wire before a Sept. 16 strike deadline. The unions sought concessions on scheduling and working conditions.
Meanwhile, the only union to reject the tentative agreement with the railroads thus far – the International Association of Machinists District Lodge 19 – says it's making progress in its negotiations with the National Carrier Conference Committee.
"The carriers have been somewhat receptive to making some needed changes," the union told its members this week.
Two unions have ratified their contracts, while nine of the 12 unions continue to review the tentative deals they reached with the railroads.
If a union rejects the deal, labor leaders and the railroads maintain the status quo until they determine how to proceed with further negotiations, according to the National Railway Labor Conference.
The agreements cover all of the Class I railroads operating in the U.S., with the exception of Canadian Pacific's U.S. lines.