---
WASHINGTON — Eleven Amtrak routes in 2023 will again feature commentary about the regions the trains are passing through.
The program, staffed regionally with volunteers sponsored by National Park Service historical sites, monuments, and national parks, began in 2000 and has enriched journeys aboard many long-distance trains.
There were cutbacks in 2018 when Amtrak stopped offering free overnight accommodations on some longer routes, and the program was paused during the COVID-19 pandemic. It partially resumed in 2021 and 2022, but is back with a robust schedule and new offerings after a meeting between Amtrak and Park Service personnel from around the country at Amtrak headquarters in January.
The newest route is set for the City of New Orleans between Jackson, Miss., and Hammond, La., as part of the 60th anniversary commemoration of the assassination of Medgar Evers. "It will focus on civil rights efforts and also take in the story of Emmett Till," says Park Service Volunteer Partnership Coordinator James Miculka, who heads up the program.
A notable restart is on the Adirondack's scenic New York State trek between Saratoga Springs and Westport. Typical of most offerings, the segment is chosen to facilitate a same-day round trip for volunteers based at the sponsoring Park Service site.
Here's a complete list of routes and days of the week when commentary is offered in lounge or cafe cars, as well as walks through the train.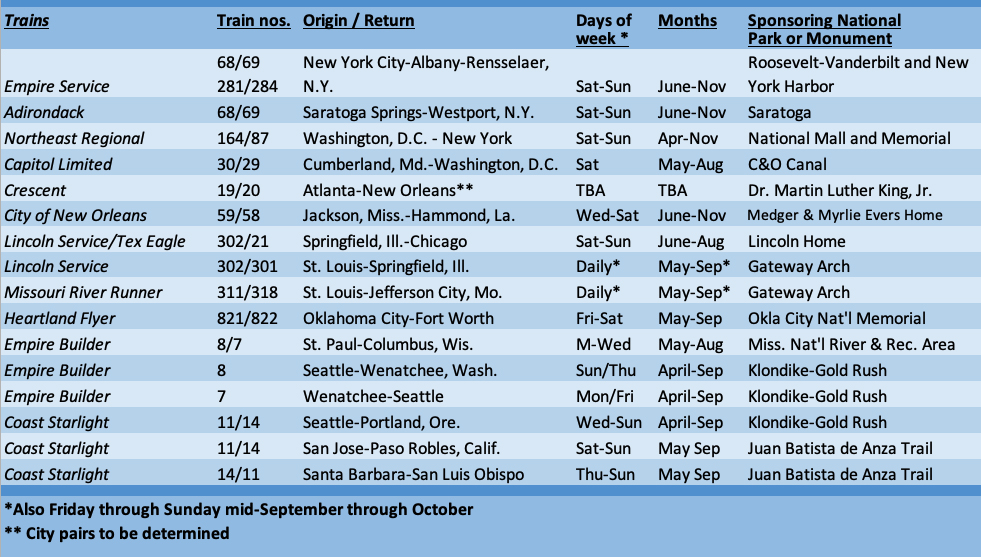 Miculka tells Trains News Wire, "Although both organizations still face challenges in returning to pre-pandemic levels of service in both staffing and facilities, Amtrak CEO Stephen Gardner and National Park Service Director Chuck Sams expressed their vision of Trails and Rails enhancing the passenger experience."
He adds, "Amtrak senior management has been out on trains to observe a couple of Trails and Rails programs, and have liked what they saw. They have also brought back [complimentary] food and beverage service to our Trails and Rails volunteers for programs lasting more than six hours, which is basically all of them."
— Updated at 5:40 p.m. CDT to correct line in table on Capitol Limited.