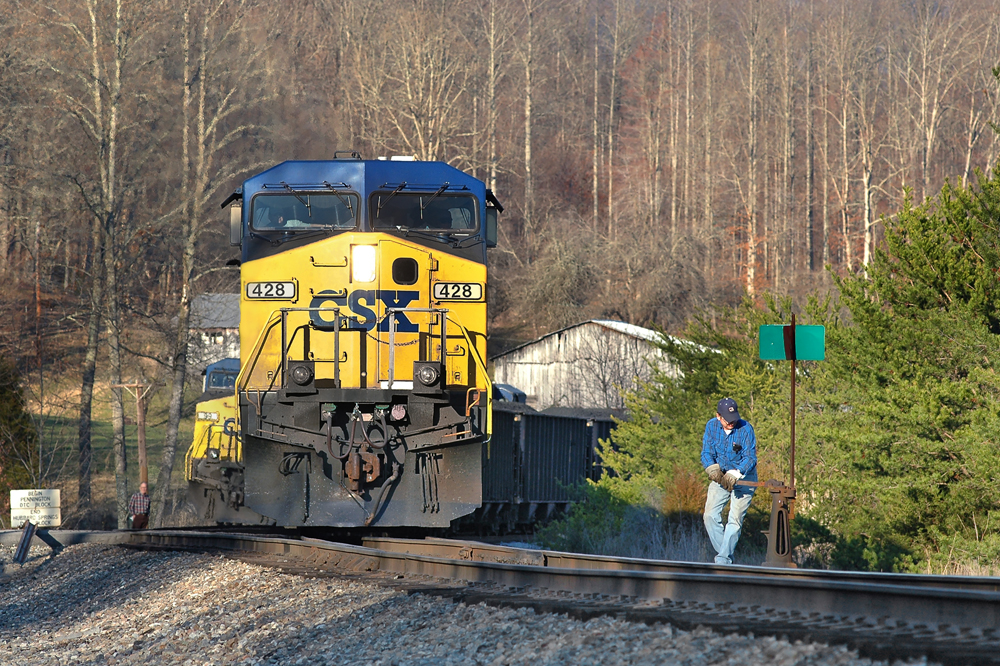 ---
PITTSBURGH – In order to attract, hire, and retain conductors – and avoid crew shortages that snarl operations and hurt service – Class I railroads need to make the job more appealing to today's workers.
That was the consensus of shippers, railroaders, and analysts who spoke at the North East Association of Rail Shippers conference last week.
Fixing the poisoned labor-management relationship would help, too, as evidenced by the last-minute tentative contract agreement that the Class I railroads and unions reached this month.
"We can all agree that the last couple weeks were an exercise in political brinkmanship and really was the latest manifestation of institutionalized animosity within our industry that has the potential to threaten its future," says Eric Monger, vice president at KBX Rail, the logistics arm of Koch Industries, the conglomerate that ships 180,000 carloads per year and is the country's largest exporter of containerized freight.
Railroads need to retain current train and engine employees while closing the yawning gap between traffic volume and the number of crews available to move tonnage, Monger says. They also need to motivate crews to work as productively and safely as possible, he adds.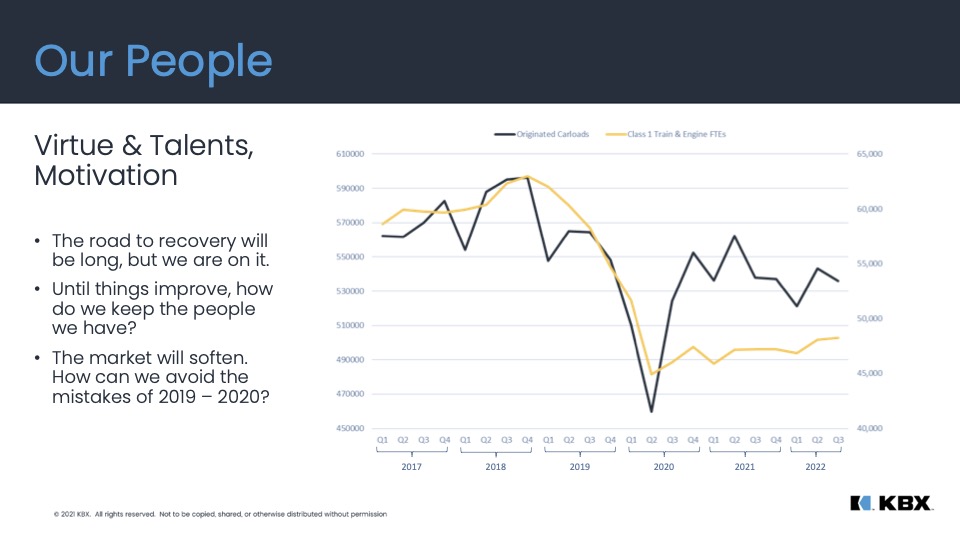 ---
"I don't think anyone at the railroads will deny that throwing money at our people problem was necessarily the answer. All of the attendance bonuses, the buybacks, and other incentives that carriers gave starting in the pandemic when we needed the employee base back seemed to fall flat in terms of generating meaningful outcomes. You heard last week in the news articles that what took us down to the wire in negotiations with SMART-TD and BLET wasn't pay, it wasn't insurance premiums. It was quality of life."
Arthur Adams, CSX Transportation's senior vice president of sales and marketing, agrees.
Although some of railroads' hiring difficulties are attributable to the great resignation that accompanied the pandemic and affected all employers, Adams says railroads' hiring woes go deeper.
"What we realize is that you can't solve the challenge just financially. There's also a quality of life issue that must be resolved. There's a work environment issue that must be resolved. And there's a cultural issue that must be resolved," Adams says. "And we're targeting all aspects."
CSX shows job applicants a video of a day in the life of a conductor as a way to set expectations before they enter training. The railroad has boosted conductor pay, starting new hires at the rate that previously would have taken three years' of seniority, Adams says. CSX also is looking at ways it can reduce the uncertainty that comes with low seniority as well as how to make schedules more predictable, he says.
"This is no longer our father's railroad," Adams says. "We're now recruiting millennials and Gen Y's who have very different expectations on the work environment. And we have to figure out how to support them and meet them where they are."
Railroads have been talking about changing work expectations of younger generations for the past decade, independent analyst Anthony B. Hatch says. Millennials don't like the railroad's command and control structure, being yelled at, or having "f-bombs" dropped all day, he says.
"So we're going to do something radically different," Hatch says the railroads promised years ago. "And of course we're coming to the conclusion that they forgot their own lesson."
Monger says shippers can help their own cause by treating railroaders with respect, forging good relationships with local crews, and providing them with things like bottles of water, rest rooms, or buying them lunch from time to time.
"We all know that railroading isn't easy. It's hot, hard, dirty work. And we should have the utmost respect for the people who do it every day in heat, the rain, and the cold," Monger says. "Hiring's even harder in this industry."
The job comes with few amenities. "The best you can hope for is a pot of coffee that can probably dissolve a spoon," he adds.
Michael Miller, president of Genesee & Wyoming's North American operations, says new hires put more value on time than money and are harder to retain due to the unpredictable nature of the job.
If railroaders stick with the job for five years, they tend to stay on, Miller says. So G&W is developing a bonus program to help retain conductors. "We've got to keep people once we get them trained," he says.
The big four U.S. Class I railroads — BNSF Railway, CSX, Norfolk Southern, and Union Pacific — are under regulatory scrutiny for crew shortages that began in the East last year and spread to the West this year.
Service is on the upswing as new conductors help ease crew shortages, but the railroads still have a ways to go before they reach full active train and engine employee staffing levels, according to data they report to the Surface Transportation Board.