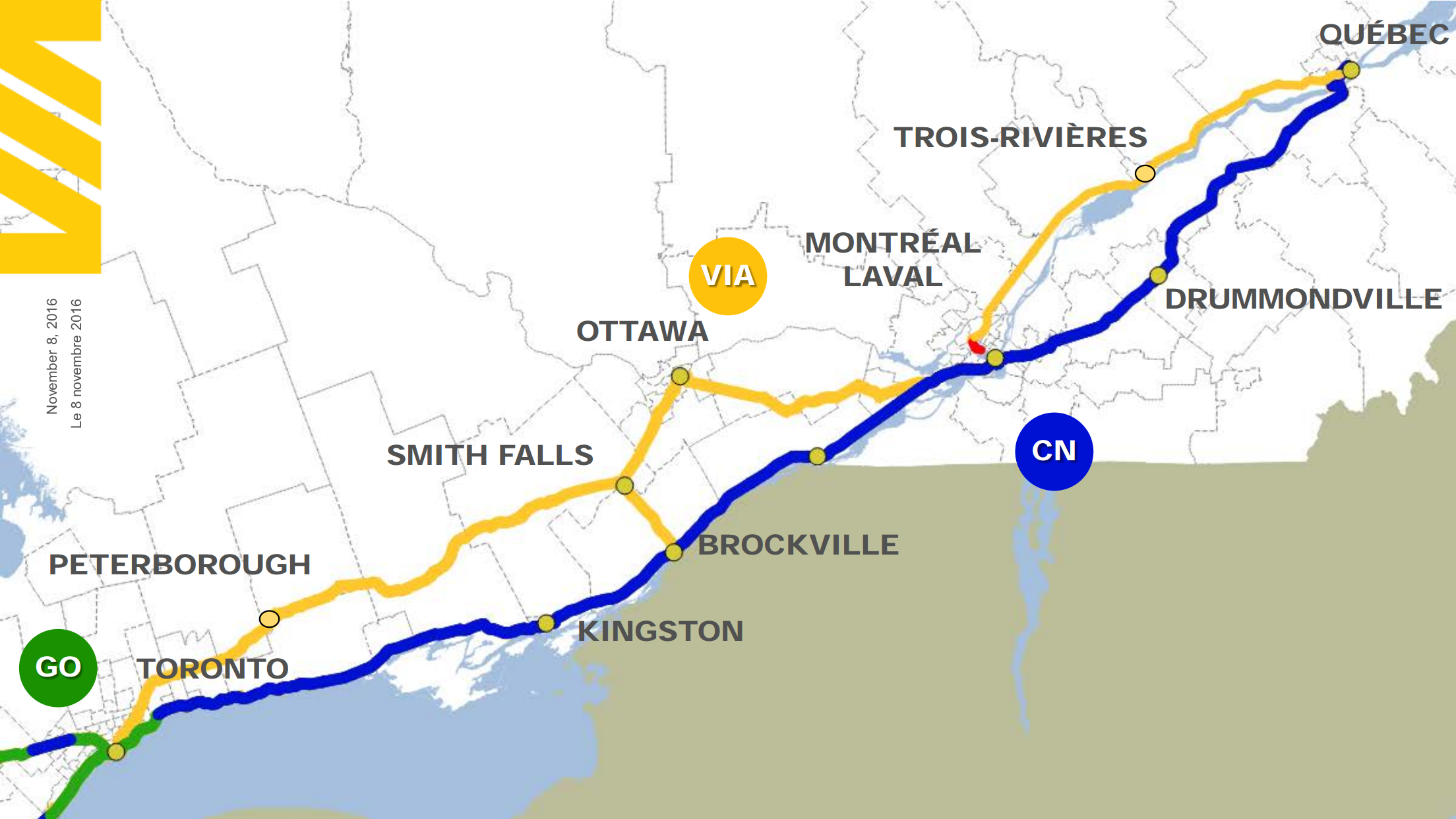 ---
MONTREAL — High-frequency rail is developing at something other than a high-speed pace in the hands of the Canadian government.
The CBC reports that Transport Minister Omar Alghabra said Thursday that he hopes the proposed passenger-only route between Toronto and Quebec City could be operation by the mid-2030s, rather than early in that decade, as Alghabra had projected as recently as March.
Alghabra acknowledged "it is a lengthy process," the CBC reports, but contends, "this is the best way to do it, because we want to do it right."
Alghabra has also backed away from a project price tag. In 2021, when the Transport Minister announced the government was launching the process to develop the high-frequency route conceived by VIA Rail Canada, he said it could cost between C$6 billion and C$12 billion [see "Canadian government says it will take first steps …," Trains News Wire, July 7, 2021].
But during a Thursday press conference, he said the government will first have to assess proposals before discussing the price. "While I may have a sense for the overall number," he said, "I also wouldn't want to give Canadians an inaccurate number that later on I have to change."
Thursday's press conference was to announce that three consortia have been invited to move to the Request for Proposals stage in planning for the high-frequency rail route, as determined through Request for Qualifications protocols announced in February [see "Transport Canada defining process to narrow field …," News Wire, Feb. 20, 2023].
The groups selected, and the companies that form those organizations, are:
— Cadence (CDPQ Infra; SNC-Lavalin; Systra Canada; Keolis Canada).
— Intercity Rail Developers (Intercity Development Partners; EllisDon Capital; Kilmer Transportation; First Rail Holdings; Jacobs; Hatch; CIMA+; First Group; RATP Dev Canada; Renfe Operadora).
— QConnexiON Rail Partners (Fengate, John Laing, Bechtel, WSP Canada; Deutsche Bahn).
The Request for Proposals will launch in September. Those groups will be asked to present proposals that Transport Canada says should include "a technically and commercially feasible solution, a business plan, and a management plan for the co-development, construction, and operations phases of the project." More information on the process is available here.
Evaluation of the Request for Proposal submissions is scheduled for summer 2024.
The high-frequency rail project was first proposed by then-VIA CEO Yves Desjardins-Siciliano in 2015. It initially envisioned building a 110-mph route between Toronto and Montreal using a secondary Canadian Pacific route, parts of which had rails removed decades ago. It subsequently was expanded to include a route between Montreal and Quebec City [see "Transport Canada inches forward …," News Wire, March 10, 2022].