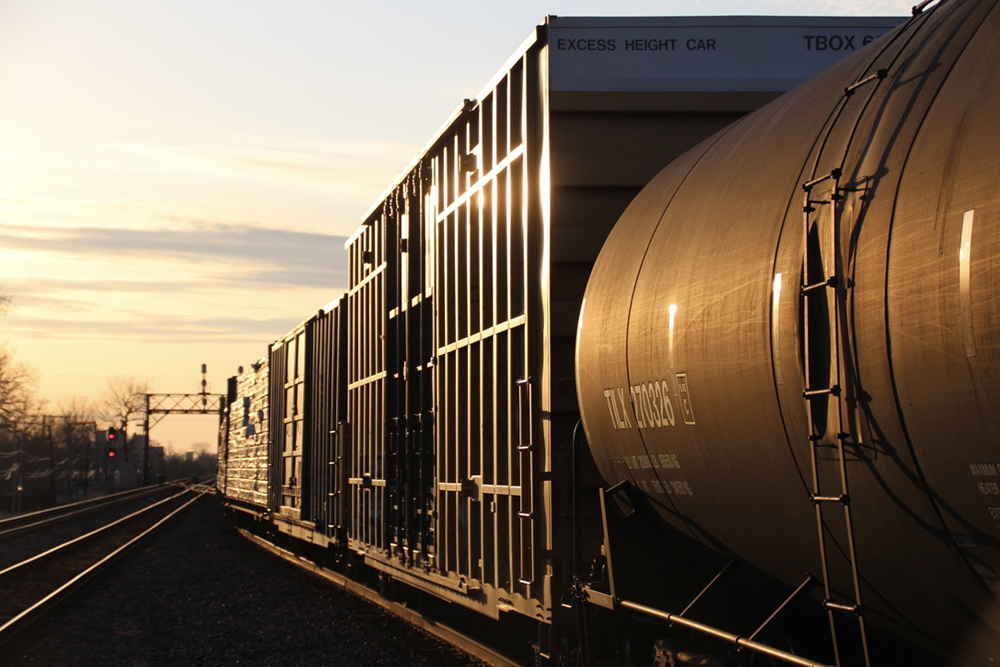 ---
NEW YORK — Railroads will not regain market share lost to trucks unless they shift to traffic growth mode, transform their operations, and provide service that's far more reliable than ever.
That's the view of Oliver Wyman partner Adriene Bailey, who this week outlined four big steps railroads must take in order to deliver the consistent, predictable service that shippers want. "We need to go where the industry has not gone before," the railroad consultant says.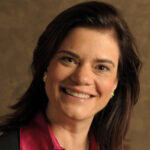 At the RailTrends conference, Bailey said she was encouraged by recent service and growth comments from Norfolk Southern CEO Alan Shaw, CSX Transportation CEO Joe Hinrichs, and Canadian National CEO Tracy Robinson.
"It's clear the aspiration for growth is there — and we at Oliver Wyman continue to believe the freight is there to be had by the railroads and there is capacity to serve that freight — but it won't convert from truck to rail until and unless the service product is there to meet shipper needs," Bailey says.
As the big four U.S. railroads hire conductors to fill their depleted crew ranks, they're focusing on improving the velocity of their networks. "Railroads have been clawing their way out of this death spiral for a year now," she says.
But Bailey says fluidity does not equal reliability — and that a return to pre-pandemic service levels won't be nearly enough to help railroads divert freight from highways. Railroads, she says, need to aim higher.
Shippers say they would shift freight to rail if the railroads showed that, over the long term, they could meet service requirements that include visibility, reliability, and capacity.
How can railroads get there? Bailey says the railroads need to do four things.
First, CEOs need to admit the need for an operational transformation that would take several years. Railroads will need to publish customer-centric performance metrics, improve interline service, and close other service gaps compared to trucks. An encouraging sign, Bailey says, was CN Chief Operating Officer Rob Reilly declare last month that the railway's 90% on-time departure rate was not high enough. "That was a moment of a bright, shining light," Bailey says.
Second, if traffic continues to decline due to an economic downturn next year, it's a good opportunity to improve service and figure out how to maintain it when volume returns. If railroads resort to furloughs and "blind cost-cutting" to hit short-term financial goals, they'll jeopardize the long-term future of the industry. "This may be our last chance," Bailey says. "Let's not blow it."
Third, railroad leadership must convince investors — and themselves — that volume growth will provide huge benefits compared to continued loss of market share. To do this, railroads will have to prove that sustained service improvements will lead to growth. Wall Street analysts would have to drop their overemphasis on the operating ratio and instead focus on service, growth, and operating income.
Finally, the industry must convince Washington to level the regulatory playing field, which is currently tilted toward trucks. Regulators are holding back efficiency and technological advancements in rail, while supporting them in trucking. Also part of the solution: Improve the labor-management relationship.
Regain share vs. continued decline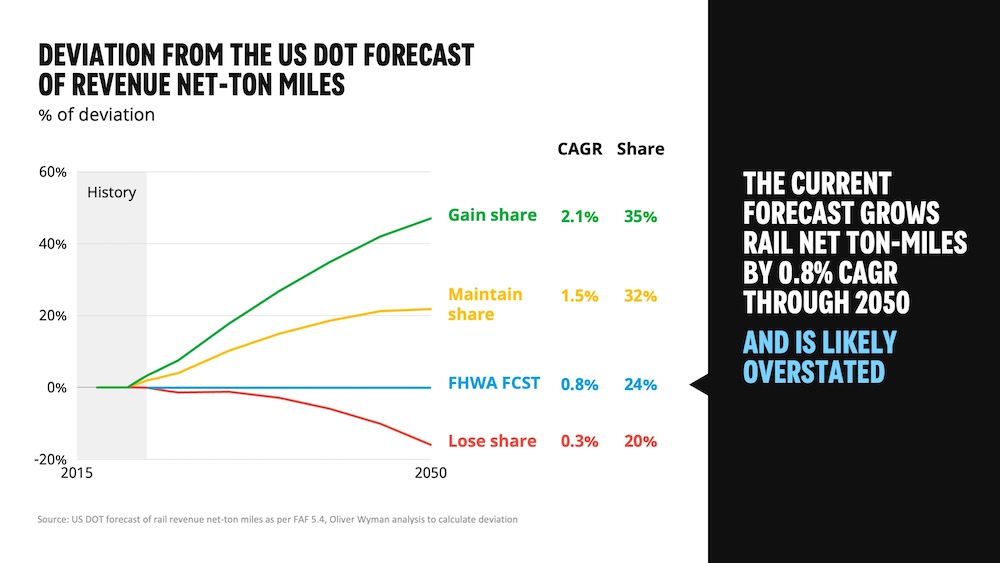 ---
Bailey compared how railroads would fare under various market share growth and share loss scenarios through 2050. They ranged from losing 0.3% of revenue ton-miles per year to gaining 2.1% annually, which would return market share to the 2017 level of 35% of revenue ton-miles.
Continued loss of market share through 2050 would cost railroads — and by extension, their investors — $476 billion in revenue and $128 billion in lost operating income, the Oliver Wyman analysis shows.
A failure to lure freight off the highway also would have consequences that extend well beyond railroads. Because rail is safer than truck, there would be 16,000 additional deaths and 660,000 serious injuries due truck-related accidents. Some $332 billion would be required to add 17,600 lane miles to highways and in added maintenance costs. And energy needs would rise by 230 terawatt hours per year if both truck and rail were to convert to zero-emissions technology.
Broad agreement on need to change
Several speakers at RailTrends echoed Bailey's views.
"We must be, without a doubt, reliable for our customers," CN's Robinson says. "We must do what we say we will do."
Robinson, who became CN's CEO in March, said the railway won't be quick to furlough crews if volume declines. "We're going to do it a little differently. We don't yet have enough people, especially in certain areas," she says.
CN has analyzed how the last several downturns went in the hope of finding clues that will help the railway respond this time.
"The problem with furloughing heavily, is that you can never get them back as quickly as you need them, and then you miss the upswing," Robinson says. "And that's what causes a lot of tension with customers and sometimes regulators."
Unless a slowdown appears to be prolonged, CN will "wrap our arms around our people and do what we can to keep them busy, particularly in those hard to hire locations," Robinson says.
"This is about building for the long term," she adds.
Norfolk Southern Chief Marketing Officer Ed Elkins says the company is becoming a customer-centric, operations-driven railroad that's investing in growth. NS also is trying to understand how to better fit into customer supply chains. "We only make one thing people are willing to buy, and that's service," he says.
Rahul Jalali, Union Pacific's senior vice president of information technologies and chief information officer, says the UP is working to make it easier for customers to do business with the railroad online. UP has embedded some of its tech people at customer locations to learn how they can improve the systems shippers use to interact with the railroad.
Justin Broyles, executive vice president of commercial affairs for shortline holding company R.J. Corman, says he's seen a change in the Class I railroad mindset recently.
Instead of rejecting potential traffic from short lines — saying they can't make the rate work, or transit time is too long, or the traffic doesn't meet their profit targets — Class I railroads have been inquiring about ideas R.J. Corman submitted two or three years ago.
Rick Paterson, a railroader turned analyst at Loop Capital Markets, says railroads have a choice. They can embrace operational reforms, resiliency, and customer focus to become modern, high-performance companies. Or they can go back to business as usual with an eye on the operating ratio, running with as few train crews as possible, and remaining fragile networks susceptible to disruptions.
"The U.S. rails need to change their mindset, institute service reform not just service recovery," Paterson says.
Transforming operations is easier said than done, Paterson says, but if successful will restore shipper confidence and lead to growth.
Railroads have said that once their crew ranks are back at full strength, service will return to pre-pandemic levels, Surface Transportation Board Chairman Martin J. Oberman notes.
"But why should that be the goal? That is simply a return to mediocrity and rail service that continues to be a damper on the economy and is completely unacceptable," Oberman says.
RailTrends is sponsored by trade publication Progressive Railroading and independent analyst Anthony B. Hatch.