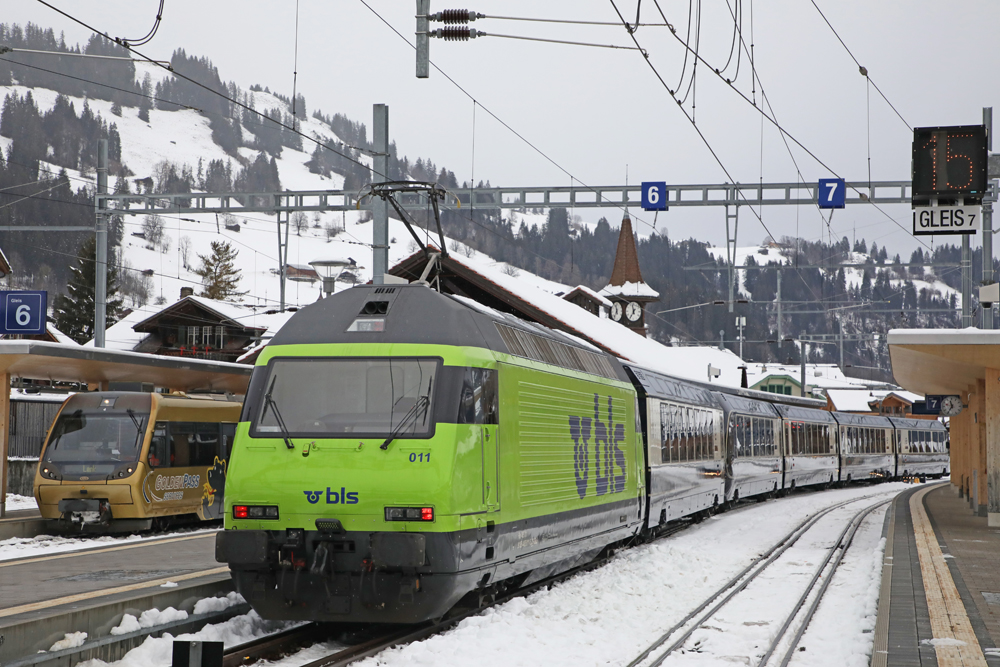 ---
MONTREUX, Switzerland — Concerns over excessive track wear have led the innovative Swiss Golden Pass Express trains that switch from meter gauge to standard gauge to be temporarily restricted to meter-gauge operations.
The Golden Pass Express, or GPX, trains, began operating late last year on the route between Montreux and Interlaken [see "Swiss gauge-changing Panoramic Express debuts …," Trains News Wire, Dec. 17, 2022]. The $95 million trains use new gauge-changing technology to operate on the 39-mile (62.4-kilometer) meter-gauge line from Montreux to Zweisimmen operated by Montreux Berner Oberland Bahn, or MOB, which owns the trains. They also run on the 33-mile (52.9 km) standard-gauge line between Zweisimmen and Interlaken run by Switzerland's second largest mainline rail company. BLS (formerly the Bern–Lötschberg–Simplon railway but now just known by its initials).
The decision to suspend through gauge changing operation came in late February following reported track wear when the trains were operating on the BLS-operated standard gauge section of the route. There is no problem with the gauge-changing technology installed at Zweisimmen, but the operation of the same wheelset on two gauges appears to be causing problems.
The trains broke new ground when launched, as the 435-millimeter (or 17.1-inch) difference between meter-gauge (1000 mm) and standard gauge (1435 mm) is the greatest of any gauge-changing system in the world. Full details have yet to be released, but it is apparent that the fact that only a relatively small part of a rail wheel normally touches a small portion of the rail head has contributed to the issue. For wheels that are used on only one gauge, the wear inflicted on both wheel and rail is relatively predictable, and with maintenance of either train or track, any areas of excess wear can be managed. For a wheelset that operates on both meter and standard gauge, the contact points will vary, potentially affecting different parts of the wheel and/or the railhead.
Public statements from the two rail companies in mid-March indicate BLS found excessive wear on track components, especially switches. MOB said, "No increased wear was found when other [non-GPX] trains ran on the line. Analyzing the interaction between wheel and rail is extremely complex and takes time."
MOB, which developed the trains with manufacturers Stadler and Alstom, has also said new test runs have produced results in line with the original testing to obtain approval to run the trains on the Swiss rail network. Long-term approval for use on the entire standard-gauge network is envisioned, as this could open up possibilities for charter or private trains from almost anywhere in Switzerland to the MOB network. This has already happened on a small scale, as a GPX train visited Zurich in late 2022 in conjunction with promotional filming.
Through services using the gauge-changing system are due to ramp up from one daily train each way to four in June. While no date has been set for resumption of through gauge-changing service, both companies have told the media they want them to resume, hopefully later this year.