---
PARADISE, Pa. — The nation's oldest short line, the 4½-mile-long Strasburg Rail Road in southeast Pennsylvania, last week opened a $3.3 million, six-track yard to handle its growing freight business.
Situated at Leaman Place Junction along Amtrak's double-track electrified Keystone Corridor, the 7-acre site and interchange lies just off U.S. 30, the Lincoln Highway. Freight is delivered by Norfolk Southern's H26 local, operating out of NS's Dillerville Yard in the city of Lancaster, 11 miles west.
Overshadowed by Strasburg's popular steam passenger runs, which attract 250,000 to 300,000 riders a year, the road's freight business has fluctuated over the years, but has been on the upswing since 2009. It's grown from 10 cars a year to almost 500, and freight trains run five days a week. Usually they're powered by Strasburg's ex-New York Central SW8 diesel switcher No. 8618, but occasionally a steam engine pitches in as well.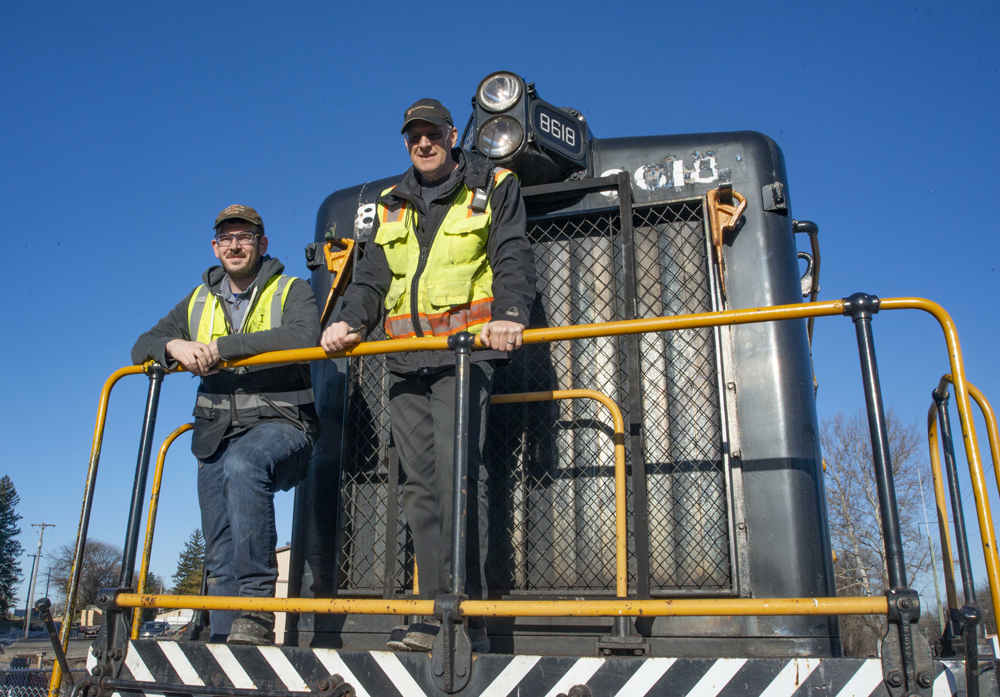 Commodities handled include inbound retail and specialty lumber, grain (wheat, oats, soybeans, and corn), and fertilizer. Outbound loads include agricultural products such as meal used in making pet food and tank cars of chicken fat that are used to make cosmetics.
The 500-car volume "is considered a minor miracle in the railroad world," says Steve Weaver, a Strasburg vice president. Freight now makes up 10% of SRC's revenue.
The new yard will accomplish three aims:
— Provide for as much as a tripling of freight business;
— Relieve pressure on the road's existing three-track, 60,000-square-foot freight yard and pad east of the passenger-station complex at Strasburg; and
— Minimize operational conflicts with passenger service, which is among the most intense in the tourist-railroad industry. In high season, two steam trains run simultaneously on the single-track line, with occasional dramatic spikes caused on special occasions such as Thomas the Tank Engine events.
"We wanted to be able to index [sort] the cars at Leaman Place," Weaver says, "so we [wouldn't] have to use the passenger tracks or coordinate with passenger operations."
That's a dramatic turnaround from 2006 to 2009, when the road "hardly handled any freight traffic," says Weaver. It had one customer, an Exide battery manufacturer that took in covered hoppers of plastic pellets with which to make battery cases. The volume was so low that the company — temporarily, it turned out — dropped membership in the American Short Line and Regional Railroad Association.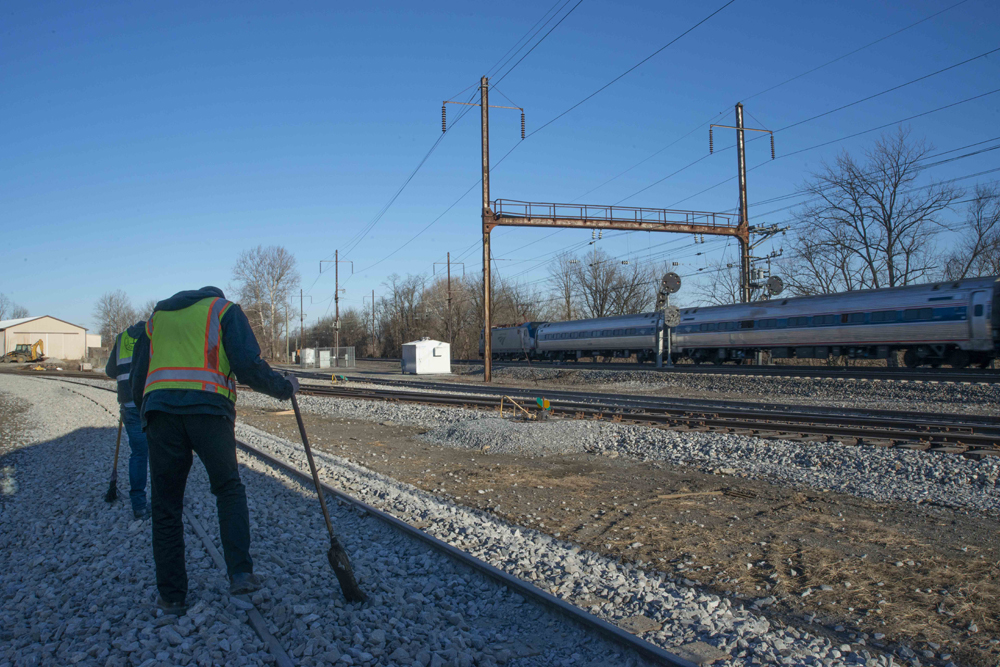 In 2008, Weaver said, the railroad's board of directors ordered a strategic review of re-entering the freight business, which he undertook. It also laid the groundwork for acquiring property for expansion just west of the Amtrak junction, beyond where steam trains now turn for their return trip to Strasburg. A key parcel of real estate became available in 2019. The railroad bought the property at 17 Meadow Lane for $425,000 and began negotiating with Amtrak to lease more track and right-of-way space adjacent to the Keystone line.
Amtrak was more than cooperative, said Weaver, who gave credit to the carrier's Mid-Atlantic engineering department.
Phase 1 of the project involved rehabilitating the Amtrak-NS interchange track, building new track, building a new loading dock, and improving drainage to minimize flooding and meet local municipal requirements. Some of the interchange track had previously been the Pennsylvania Railroad's main line Track 1, laid with heavy-duty 152-pound rail that was still in good shape and showing minimal wear. Strasburg set the premium rail aside, improved the roadbed and ties, and spiked it back in place.
Nearly a year ago, Strasburg opened that phase by delivering three boxcars to Capital Forest Products, which the railroad describes as "one of the East Coast's largest stocking distributors of cedar shakes and shingles, roofing and siding."
Phase 2 added two tracks of storage capacity, a public team track, and runaround capability that doesn't conflict with the adjacent passenger runaround. Altogether, the work consists of about a mile of added and upgraded track.
One of the tracks occupies the right of way of an ancestor of the Pennsylvania Railroad, the state-owned Philadelphia & Columbia Railroad, which opened in 1834. To honor that heritage, Strasburg named it the P&C track.
Funding was provided through a public-private partnership, with the Pennsylvania Department of Transportation supplying $3.3 million through its Rail Transportation Assistance Program. For its match, Strasburg provided about $800,000.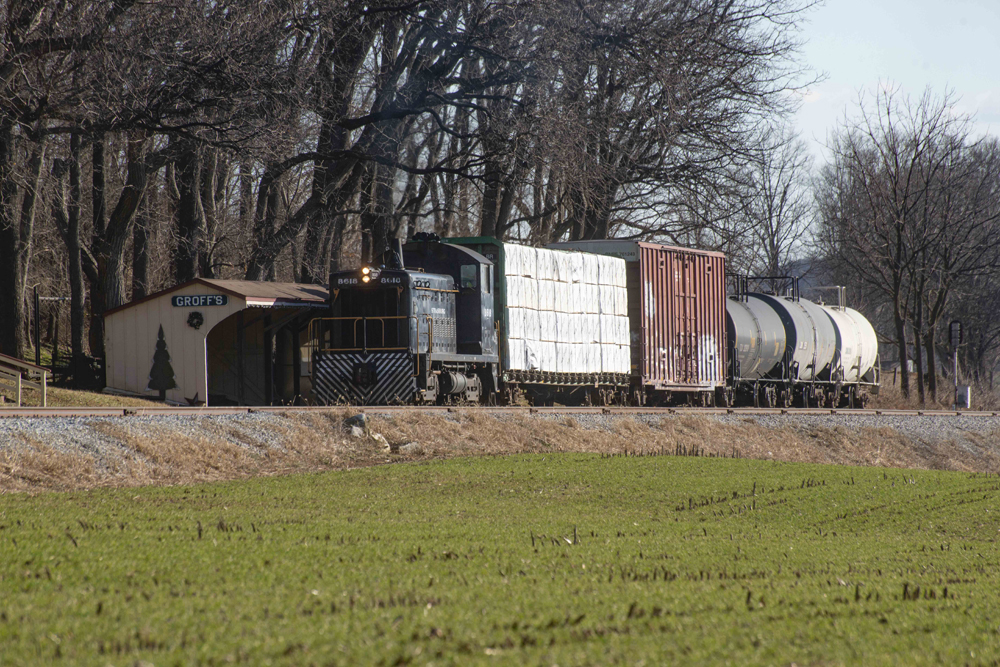 Last week's delivery of five boxcars of lumber products to Capital, and the opening of all five other tracks, signified the completion of  Phase 2 and the full opening of the yard, pending a final inspection on March 1.
"It's really exciting to see Capital get a nice big slug of cars," says Weaver, who characterized the firm as Strasburg's first industrial customer, meaning an on-line industry with a dedicated siding. All other customers transload their shipments, whether inbound or outbound.
Weaver, also a qualified locomotive engineer, ran the inaugural trip to the new yard on Friday, with Matt Hoover as his conductor. After delivering the boxcars to Capital, they sorted the remainder for placement after arrival back at Strasburg. On that day, they placed a high-value center-beam flatcar there that had been loaded with building products, and the customer unloaded it within two hours. Then Weaver and Hoover made another round trip to deliver the car back to interchange, thus minimizing the very high per diem cost of keeping that particular car on SRC rails.
With newly expanded capacity, Weaver looks for more business ahead.
"We're always knocking on doors [of prospective shippers and receivers], asking, 'Are you content with your logistics?'" Weaver says. All Class III railroads experience turnover in their customer portfolio, he said, as needs and business models evolve. Sometimes loss of a customer occurs when railroads poach customers from each other, particularly for transload business, where a dedicated siding on site isn't necessary.
Jim Hager, Strasburg's general manager since September, came out to watch the yard opening. He's seen firsthand the revival of freight traffic, including from some surprising sources.
"We have three new customers, including one [lumber business] right in Strasburg," Hager says. "He said to us, 'I never knew you did freight, I thought you only did passenger trains.'"