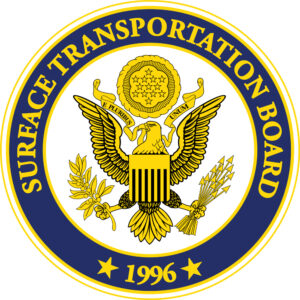 WASHINGTON — The Surface Transportation Board has released its schedule for speakers to take part in next week's hearing regarding urgent issues in freight rail service, to be held at the STB's hearing room April 26-27. The proceedings will begin at 9:30 a.m. EDT both days.
A total of 11 "panels" of speakers are scheduled, some with as few as one person (analyst Rick Patterson of Loop Capital Markets, scheduled for 25 minutes on Tuesday) and some with as many as eight, in the case of one group of shippers.
The first-day schedule includes government officials, two groups of several shippers and shipper associations, a panel of four union officials and union members, and Patterson, and concludes with officials from Norfolk Southern and CSX Transporttation, with the group representing each railroad scheduled for 30 minutes.
The second day will include two additional sets of shippers and their associations; BNSF Railway and Union Pacific; two more speakers representing unions, and Canadian National and Canadian Pacific. Detailed schedules are available in a board decision released Thursday.
That decision also includes details for those wishing to attend in person. The hearing will also be carried on the STB YouTube channel. It will be recorded for that channel and a transcript will be available on the STB website as soon as possible.