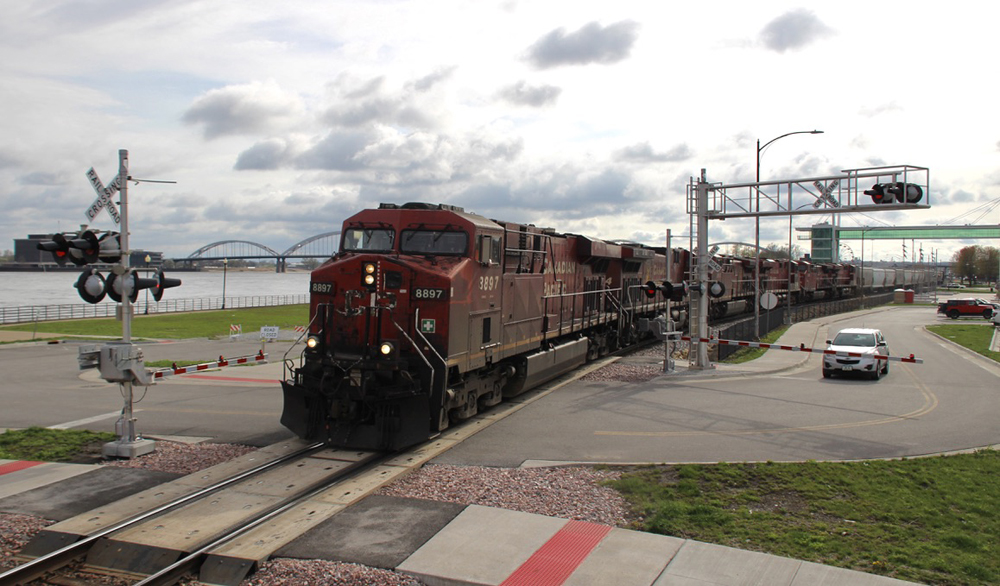 ---
WASHINGTON — The Canadian Pacific-Kansas City Southern merger would cause few if any adverse environmental impacts aside from increased train noise in some locations, the Surface Transportation Board said in a draft environmental analysis released on Friday.
The 357-page draft EIS also said the merger would have little effect on rail safety or emergency response times in communities that would see increased train traffic. The draft is accompanied by 4,080 pages of appendices.
But the draft recommends that the railroad work with affected communities for grade crossing mitigation projects where appropriate. Also recommended: Making the railroads' commitments on environmental matters part of any conditions the STB may impose in the event the merger is approved.
The review took a close look at projected train increases on the combined system's routes, particularly between Chicago and Laredo, Texas.
"The largest expected change would occur on the CP mainline between Sabula, Iowa, and Kansas City, Missouri, where the Applicants project that rail traffic would increase by approximately 14.4 trains per day, on average," the report says. "Other rail lines would experience smaller increases in rail traffic, no change in rail traffic, or a decrease in rail traffic."
Interested parties have until Sept. 26 to comment on the environmental study.
The board's environmental office will hold four public meetings on the draft environmental statement. The meetings will be held next month in Itasca, Ill.; Davenport, Iowa; Excelsior Springs, Mo.; and Vidor, Texas. Three online public meetings will be held next month as well, on Sept. 7, 8, and 19.
More information is available on the board's website.
CP is reviewing the draft environmental impact statement, spokesman Andy Cummings says.
"We remain committed to continuing our work with communities as we advance through this process," he adds.