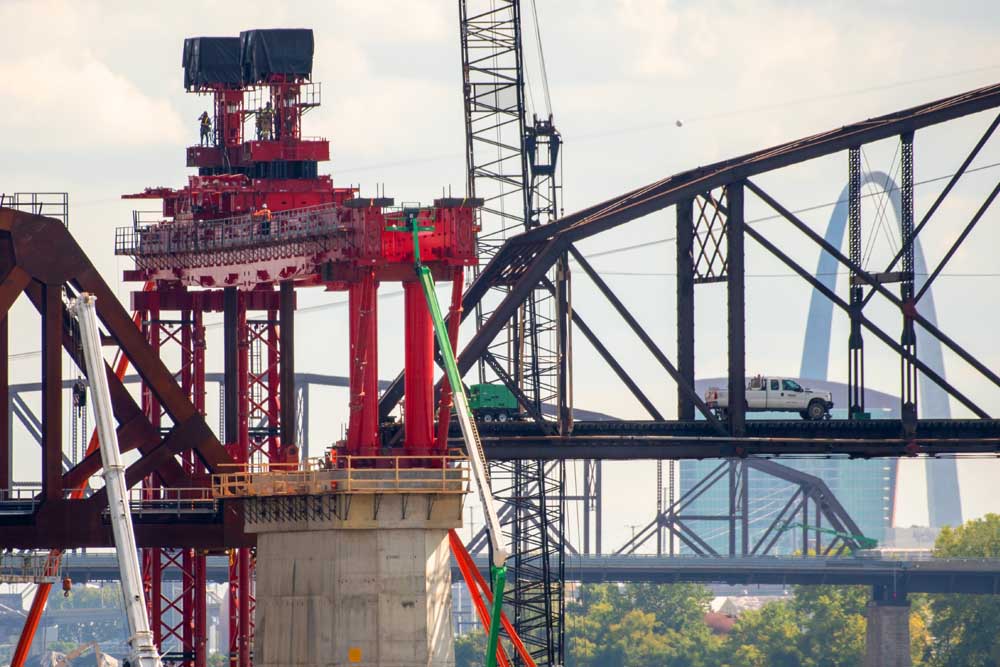 ST. LOUIS, Mo. — The Terminal Railroad Association of St. Louis Railroad reached a major milestone on Friday when the first of three replacement spans on the Merchants Bridge was floated into position on the Mississippi River at St. Louis.
Owned by the Terminal Railroad Association of St. Louis, the Merchants Bridge project is a long term, $222 million-dollar project to rebuild and modernize the structure. At the present time, only one train can occupy the two-track structure due to load restrictions.
The bridge dates to 1890, linking Illinois and Missouri and serves six Class I railroads along with several Amtrak trains a day.  The project will double the current capacity of the bridge, which sees 32 trains per day and 150 million gross tons per year of freight traffic. The project includes seismically retrofitting each existing pier in the Mississippi River.
Three separate 10-day rail outages along with along with three separate river outages will take place during the project.  The current outage will last 10 days, with track being relayed across the new truss section, said Eric Fields, chief engineer for TRRA. Two more truss sections will be manufactured in Wisconsin, then completed on barges on the Missouri side of the river.
A Riverboat Cruise sponsored by the St. Louis Regional Freightways gave invited guests an opportunity to view the first span being lifted into place from the riverboat Tom Sawyer, a replica 19th century paddle-wheel riverboat. Two large hydraulic gantries were on either end of the new span slowly lifting it into place.
The project is expected to be completed in early in 2023.