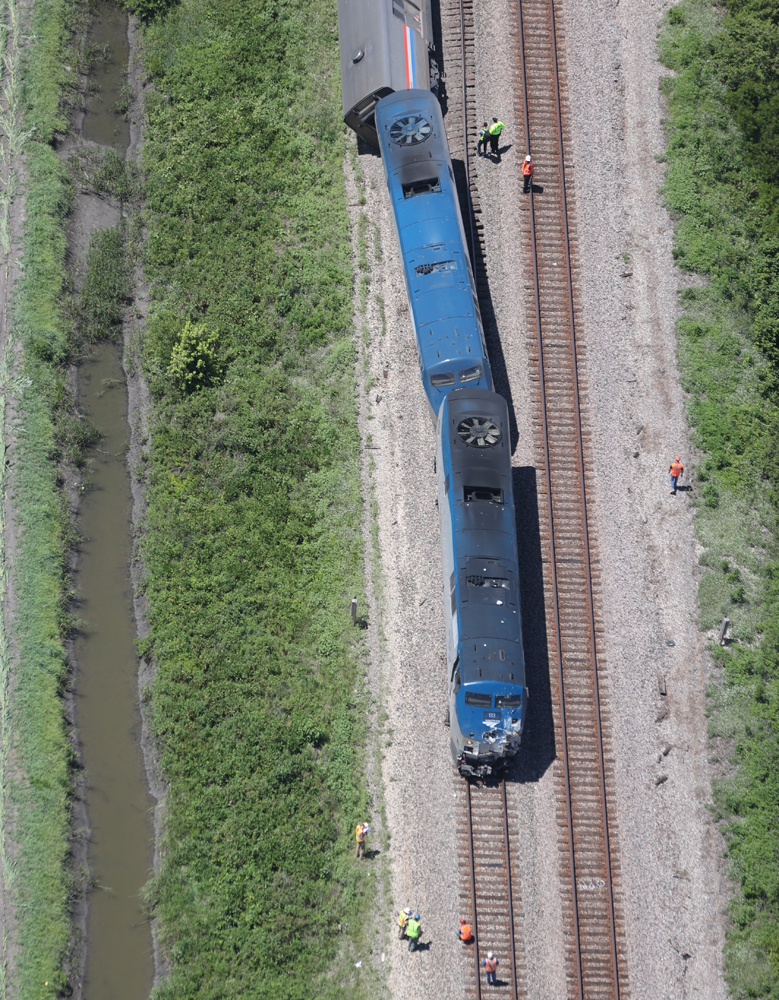 ---
MENDON, Mo. — The Southwest Chief was traveling at 87 mph — just under the track speed of 90 mph — when it struck a dump truck and derailed Monday in the accident that killed four people, including three passengers on board the Amtrak train.
National Transportation Safety Board chairwoman Jennifer Homendy provided that information in a Wednesday press conference, saying the train was traveling 89 mph when it began sounding its horn a quarter-mile from the grade crossing where it struck the truck.
"We do not have concerns about mechanical issues," Homendy said, as reported by the Washington Post. "We tested the brakes and there are no issues with the brakes." Homendy said the steep grade to the grade crossing is of concern: "We have to look at the approach of this crossing. It's very steep. There's a lot resting on a driver to see a train at these crossings, particularly when there's such a steep incline."
In other developments Wednesday, the Missouri State Highway Patrol identified the four people killed in the collision and derailment, while a Chicago law firm is preparing to file lawsuits against Amtrak and the company that owned the dump truck.
KSHB-TV reports the three passengers who died were all from the Kansas City area: Rachelle Cook, 57, and Kim Holsapple, 56, both of De Soto, Kan., and Bihn Phan, 82, of Kansas City, Mo.
Also killed was the driver of the truck, Billy Barton II, 54, of Brookfield, Mo., which is about 15 miles from Mendon. Barton, Cook, and Holsapple were pronounced dead at the scene; Pham died after being transported to University Hospital in Columbia, Mo.
The Clifford Law Offices, which says it is handling 42 lawsuits over the Sept. 25, 2021, derailment of the Empire Builder in Montana [see "Seven suits filed …," Trains News Wire, Oct. 6, 2021], said in a press release that a Kansas family injured in Monday's accident "is among those who will be filing lawsuits." Attorney Kristofer Riddle said the law firm "will conduct its own investigation into what occurred, but inevitably negligence is involved."