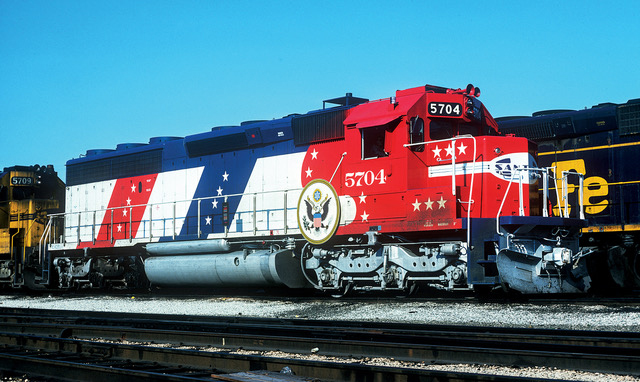 PERRIS, Calif. — The Southern California Railroad Museum has added a former Santa Fe bicentennial locomotive to its collection.
SD45-2 No. 5704, built in 1973, was one of five repainted locomotives repainted into red, white, and blue at Santa Fe's San Bernardino shops in 1975 and 1976, and saw action on priority freight trains as well as in support of the American Freedom Train during its time on Santa Fe routes. It was repainted into the standard blue and yellow paint by late 1978, and continued to operate well after the merger than created BNSF Railway.
Recently retired and scheduled for scrap, the locomotive was saved through efforts by led by Stephen M. Priest, a former railroader, author, and historian in the Kansas City area.
"Santa Fe 5704 will be a terrific addition to our museum's collection, which already includes numerous pieces from that railroad," museum President and CEO Barry Busch said in a press release. "We are delighted Stephen worked to facilitate a donation of the locomotive by BNSF, in addition to donations by Mid-America Car, Inc. of Kansas City, Mo., to cosmetically restore 5704; the Sherwin-Williams Company for providing paint, primer, and clear coat; Eagle Enterprises, Inc. of Wichita, Kan., which donated vinyl lettering; and Insight Print & Display in Kansas City, Mo., for donating specialized paint masking. This has been a collaborative effort to cosmetically restore and preserve Santa Fe 5704 to its bicentennial paint scheme glory for the benefit of generations to come."
Once painting is completed, the locomotive will be moved from Kansas City to Perris. The museum is currently working to secure components that will allow a mechanical restoration to full operation. Restoration donations for No. 5704, as well as other museum projects can be made at this page at the museum website.