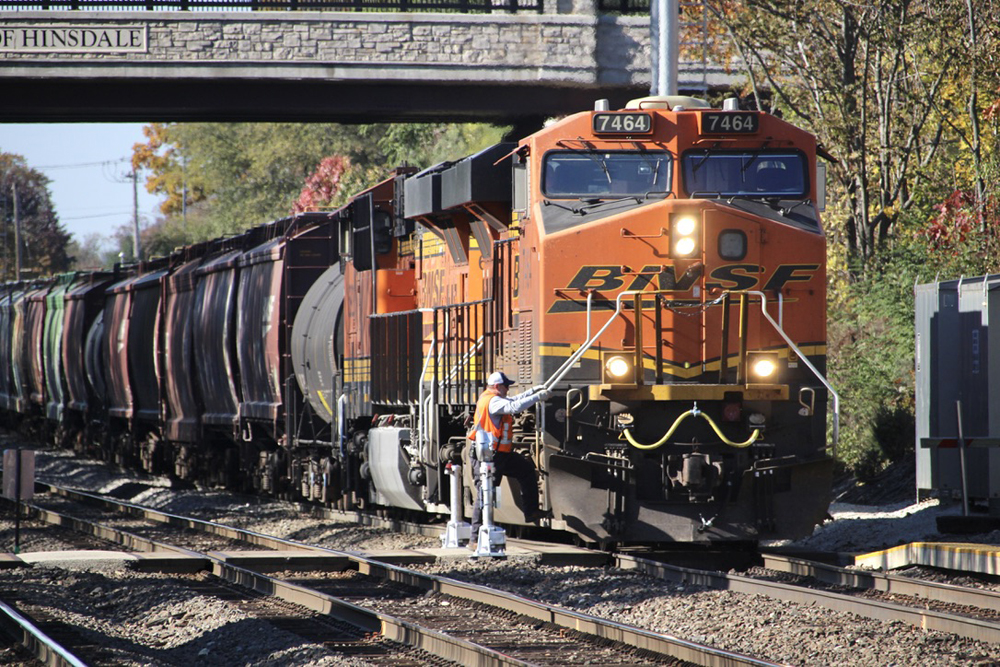 ---
WASHINGTON – Congress should let rail labor contract negotiations play out until a deal acceptable to the rank and file is reached, the SMART-TD union told congressional leaders today.
If a contract based solely on the recommendations of the Presidential Emergency Board were presented to union members, it would fail by more than a 3-to-1 margin, SMART-TD Legislative Director Greg Hynes wrote in a letter to Congress.
Meanwhile, the head of the Brotherhood of Locomotive Engineers and Trainmen said in an interview that BNSF Railway and Union Pacific are resisting efforts to change work rules — a charge BNSF flatly rejected.
The union's letter comes amid a flurry of letters to congressional leaders from rail shippers and business officials, all of whom want Congress to prevent a strike or lockout from occurring as early as 12:01 a.m. on Friday.
The key issue, Hynes wrote, is not pay but working conditions.
"A voluntary agreement between the two parties is the best option for our members and this nation," Hynes wrote. "That being said, the carriers are still refusing to provide our members with minimal provisions to improve their overall quality of life, and to recognize their contributions to the industry and to the American economy."
The SMART-TD, Brotherhood of Locomotive Engineers and Trainmen, and the Brotherhood of Railroad Signalmen have yet to reach a tentative agreement with the Class I railroads. Nine other labor groups representing rail workers have reached tentative deals on contracts based on the recommendations issued by the Presidential Emergency Board last week, including a 24% compounded wage increase.
But the unions representing locomotive engineers and conductors want the railroads to make concessions on work conditions, including attendance policies that rail labor views as draconian. The Presidential Emergency Board recommended that work rules issues be negotiated at the local level between railroads and the unions.
"Through egregious and excessive absenteeism policies, the railroads have taken away our members' ability to be a worthy parent and dependable spouse; and they have eliminated any realistic means for an employee to receive medical services or care for a sick child without being assessed discipline or termination," Hynes wrote.
The railroads disagree. The Presidential Emergency Board's wage increase recommendation, the Association of American Railroads said today, accounts for the unions' request for paid time off. It also recommends an additional personal day, the AAR notes.
The railroads also say they provide multiple ways for crews to take time off and care for their families, including paid vacation, a sick leave structure funded by railroads, and supplemental sick leave policies through the Railroad Unemployment Insurance Act. Crews also can mark off for any reason "if they maintain a reasonable level of overall availability under carrier attendance policies," the AAR says.
The union's letter to Congress comes as the potential for a railroad strike or lockout has gained the attention of national media, the White House, and Congress.
A strike would shut down virtually all freight service in the U.S. and affect most Amtrak service and several commuter agencies.
Head of BLET says BNSF, UP are slowing negotiations
In an interview with CNBC, BLET President Dennis Pierce singled out BNSF and Union Pacific as the primary source of the working-conditions issues, saying those railroads had adopted attendance policies "which have treated workers so poorly. … Union Pacific and BNSF attendance policies are assessing (penalty) points to our members when they just want to take time off for their regular medical appointments."
BNSF called Pierce's contention "categorically false," saying crew members generally get three to five weeks of paid vacation and 10 to 14 paid holidays or personal leave days, and received a 25% increase in personal leave days. UP told CNBC that it "understands our employees want a different way and process … to request and receive time off for things like medical appointments. We are in active discussions with the unions to try to address these concerns."
— Updated at 6:55 p.m. CDT with information from Pierce interview. Trains Senior Editor David Lassen contributed to this report.