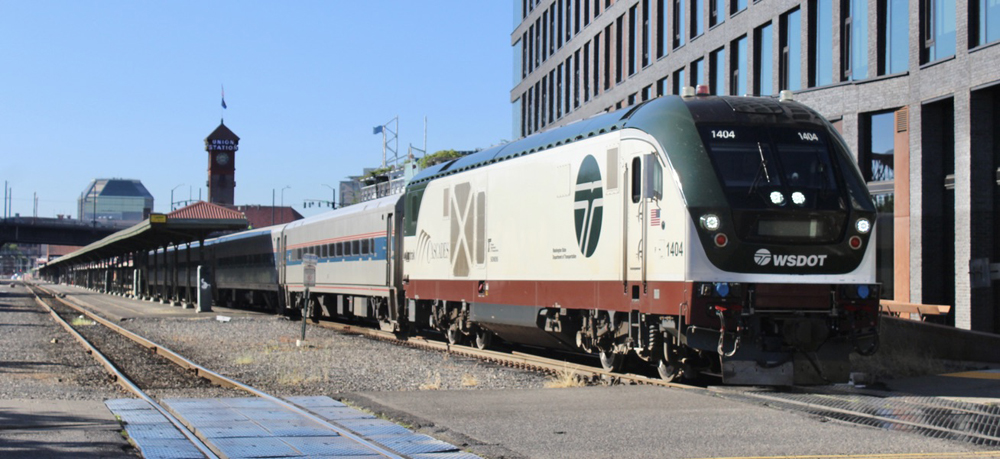 ---
SEATTLE — Amtrak Cascades between Seattle and Portland, Ore., remain suspended through Friday, April 14, while BNSF Railway crews clear a mudslide that has kept passenger trains from operating since Tuesday. Portland-Eugene, Ore., and Seattle-Vancouver, B.C., trains have continued to operate, while the Coast Starlight to and from Los Angeles has been turning at Portland.
A bus bridge is accommodating travelers who booked before the blockage occurred, but all Seattle-Portland trains are showing "sold out" to new bookings through Friday. BNSF Railway says the mudslide is in Clark County, Wash., which is near Vancouver, Wash., and that it is continuing to provide updates to Amtrak, the Washington State Department of Transportation, and other officials during the mitigation process. Amtrak, in a notice posted Thursday night, says the suspension is because of a "BNSF Railway passenger train moratorium following an landslide."
On the long-distance front, a blockage on Union Pacific's ex-Denver & Rio Grande Western route west of Denver on Wednesday resulted in extended delays to both the eastbound and westbound California Zephyr. Leaving Emeryville, Calif., nearly on time Tuesday, April 11, and after encountering 4 hours of freight train interference west of Salt Lake City, the train lost another 9 hours getting to Granby, Colo., east of Glenwood Springs. It was more than 14 hours late headed to Chicago across Nebraska on Thursday. The eastbound Zephyr was held nearly 3 hours at Glenwood Springs on Wednesday and was more than 7 hours late crossing Nevada today.
Fire delays
Disruptions Wednesday caused by wind-driven wildfires near tracks were also responsible for hours-long stoppages between Baltimore and Wilmington, Del., and near Gary, Ind., on Norfolk Southern's main line.
About 10 Acela and Northeast Regional trains were delayed from 1 hour to more than 2 hours when an out-of-control brush fire near Essex, Md., northwest of Baltimore, caused a hold to be placed on train traffic from mid-afternoon to 5:30 p.m.
Also, a Wednesday afternoon wildfire near Gary resulted in the busing of passengers on Wolverine Corridor train No. 353 from west of New Buffalo, Mich., into Chicago; the combining of westbound train Nos. 352 with a delayed-departing 354; and the cancellation of the Port Huron, Mich., bound Blue Water Wednesday and its eastbound counterpart Thursday.
— Updated on April 14 at 7:20 a.m. with information on location of mudslide, Amtrak notice.