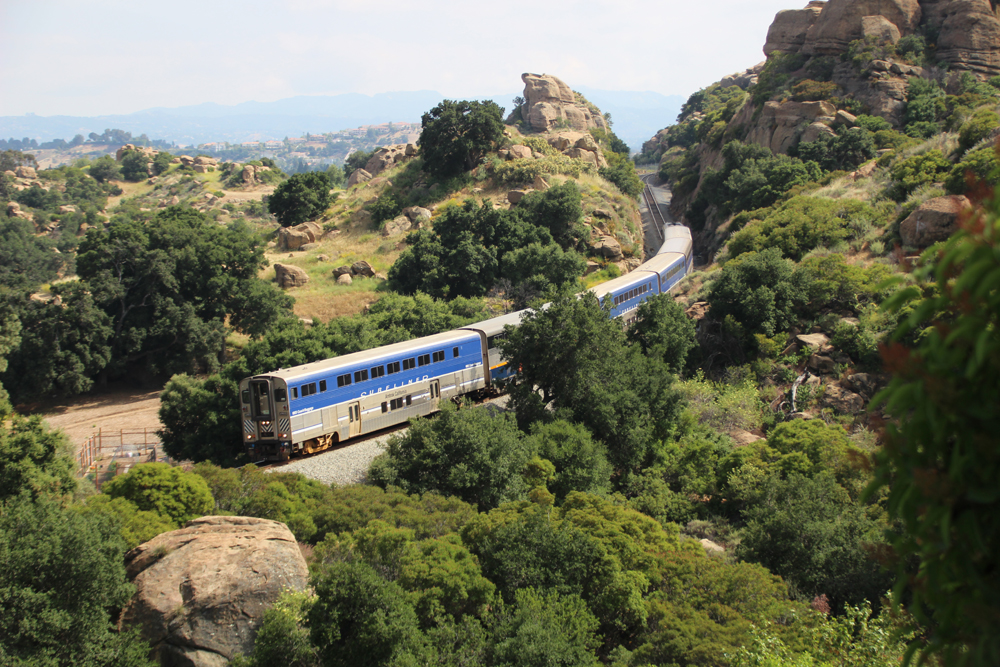 ---
ORANGE, Calif. — Pacific Surfliner service will see some service reductions effective Monday, June 12, during the latest of a series of landslide-related interruptions in service through the San Clemente, Calif., area.
"Considering the recent closure and state intercity rail budget constraints, we must implement cost-cutting measures to preserve as much service as possible while maintaining a vital link between San Diego, Orange, and Los Angeles counties," the LOSSAN Rail Corridor Agency, operator of the Surfliners, says in a statement posted Friday on the Surfliner website. "We are committed to maintaining as much service as possible during the closure, as we understand that our customers rely on the Pacific Surfliner service."
The new schedule, available here, reduces from five to three the number of round trips operating to San Diego with a bus bridge between Irvine and Oceanside, Calif. There will also be no café or business-class service between Irvine and San Diego; no baggage service; and ticket windows at Solana Beach, Santa Ana, and Anaheim will be closed, according to a Surfliner Twitter post.
Service through San Clemente was halted earlier this week because of further debris fall from a landslide near the Casa Romantica Cultural Center [see "Surfliner, Metrolink service again halted …," Trains News Wire, June 5, 2023]. An earlier interruption to service because of the landslide there lasted from April 27 to May 26. Coupled with stability issues on a hillside at another location in San Clemente, the Surfliners have been able to offer uninterrupted daily service between Los Angeles and San Diego for just two periods totaling 19 days since Sept. 30, 2022. There were another 22 days when through service was offered only on weekends.
Last month, Jason Jewell, managing director of the LOSSAN agency, told a state Senate committee that Surfliner ridership had fallen to 40% to 50% of pre-pandemic figures during the outages [see "Slide disruptions hurting Pacific Surfliner ridership …," News Wire, May 17, 2023]. It had risen to 75% of pre-pandemic levels before the first of the slide-related interruptions.
Metrolink service, which has been suspended south of the Laguna Niguel/Mission Viejo station since Monday, has been extended to San Juan Capistrano on weekends only as of today (Saturday, June 10), according to a Metrolink service advisory.
— Updated at 11:05 a.m. CDT with resumption of weekend Metrolink service to San Juan Capistrano.