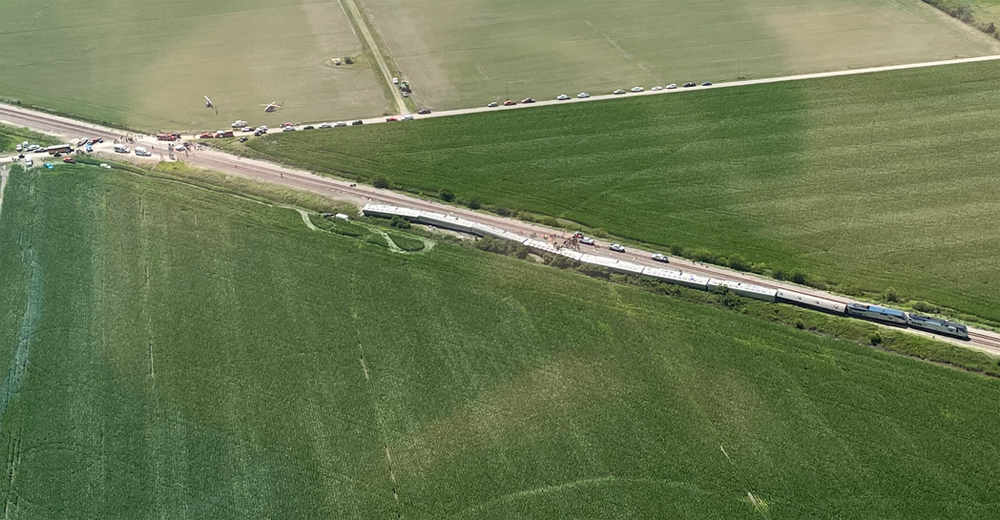 ---
MENDON, Mo. — The location where Amtrak's Southwest Chief hit a dump truck in a collision and derailment that killed three and injured dozens was on a list of grade crossings recommended for safety upgrades, the Kansas City Star reports.
The Monday afternoon accident involving eastbound train No. 4 led to the deaths of two people on board the train and the driver of the truck. The Associated Press reports more than 40 people were transported to hospitals for treatment.
The collision and derailment occurred at about 12:43 p.m. at an unprotected grade crossing for Porche Prairie Road in the small town of Mendon, about 85 miles northeast of Kansas City, derailing both locomotives and eight cars. An updated count from Amtrak says approximately 275 passengers and 12 crew members were on board.
The February report, part of the Missouri State Freight and Rail Plan, recommended warning lights and crossing gates for Porche Prairie Road, at an estimated cost of $400,000. Nearly  half of the approximately 3,800 grade crossings in Missouri are unprotected, the state Department of Transportation says.
A 14-person team from the National Transportation Safety Board, led by NTSB Chairwoman Jennifer Homendy, is slated to arrive at the accident scene today. Amtrak said it will "fully support" the NTSB's investigation
In a Monday evening statement, Amtrak said it was "deeply saddened" to learn of the deaths from the accident. "Amtrak is working with local authorities to make sure those who are injured get medical care and everyone else receives services and transportation. We are grateful for the support from the local authorities who provided assistance and resources for our customers and employees." Those seeking information on passengers aboard the train should call 1-800-523-9101.
As a result of the derailment and ongoing investigation, the westbound Southwest Chief scheduled to depart Chicago today will instead originate in Kansas City. Yesterday's westbound train was cancelled. The eastbound Southwest Chief which departed Los Angeles on Sunday was terminated in Kansas City this morning, with passengers accommodated on other trains or buses for the remainder of their trip.