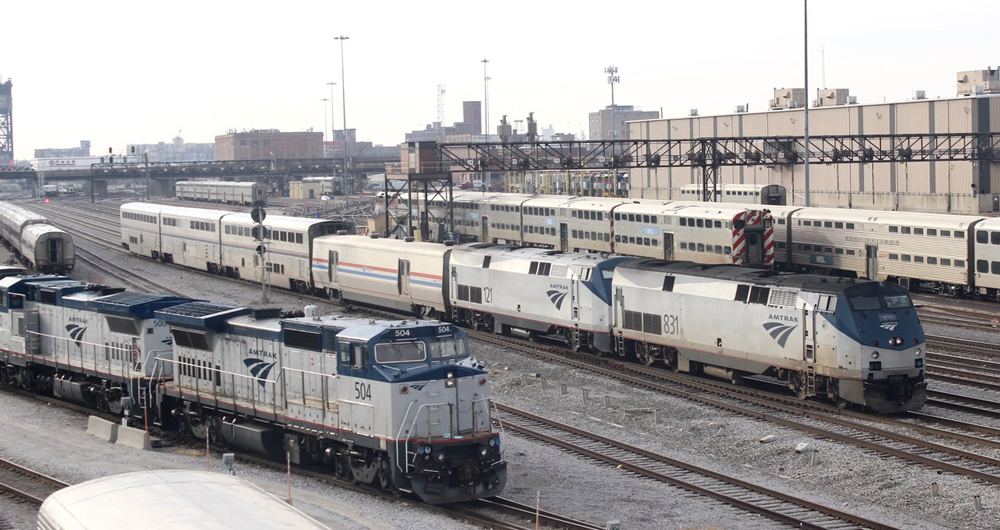 ---
CHICAGO — It's no surprise travelers attempting to book Amtrak's Capitol Limited in January either face sold-out trips or are confronted with record high fares for a coach seat or sleeping accommodation. Inventory is scarce, pushing prices up for what little capacity remains.
Trailing two P42 locomotives on the Capitol into Chicago on Jan. 15 were a Viewliner II baggage car, sleeper, diner-lounge, and one coach. Since early January, a second coach has been dropped; for most of 2022, the Chicago-Washington, D.C., train ran with two sleeping cars. The Capitol previously had lost a third coach, transition sleeper and glass-topped Sightseer Lounge during frequency and capacity cutbacks coinciding with the COVID-19 pandemic.
Despite increasing demand for longer-distance travel beginning in mid-2020, Amtrak management failed to reverse fiscal-year operating plans to forego the expense of Federal Railroad Administration-mandated air brake inspections and rehabilitation. Instead of preparing for a post-COVID surge, sidelined equipment accumulated as each car's four-year brake expiration date approached.
Some overhaul maintenance capacity has been diverted to restorative brake work on Amfleet and Horizon single-level coaches used in corridor service, but Superliners had yet to get that special treatment when Trains News Wire spoke with Amtrak's Vice President, Chief Mechanical Officer, George Hull, at the company's public Board of Directors meeting in December.
"We're trying to feed the line [at the Beech Grove Heavy Maintenance Facility] with Superliners that were put in storage while keeping up with cars coming up on their air brake dates," Hull says. The mandated four-year brake work, known as a "Clean Oil Test and Stencil" procedure, has to be handled where a car can either be jacked up or its trucks can be removed utilizing a drop table. The process takes about four days per car. "It will probably take us another two years to get caught up," he adds.
Exacerbated Superliner shortage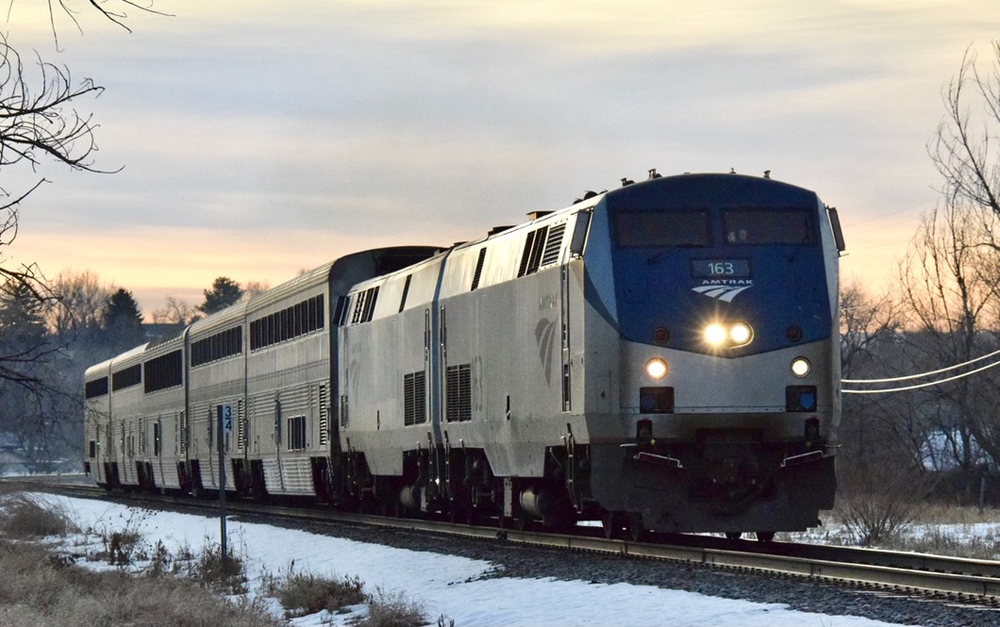 Though the reduced consists of the Capitol Limited and other long-distance trains are set to expand somewhat in the coming months, current Superliner availability has been adversely impacted because a set of cars has been diverted to the seasonal Winter Park Express, operating well-patronized round trips for Colorado skiers every Friday, Saturday, and Sunday out of Denver through March. But even that train has been shortened from eight coaches in previous years to four cars in 2023.
However, a long-festering problem directly impacting Amtrak's systemwide Superliner shortage is a Canadian National requirement that all passenger trains operate with at least seven Superliners between Chicago and Carbondale, Ill. Currently, that means two Saluki-Illini round trips and the City of New Orleans.
Passenger trains failing to reliably trigger, or shunt, track circuits that activate signals or highway crossing warning devices have plagued a number of routes, but problems on this one have remained unsolved since June 21, 2004. That's when some incidents prompted CN to impose passenger train speed restrictions, or a minimum number of axles if maximum track speeds are not reduced.
Several railroads now require "axle count" cars, including the Union Pacific between St. Louis and Kansas City, Mo., and BNSF Railway in California's San Joaquin Valley. These are often unoccupied baggage cars added to revenue-producing cars to generally total a train of 30 or 32 axles, including the locomotive, to insure electric impulses triggering signals are conveyed — or shunted — from one rail to the other. But only CN has gone the extra step of requiring that Superliners be utilized unless trains are operated at reduced speed.
That means service which otherwise could run with Amfleet, Horizon, or Venture equipment, such as the two Chicago-Carbondale round-trips, must have Superliners.
The Federal Railroad Administration, Amtrak, CN, and Illinois Department of Transportation have jointly been attempting to rectify the problem through equipment and signal testing, according to regular emails and conversations Trains News Wire has had with each entity during the last decade. The full story of possible solutions awaits CN's answer to the "why Superliners?" question, which the state, FRA, and Amtrak have also declined to explain.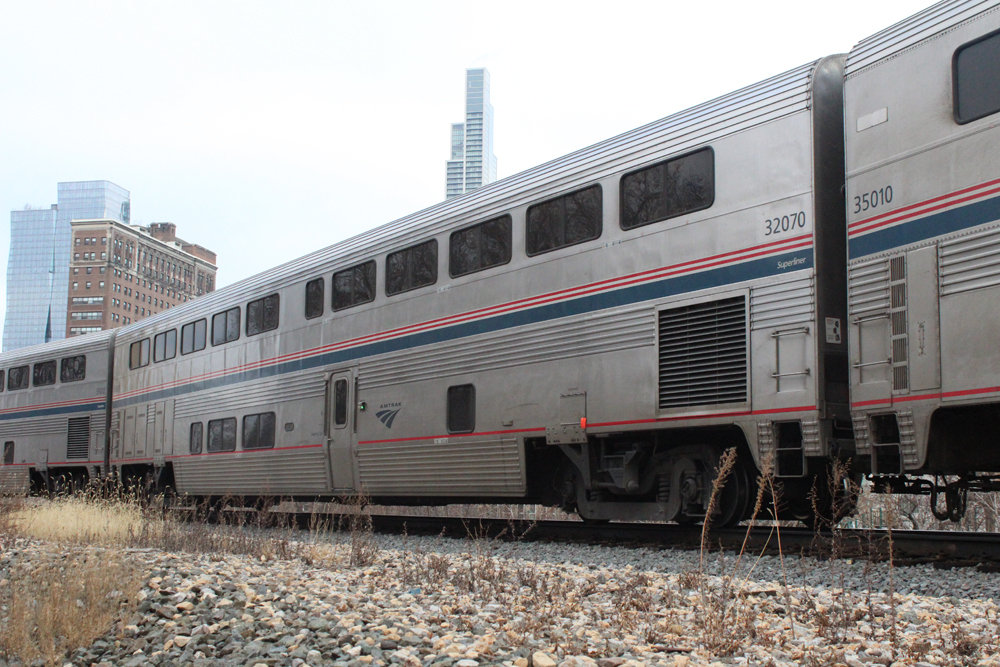 Scott Speegle, Illinois' Passenger Rail and Transit Communications Manager, said in early October 2022 that the latest round of testing had not been scheduled because "we are waiting on materials needed for the tests."
Meanwhile, the seven-Superliner southbound Saluki leaving Chicago for Carbondale on Jan. 14 had two coaches, two coach-baggage cars, a coach-snack (with a lower-level cafe), sleeping car 32070, and transition sleeper 39012 bringing up the rear for the daytime round trip.
Given the equipment shortage made worse by the delayed deployment of state-owned Venture coaches, it isn't clear whether Amtrak has an alternative to Superliners on the route it gets paid by Illinois to run. In the meantime, travelers attempting to ride long-distance trains are paying the price.