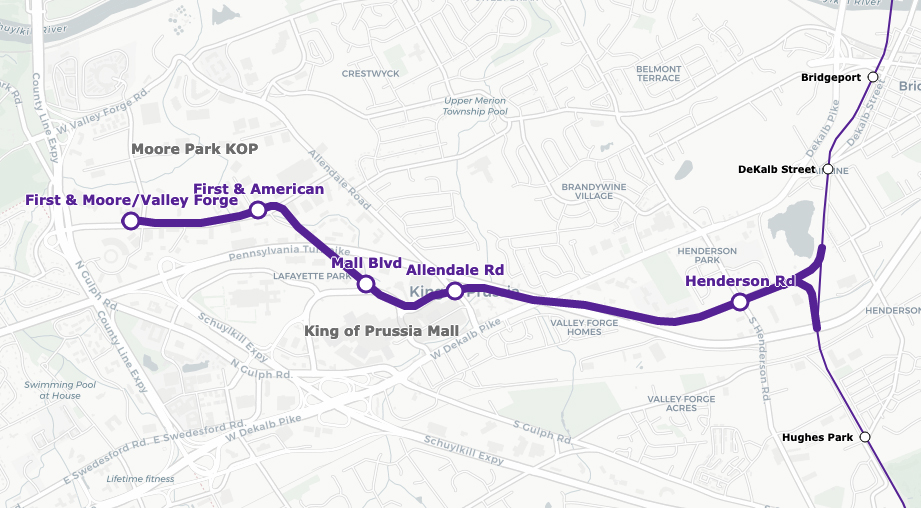 ---
PHILADELPHIA — The Southeastern Pennsylvania Transportation Authority's board of directors has approved acquisition of some 70 pieces of property for its proposed King of Prussia Rail Line, the Philadelphia Business Journal reports.
The agency is also on the verge of purchasing land for a new trolley barn, about 18 months after it was outbid by Amazon on a previous site it had targeted for the maintenance facility.
The King of Prussia project, estimated to cost as much as $2 billion, is a 4-mile, five-station extension of the existing Norristown High Speed Line.  The agency has had some discussions with landowners but has not publicly disclosed the properties it needs for right-of-way, stations, and parking. The agency must now appraise the properties, determine fair market value and make offers.
SEPTA hopes to award a final design contract for the line this year, with a timeline of completing the design phase in 2024 and starting construction in 2025. The goal is to have the route operational in 2027.
At the same meeting it approved moving forward on the King of Prussia project, the SEPTA board authorized the purchase of 15.2 acres and a former steel fabricating plant at 5100 Grays Avenue for the maintenance facility. The Philadelphia Inquirer reports the property is valued at $21.8 million and is on the Route 36 line. The agency would salvage about 65% of the existing building for the heavy maintenance facility planned for a new fleet of light-rail vehicles to replace its 40-year-old Kawasaki cars.
The agency had previously sought to spend $5.7 million to purchase a former General Electric plant in southwest Philadelphia, but Amazon outbid it for a proposed 140,000-square-foot logistics center [see "Digest: Toronto residents will need transit agency approval …," Trains News Wire, March 31, 2021].