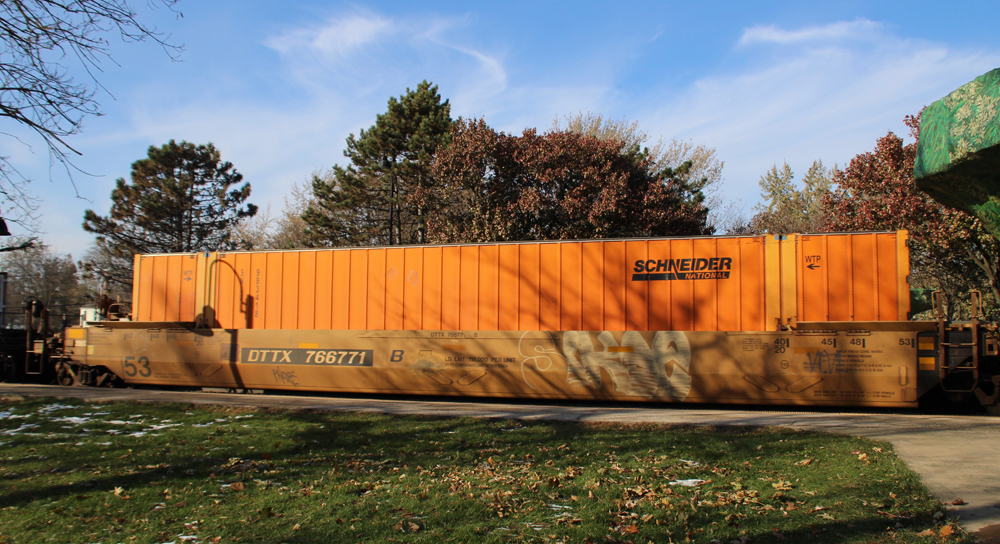 Schneider plans to double intermodal operations as part of sustainability efforts
Intermodal, logistics, and trucking firm Schneider plans to double its intermodal operations by 2030 as part of its Environmental, Social, and Governance objectives, a move the Green Bay, Wis., company says will reduce carbon emissions by an additional 700 million pounds per year. The company's sustainability efforts also include a commitment to reduce carbon emissions by 7.5% per mile by 2025 and 60% per mile by 2035, and to achieve net zero status for all company-owned facilities by 2035. The company has committed to electrification of its trucking fleet as part of these efforts. "Sustainability has been and will continue to be embedded into everything we do," Mark Rourke, Schneider president and CEO, said in a news release. "We are committed to operating one of the most fuel-efficient and sustainably-minded fleets on the road. It is our responsibility." The announcement came little more than a week after Schneider celebrated the 30th anniversary of its intermodal operations, Since beginning intermodal in 1991, its intermodal operations have grown to include more than 45 ramps, 22,300 containers, and 20,600 intermodal chassis. More on the intermodal anniversary is available here.
Three companies to bid for Purple Line construction
The consortium responsible for building Maryland's Purple Line has chosen three companies to bid for resumption of construction work on the 16-mile light rail project, halted last year when its primary contractor quit in a dispute over cost overruns. The move comes as an official of one of the counties involved has asked if the project can be single-tracked at one location to save money and make room for another project. WTOP Radio reports that Purple Line Transit Partners, in partnership with the Maryland Department of Transportation and Maryland Transit Authority, has cleared the three companies to make formal bids from a group of five that expressed interest. Advancing to make bids are Halmar International, based in Nanuet, N.Y., which has been involved in transit projects across North America; Maryland Transit Solutions, formed by Dragados USA Inc., and OHL USA, two New York-based affiliates of international firms; and Tutor-Perini/Lunda, comprised of California-based Tutor-Perini, with extensive experience in projects ranging from highways to transit to stadiums, and Wisconsin-based Lunda Construction Co. Meanwhile, the Washington Post reports that Montgomery County Executive Marc Elrich has asked if the line could be reduced to a single track at the Bethesda station, which would save millions and allow the county to rebuild the recreational Capital Crescent Trail. If the state rejects that plan, Elrich said, the project to build a new tunnel for the trail will need to be postponed until at least fiscal 2027.
Mexican agency approves start of Tijuana-Tecata passenger project
Mexico's communications and transportation ministry has approved the start of construction on the $126 million first stage of the Tijuana-Tecate passenger rail project. BNAmericas reports the ministry approved a 30-year public-private partnership awarded late last year to begin work on the first 27 kilometers (16.8 miles) of the 44-mile project. That initial segment will run from the San Ysidro-Tijuana port of entry at the U.S. board to the municipality of Ejido Maclovio Rojas in Tijuana's east, with seven stations. It will be the first rail service for the border city.