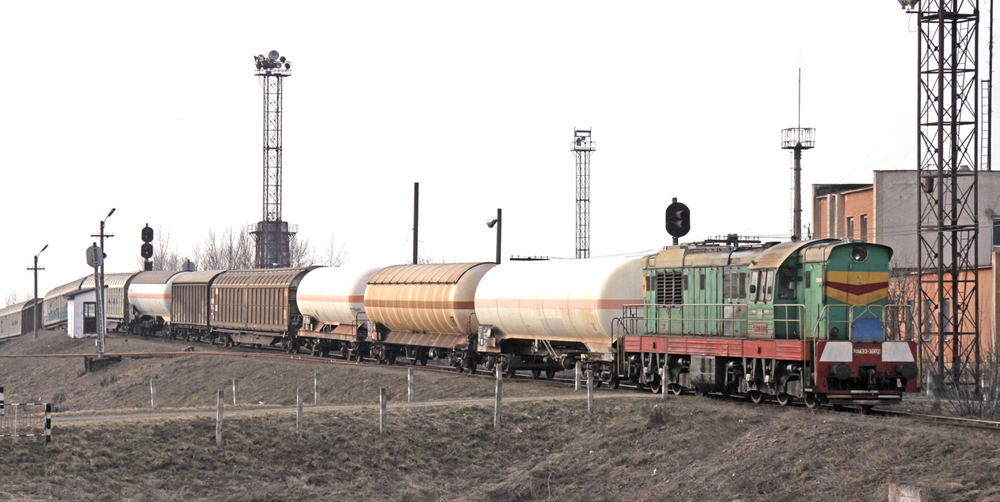 ---
As the Russian military adjusts its strategy and goals following the failure of its original invasion of Ukraine that began Feb. 24, it has increased strategic attacks on the network of national rail operator Ukrzaliznytsia (UZ) in the west of the country, largely through missile strikes.
The Ukraine war is the first since World War II where railways are crucial to both sides [see "RDC's Posner looks at Ukraine refugee operation …," Trains News Wire, April 21, 2022]. Russia has targeted Ukraine's rail system as it mounts attacks on the eastern region known as the Donbas, the area around the cities of Donetsk and Luhansk.
In general, April and early May have seen the Russian military seek to disrupt Ukrainian transport and communications within areas still controlled by the Ukrainian government, as far west as its borders with European Union/NATO countries. This has led to multiple attacks on the rail network, which has been crucial to the movement of civilian refugees, humanitarian aid, and military supplies. It has also had a damaging impact on Ukraine's ability to maintain its export of food.
In advance of the main Russian attack in the Donbas, which began in mid-April, the region's rail network was subject to missile and artillery attacks. The network in the Donbas is electrified at 3kV D.C., unlike most of the rest of the UZ system, which uses 25kV A.C., although many secondary lines are not electrified at all.
Elsewhere, while Russian forces withdrew from the area around Kyiv by late March, long-range missile attacks continued, and began to target the rail network. Russian ballistic missiles hit the western city of Lviv on April 18. One location hit was adjacent to several major railway lines although it is unclear, if they or the tire workshop actually hit were the real target.
Additional attacks on April 25 hit railway stations or facilities, including electric traction substations, at five locations in the center or west of the country, according to Ukrainian authorities. UZ reported via the Telegram app that there had been some casualties and that overhead power had been partially disrupted on two electrified routes between Krasne, which is the main junction east of Lviv, and Kyiv, via the towns of Koziatyn and Fastiv. Following the attacks UZ reported the overhead power was disrupted west of Fastiv on both routes, delaying at least 16 passenger trains. UZ retains a large diesel locomotive fleet, so it can potentially haul electric trains through dead sections of overhead lines. Other attacks have reportedly targeted power plants with the aim of disrupting electricity supplies to the UZ network.
Prominent American visitors take the train
The April 25 attacks came literally hours after U.S Secretary of State Anthony Blinken and Defense Secretary Lloyd Austin returned to Poland from Kyiv after meeting Ukraine President Volodymyr Zelenskiy, probably using one of the two routes west of Fastiv. They were among a series of prominent politicians who have visited Zelenskiy, all travelling for around nine hours by train from Poland, as flying is too dangerous given the possibility of Russian attacks. In addition to Blinken and Austin, House Speaker Nancy Pelosi and several members of the U.S. Congress made visits in early May.
Link to Danube attacked
On April 26, a Russian long range missile, reportedly fired from an aircraft operating over the Donbas region, hit the Pidyomnyy Mist bridge west of Odesa. This bridge carries the single track Odesa-Bilhorod/Izmail electrified railway, a road, and power  cables. It forms the only transport link over the Dniester River to Ukrainian territory west of Odesa, close to the borders with Moldova and Romania.
The following day another missile attack was reported. Pictures available on the internet showed the bridge was damaged but still standing, although the damage was sufficient to disrupt rail services. Russia appears determined to sever the line; a further attack with three missiles was reported May 2, and reports suggest it is currently closed.
Izmail is located on a short section of the river Danube that forms a border with Romania on the opposite bank, and the port there is one route UZ has been using to attempt to maintain grain exports.  Since March 9, the route had also been used for trains carrying refugees, who transferred to ships on the Danube to take them from Izmail to Tulcea, Romania.
Another rail route to Izmail passes through the territory of neighboring Moldova's breakaway, Russian-controlled region of Transnistria, but a key bridge on this route was destroyed early in the conflict — although by whom is not clear. Without the Pidyomnyy Mist bridge, the Ukrainian territory west of Odessa is isolated from the rest of the country, and potentially exposed to possible attack by Russian forces based in Transnistria.
Freight struggles with gauge change as well as attacks
The attempt to ship grain through Izmail reflects UZ's efforts to deal with the loss of Ukraine's ports on the Black Sea and the Sea of Azov, which are either occupied or effectively blockaded by Russian forces. Ukraine is one of the world's largest grain producers and before the war almost all its grain exports (worth $12.2 billion in 2021) were shipped from its ports. A significant reduction in these exports will likely lead to food shortages in some countries and has already led to substantial increases in food prices around the world.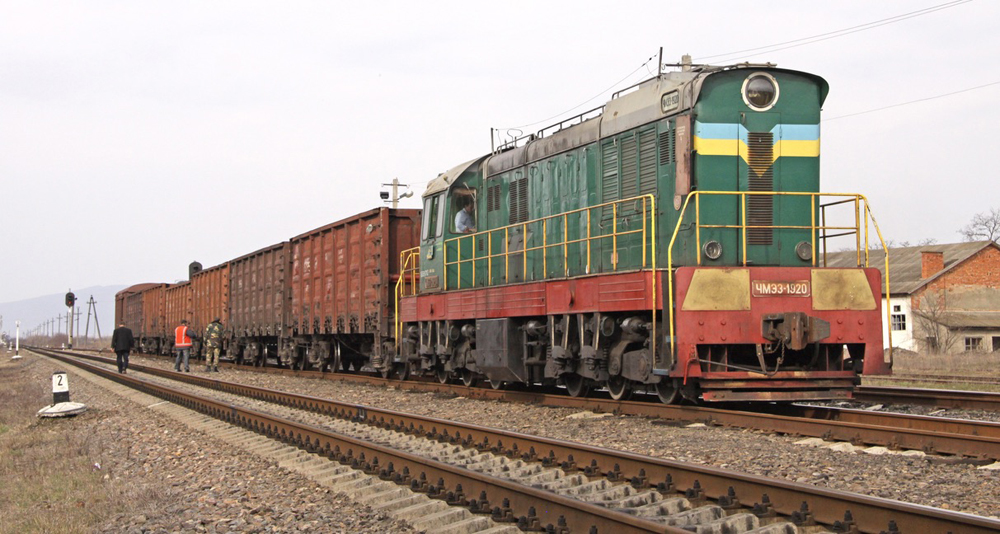 UZ is now trying to move some freight to European countries, from where it can be exported using ports on the Baltic Sea in Poland or Germany. But this has been slowed by a lack of freight cars, as well as red tape and the need to deal with a change of track gauge at the border with Poland or other countries.
Ukraine, like all countries of the former Soviet Union, uses 5-foot broad gauge track, while neighboring European Union countries use standard gauge. As there are no freight cars with automatic gauge-change equipment, every car heading from Ukraine to its EU neighbors either has be lifted on jacks so standard-gauge trucks can be swapped for the broad-gauge ones. The even more time-consuming option is to transload cargo from cars of one gauge of those of the other. This is fairly quick for freight in containers, but for bulk loads like grain, iron ore, or coal, containers are not normally used. The same problem in reverse applies to European cargo entering Ukraine.
In early April nearly 25,000 cars carrying various export goods including vegetable oil, iron ore, metals, chemicals, and coal were waiting to cross Ukraine's Western border into Poland; of these 1,100 carried grain.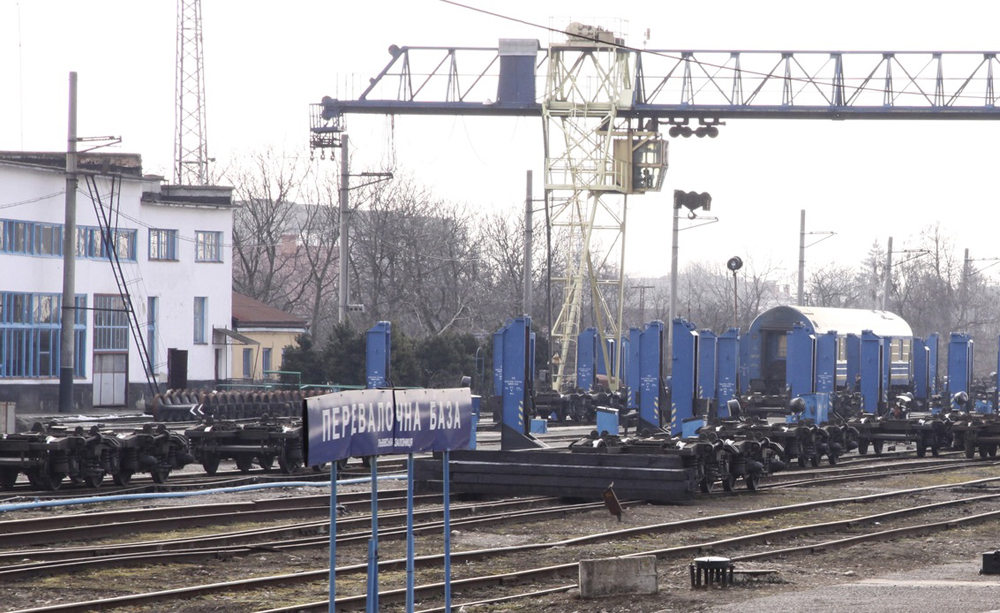 There are two lengthy 5-foot gauge routes from western Ukraine into the EU, built in the 1960s and '70s to transport iron ore to steelworks in Katowice, Poland, and Košice, Slovakia. The route into Slovakia is electrified at 3,000 volts D.C, while the route in Poland uses diesels. These lines are of no use for export freight as they end far from a port and lack the facilities needed to change trucks, which are all at border locations.
Ukraine, Poland agree to new freight logistics company

Ukraine and Poland have agreed to set up a new, jointly owned logistics company to increase the amount of Ukrainian exports that can be transported by rail into Poland, then on to ports in Poland or elsewhere in Europe. The agreement signed in late April by the prime ministers of both countries should improve transport operations which have historically not been integrated and faced delays from red tape from customs or other officials. With both countries having a direct interest in its success, the joint company may overcome some of these problems
Rail lines damaged in Russia as well
Ukraine has countered Russian attacks on its supply infrastructure by responding in kind, damaging parts of Russia's rail system in southern Russia. This is especially true in the area between the Ukrainian city of Kharkiv and Belgorod in Russia. Unconfirmed reports suggest railway bridges north of Belgorod in the Kursk region and in Russian-occupied Ukrainian territory near Melitopol were also damaged in late April and early May. A series of unexplained explosions in southern Russia, mainly at army or fuel depots, have been blamed on Ukrainian forces, although in many cases the government in Kyiv has declined to confirm its involvement.