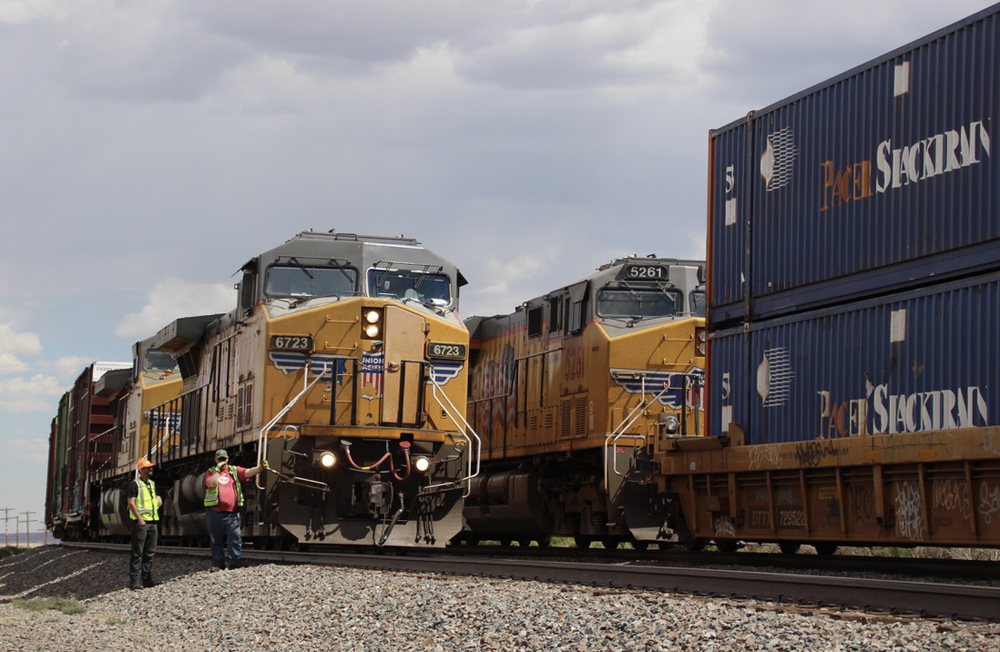 ---
NEW YORK – Investors who have launched shareholder resolutions seeking paid sick time for railroad employees say that the lack of paid sick days endangers workers' health, threatens the economy, and has made it harder for railroads to retain their unionized employees.
Activist investors today filed the non-binding shareholder resolutions requesting that Union Pacific and Norfolk Southern provide all employees with paid sick time.
Trillium Asset Management, which filed the resolution with Union Pacific, said it was reasonable for railroads to offer paid sick time because railroad employees are essential workers who keep critical commodities moving.
"Focusing on the short term at the expense of workers poses potential risks to the company and the economy," Kate Monahan, a director at Trillium, said in a statement. "As shareholders, we are asking management to reprioritize and take the longer-term view that safeguarding the health and safety of their workers will better position them for the future."
The resolution at Norfolk Southern was filed by Impact Shares, a Dallas-based activist investment firm.
"We believe paid sick leave to be essential to protecting and maintaining one of a company's – and the economy's – most important assets: workers," Impact Chief Engagement Officer Marvin Owens said in a statement. "Paid sick leave should not be seen by companies as an expense, but as a prudent investment – an insurance policy that will promote a strong workforce and, by extension, a healthy economy."
UP and NS shareholders could vote on the resolutions in the spring if the proposals are ultimately included in their annual proxy forms.
Trillium and other investors filed a similar resolution at CVS Health last year. The CVS board of directors recommended that shareholders reject the resolution. The resolution won the support of just 26% of CVS shareholders.
Bascome Majors, an analyst at Susquehanna Financial Group, has estimated that providing all workers with paid sick time would trim railroad earnings by as much as 2%.
Paid sick time became a flashpoint in negotiations between the Class I railroads and the four unions that rejected their tentative contract agreements this fall.
President Joe Biden, who last week averted a railroad strike by signing legislation imposing the tentative agreements that did not contain expanded sick leave provisions, said all workers deserve paid sick time.
The Presidential Emergency Board, which was convened this summer after railroads and unions failed to reach contract agreements after nearly three years of negotiations, recommended that individual railroads negotiate separately with their unions regarding sick time requests.
The railroads have rejected union proposals for additional paid time off, saying employees already have paid sick time benefits as well as the ability to take time off for any reason.
"The structure of these benefits is a function of decades of bargaining where unions … have repeatedly agreed that short-term absences would be unpaid in favor of higher compensation for days worked and more generous sickness benefits for longer absences," according to the National Carriers Conference Committee, the railroads' bargaining arm.
UP emphasized that employees already have paid time off.
"Union Pacific knows quality-of-life concerns are real and we are working with employees to make changes. Employee feedback has driven recent strides in our attendance policy, and we are currently piloting a work/rest pilot that we hope to learn from and implement more broadly," railroad spokeswoman Robynn Tysver says. "However, anecdotes that rail employees do not get time off work are untrue. Union Pacific employees receive several paid days off to use as personal days, holidays, and sick days. No Union Pacific employee has been fired because of missing a single day of work, and we actively assist employees who encounter hardships that require time off."
Norfolk Southern declined to comment on the matter.
Independent analyst Anthony B. Hatch says the shareholder proposals represent a shift for the investment community, which typically has sided with management and advocated for companies to boost employee productivity.
Hatch also notes that rail labor traditionally has not pushed for more paid sick time. But a confluence of events – including the pandemic, furloughs, tougher attendance policies, and labor market changes – have pushed the issue to the forefront, Hatch says. The railroads and unions should be able to bargain their way to a solution, he says.
Trillium and Impact are part of the Interfaith Center on Corporate Responsibility, a coalition of shareholder groups that advocate for U.S. companies to address a number of "worker justice concerns, including paid sick leave, worker health and safety, freedom of association, and a living wage."
They argue that employers who provide these benefits will experience better employee retention and reduced operational disruptions.
Updated at 1:14 p.m. Central Time with Union Pacific statement and comments from analyst Anthony B. Hatch.