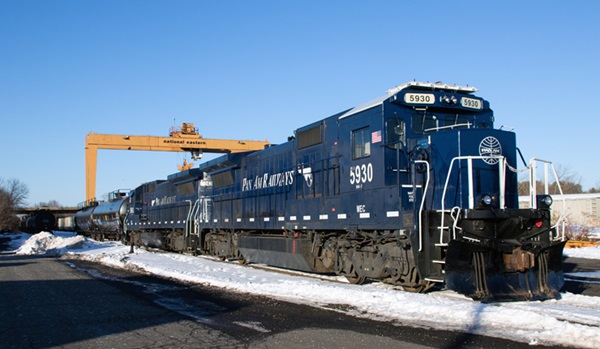 ---
WASHINGTON – Federal regulators on Thursday gave the green light to CSX Transportation's acquisition of New England regional Pan Am Railways.
The Surface Transportation Board's unanimous, 75-page decision approving the merger becomes effective on May 14. But CSX said it planned to close on the transaction on June 1.
Regulators largely agreed with CSX's arguments that the merger will result in much-needed capital improvements to the worn out Pan Am system while improving service and safety. CSX has pledged to spend more than $100 million to improve Pan Am's track, bridges, and yards as well as its aging and failure-prone locomotive fleet, over the next three years.
"After a searching review of the well-developed record in this proceeding, which included a two-day public hearing before the full Board, the Board concluded that this transaction satisfies the statutory criteria based on CSX's representations to the Board. I look forward to improvements in the rail network with respect to reliable service and competitive transportation options in New England and beyond," STB Chairman Martin J. Oberman said.
CSX, already the dominant freight railroad in the region, will extend its reach into Vermont, New Hampshire, and Maine, as well as to Saint John, New Brunswick, via Pan Am's haulage rights agreement with Irving-owned short lines.
"CSX is pleased that the STB approved the proposed acquisition of Pan Am and has recognized the significant benefits this transaction will bring to shippers and other New England stakeholders," CEO Jim Foote said in a statement. "We look forward to integrating Pan Am, their employees and the rail-served industries of the Northeast into CSX and to working in partnership with connecting railroads to provide exceptional supply chain solutions to New England and beyond."
The board also approved several transactions related to the Pan Am Southern, the joint venture between Pan Am Railways and Norfolk Southern. CSX will step into Pan Am Railways' shoes in the joint venture, which gives NS access to New England via the former Boston & Maine line from Mechanicville, N.Y., to Ayer, Mass., via Hoosac Tunnel.
The board approved Norfolk Southern's new trackage rights over CSX from the Albany, N.Y., area to Worcester and Ayer, Mass., as a faster and fully cleared route for intermodal and automotive traffic. The daily intermodal and automotive train NS operates over Pan Am Southern will shift to the CSX routing once a new connection is built at Voorheesville, N.Y.
The other big PAS-related transaction – the designation of Genesee & Wyoming subsidiary Berkshire & Eastern as neutral operator of the Pan Am Southern – also was approved. The board's five-year oversight of the merger will include a requirement that CSX provide reports on Pan Am Southern traffic levels west of Ayer, Mass., for at least two years.
All agreements that CSX reached with various parties – including Amtrak, Vermont Rail System, and the Northern New England Passenger Rail Authority that sponsors the Downeaster service linking Portland, Maine, with Boston – were imposed as conditions on the merger.
But the STB declined to impose additional conditions that Amtrak and the Massachusetts Bay Transportation Authority had sought to protect passenger and commuter service, noting they are already covered under existing contracts or regulations.
"Whether the Board has authority to impose conditions relating to passenger and commuter rail has been the subject of debate throughout this proceeding. Without deciding whether the Board has such authority, the Board — even if it has such authority — would not exercise its discretion to use it here," the decision reads.
The decision orders CSX to uphold its commitments to keeping interchanges open on commercially reasonable terms, an issue that was important to Canadian Pacific and short line Vermont Rail System.
VRS was granted overhead trackage rights over Pan Am Southern between White River Junction, Vt., and Bellows Falls, Vt., as well as limited trackage rights from Bellows Falls to East Deerfield, Mass. CSX will have haulage rights over Pan Am Southern between Rotterdam Junction, N.Y., and Hoosick Junction, N.Y., the interchange with VRS.
Pan Am, a privately held company owned by Tim Mellon and other investors, went on the market in 2020. CSX's bid beat two other suitors who were interested in acquiring the largest regional railroad in North America.
Including haulage rights, Pan Am stretches 1,700 miles from the Albany, N.Y., area to Maine. It includes trackage of the former Maine Central, Boston & Maine, Portland Terminal, and Springfield Terminal railroads. Pan Am connects with four Class I railroads — CSX, Norfolk Southern, Canadian National, and Canadian Pacific — and 14 short lines.
CSX connects with Pan Am at Rotterdam Junction, N.Y., on its former New York Central Water Level Route, and outside of Worcester, Mass., via its former Boston & Albany main line, which is far and away the busiest freight route in New England.
Pan Am entered the rail business in 1981 when the company, then known as Guilford Transportation Industries, purchased the Maine Central for $15 million. Two years later, Guilford purchased the bankrupt Boston & Maine for $24.5 million. Guilford acquired the Delaware & Hudson from Norfolk & Western for $500,000 in 1984, but cast it off into bankruptcy in 1988.
Guilford Rail System was rebranded as Pan Am in 2006. Despite the long-term decline of Maine's paper and forest product industries, as well as manufacturing across New England, Pan Am and Guilford have managed to turn a profit every year.
Terms of the deal were not disclosed, although people familiar with the matter said the purchase price was approximately $700 million.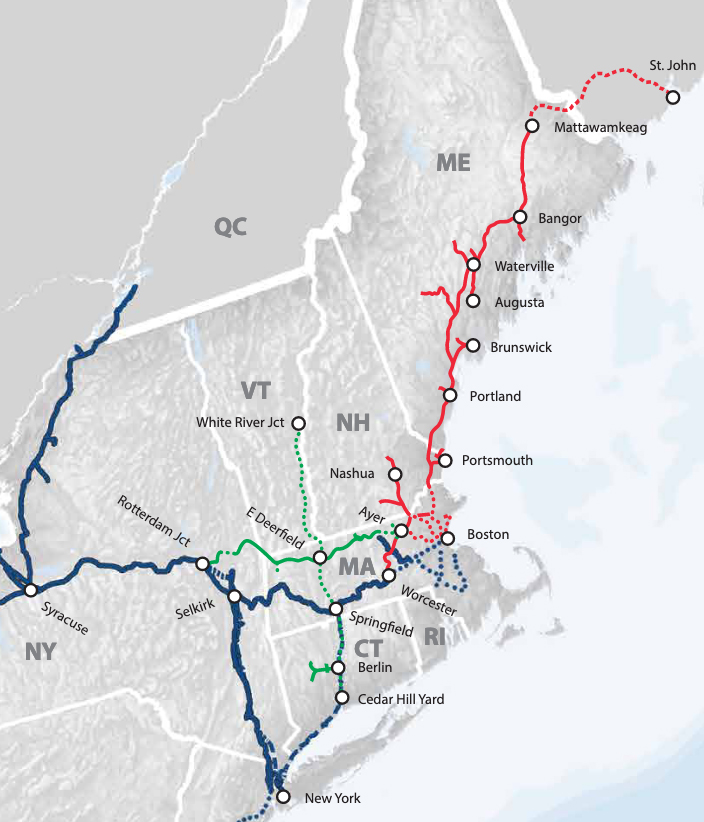 Updated at 6:20 p.m. Central Time with comment from CSX, including anticipated closing date of transaction.