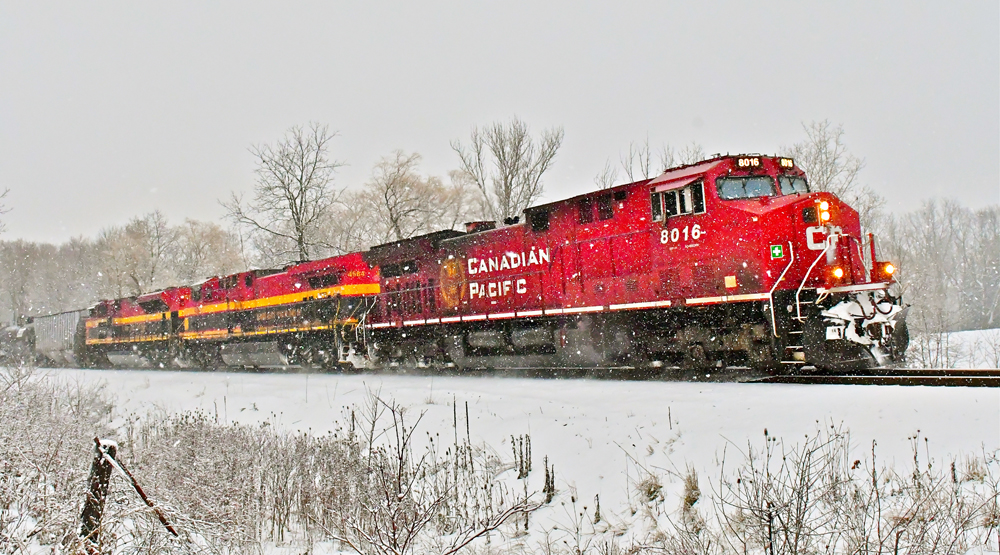 ---
WASHINGTON — Federal regulators today gave the green light to the historic merger of Canadian Pacific and Kansas City Southern.
Their $31.6 billion deal — thought to be the last merger between two Class I railroads — redraws the North American rail map by creating the first railroad linking Canada, the U.S., and Mexico.
The Surface Transportation Board, in its 212-page decision approving CP's acquisition of KCS, said the merger will increase railroad competition and help take trucks off the highway. The board's decision, reached on Monday, was not unanimous: Four members backed the merger, while board member Robert Primus voted against the combination.
The merger will become effective on April 14, although there was no word on when CP and KCS will begin to mesh their operations. CP said it is reviewing the board's decision and will announce its plans for the creation of Canadian Pacific Kansas City in the coming days.
CPKC will have its headquarters in Calgary, Alberta, and its U.S. headquarters in Kansas City, Mo.
"This decision clearly recognizes the many benefits of this historic combination," CP CEO Keith Creel said in a statement. "As the STB found, it will stimulate new competition, create jobs, lead to new investment in our rail network, and drive economic growth. These benefits are unparalleled for our employees, rail customers, communities and the North American economy at a time when the supply chains of these three great nations have never needed it more."
Regulators attached few conditions to their approval of the merger beyond what CP and KCS had proposed themselves. The merger had broad support from shippers but prompted various requests for concessions from the other Class I railroads as well as Chicago-area suburbs and commuter railroad Metra.
But the board imposed an unprecedented seven-year oversight period as well as what it called "extensive data-reporting requirements" that will allow regulators to monitor competition and other issues. The board's oversight period for prior Class I mergers was five years.
The board rejected Canadian National's longshot request to force CPKC to sell the KCS line linking Kansas City and St. Louis with Springfield, Ill. It also rejected the conditions sought by other Class I railroads, including BNSF Railway, CSX Transportation, Norfolk Southern, and Union Pacific.
CN — which sought to acquire KCS in 2021 but lost the four-month battle to CP after an unfavorable regulatory ruling — had wanted to use the former Gateway Western trackage to create a new single-line route between Kansas City, Chicago, Detroit, and Eastern Canada.
"It is … not surprising that the other Class I railroads seek conditions and other remedies that appear aimed at protecting their own traffic from competition with CPKC and at limiting the ability of the combined CPKC to meet its potential," the board said. "Consistent with the Board's policy to protect competition and not competitors, the Board is denying those requests while also ensuring that existing competitive gateway options are preserved."
In light of increasing concerns about derailments in the wake of last month's toxic Norfolk Southern wreck in East Palestine, Ohio, both the STB and CP said they expected the merger would improve safety.
CP noted that it has been the safest railroad in North America for 17 straight years as measured by the Federal Railroad Administration train accident frequency rate. In 2022, CP had an all-time best frequency of 0.93, a rate nearly half what the railway produced a decade ago and 69% lower than the Class I railroad average.
"In addition to the inherent safety advantages that will be gained from shifting approximately 64,000 truckloads from our roads to rail, CP has the best safety record of the Class I railroads … and KCS will adopt many of CP's practices following integration. Thus, any rail traffic diverted to CPKC from other railroads will likely mean traffic moving to a railroad with a better safety record," the board said in its decision.
CPKC unites the two smallest Class I systems. The new railroad will still be the smallest when measured by revenue. But at 20,800 route miles, including trackage rights, CPKC will be slightly larger than CN's 18,600-mile system.
The Justice Department, Biden administration, members of Congress, shippers, and even board members themselves have expressed concerns about consolidation in the rail industry as decades of mergers whittled down the number of Class I railroads to just seven in North America.
But STB Chairman Martin J. Oberman, speaking at a news conference on Wednesday morning, said that as the smallest Class I railroads CP and KCS are dwarfed by their competitors. They primarily compete against the big western U.S. railroads, UP and BNSF, both of which have more than 32,000 route miles, he noted.
"Putting these two small railroads together will actually provide a stronger competitive landscape in the rail industry … because separately, these railroads just do not have the same oomph and power in providing competitive service … as they will together," Oberman said. "I think that's an important point."
With new single-line service linking Canada and the Midwest with Texas, the Gulf Coast, and Mexico, CPKC says it will be able to gain 80,000 carloads and 137,000 intermodal containers currently handled by competing railroads.
New intermodal service – the first connecting the CP and KCS networks – will take 64,000 trucks off highways annually within three years, the railroads say.
And by pairing origins on one railway with destinations on the other, the expanded CPKC system will be able to gain new traffic across a range of commodities, from grain, chemicals, and forest products to appliances, auto parts and finished vehicles, and intermodal.
Within three years CPKC will generate $820 million annually in new revenue from traffic growth and realize $173 million per year in efficiencies and cost savings. No routes or rail facilities would be abandoned or closed, and CPKC will add more than 1,000 jobs to handle traffic growth – 800 of them union jobs in the U.S.
— Updated at 10 a.m. with information from CP and STB. Updated at 2:22 p.m. Central with more detail from decision and STB news conference.