---
PORT CLINTON, Pa.  — Reading & Northern 4-8-4 No. 2102 made its first mainline run in 31 years today (April 6), as it shoved a short train south 16 miles from Port Clinton to North Reading.
The move culminates a 6-year, $1.7 million rebuilding of the former Reading Co. locomotive, built in the railroad's Reading, Pa., shop in 1945.  Following several years of post-retirement excursion service through the eastern United States, R&N owner Andrew M. Muller Jr. purchased NO. 2102 in 1986, operationg it over his 13-mile Blue Mountain & Reading, and later on his growing regional system until 1991.
R&N will run No. 2102 on a series of "Iron Horse Rambles" passenger excursions beginning May 28.  This week's tests are intended to be sure that everything on the engine is ready for that service.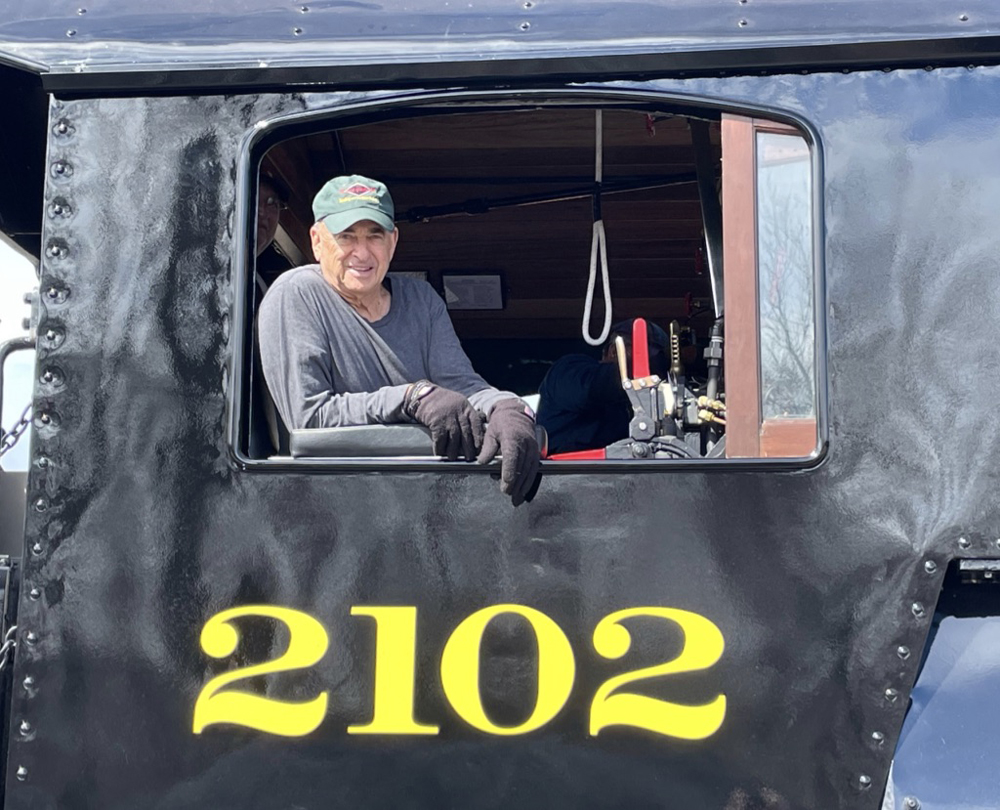 On Monday morning, Muller tossed a lighted fusee into 2102's firebox, igniting tinder that soon had the bituminous coal burning.  By Tuesday afternoon, boiler pressure had risen to over 200 pounds per square inch and was approaching working pressure of 240 psi. Later that day, Muller was in the cab once again, pulling back the big Northern's throttle as the engine moved for the first time under its own power since 1991.  It was just a short shift to position the 2102 in order to fill the engine's tender.
This morning, dozens of fans waited in cold rain near R&N's steam shop at Port Clinton, as railroad employees made final adjustments to No. 2102.  The engine, in glossy black paint, and carrying just yellow cab numbers, tied onto a flat car with parts for a switch project, an open-air passenger car, and a red caboose.  Sun was peeking through clouds as the special departed at 10:25 a.m., with veteran R&N engineer Shane Frederickson at the throttle. Some stops were made en route to check running gear and make minor adjustments, but the big locomotive appeared to be running well.
Railroad officials told Trains News Wire that further test runs are likely on Thursday and Friday.