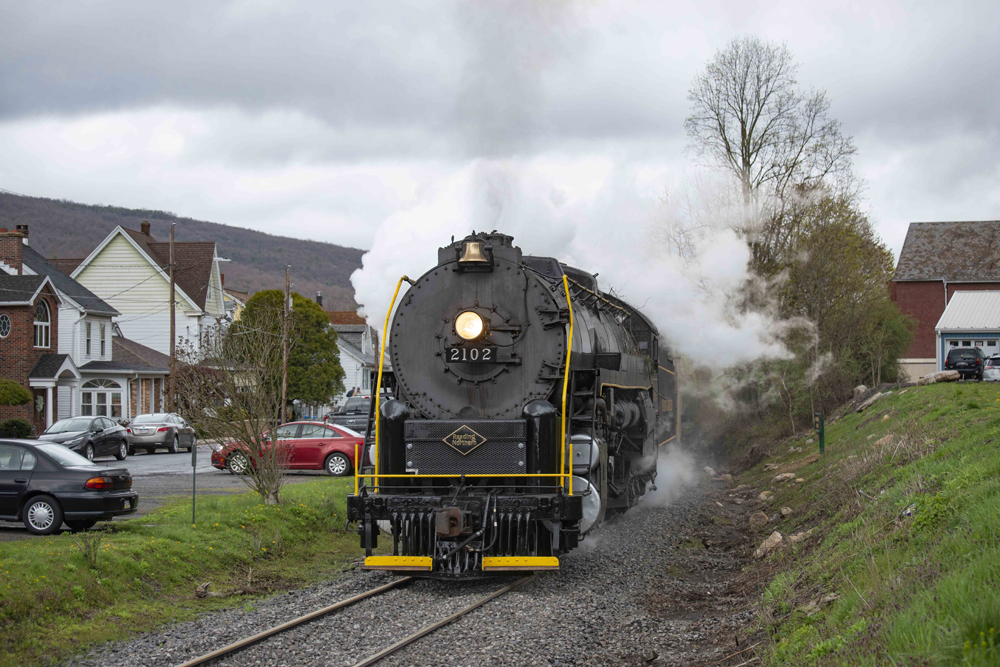 PORT CLINTON, Pa. — Reading & Northern Railroad's Class T-1 4-8-4 steam locomotive is repaired and ready to pull a sold-out Oct. 29 excursion after a malfunctioning component in its firebox sidelined it during a trip on Saturday, Oct. 8.
After a six-year, $2.4 million restoration, the former Reading Co. engine has been performing flawlessly all summer, hauling freight trains and four "Iron Horse Ramble" passenger excursions on a portion of R&N's 400-mile network in east-central Pennsylvania.
On Saturday, the engine was set to pull a Reading-to-Jim Thorpe, Pa., fall-foliage passenger run, about a 135-mile round-trip. It departed R&N's Outer Station in Reading as planned, but clogged ports in the firing table in the engine's firebox prevented it from continuing. The engine was cut off and relieved by a pair of SD50 diesels at R&N's headquarters and shops at Port Clinton, about 17 miles into the run. The trip retraced the same route as that of the four earlier 2102 passenger excursions.
"The cooling holes on the firing table were blocked and it overheated (melted)," R&N CEO Andy Muller Jr. told Trains News Wire. "There were no fingers to shoot coal around the firing table and the coal piled up."
A firing table is a flat piece of steel alloy weighing about 50 pounds and the size of "half a garbage can lid," Muller said. Using a jet of steam, it distributes coal throughout the firebox after it's fed by stoker from the tender. The table is designed with channels and "fingers" that spray and deflect the coal in different directions to provide an even pattern of combustion across the grates. The firing table openings, Muller said, were blocked by dirt or debris.
"The engine has been performing perfectly [until now]," he said. "It was very simple, the last thing we'd ever expected would have happened.
"All the people who understand these steam engines are dead. We were not quite understanding that particular section of technology, but we understand it now. It was a 'nothing,' but a major 'nothing.
"It's already fixed, and we've got extra firing tables," said Muller.
A former Reading Co. freight-service engine, No. 2102 is one of 30 Class T-1 engines rebuilt in 1945-46 from earlier 2-8-0 engines in that company's Reading, Pa., shops. Authorized for 65 mph in the Reading timetable, T-1s weighed in at 220 tons.
While others in the fleet were scrapped, No. 2102 was one of four T-1s that Reading set aside to operate in its Iron Horse Rambles from 1959 to 1964. Later, it pulled excursions under a variety of owners and sponsors in the Northeast and Midwest, including after Muller acquired it for R&N predecessor Blue Mountain & Reading in 1986.
After Saturday's incident, Reading & Northern earned praise on social media for its quick handling of the disruption and even more for its transparency and customer relations in the aftermath.
Muller posted an apologetic notice on line, writing: "We had the perfect conditions for a Fall Foliage ramble. The weather was beautiful, the leaves were stunning and vibrant, and the energy of the  . . . staff was bolstered by our wonderful passengers. What could possibly go wrong?"
Describing himself as "just as shocked and disappointed as all of you," he explained, "Think of this as a nail coming out of a horseshoe. It is a simple fix, but the horse would still be unable to run."
He also pledged that customers — who pay a premium to ride behind steam, above the fare for R&N's diesel-powered and Rail Diesel Car trips  — would be contacted and receive some form of compensation. Further details, Muller said, will be posted on the road's Facebook page.
As R&N announced previously, the companion Oct. 9 and Oct. 30 fall foliage trips over the same route were, and will be, powered by the road's F7A-B streamlined passenger diesel units, Nos. 270 and 275, which R&N purchased from Norfolk Southern, where they were used to pull NS's office-car fleet. R&N also owns another steam locomotive, No. 425 (Baldwin, 1928), which runs on selected excursions.
The railroad also operates scheduled passenger trains from Jim Thorpe into the Lehigh Gorge State Park, usually with GP30 or GP38-2 units. It also runs shorter fall foliage trips, Santa Claus specials, and both scheduled and chartered RDC trips.