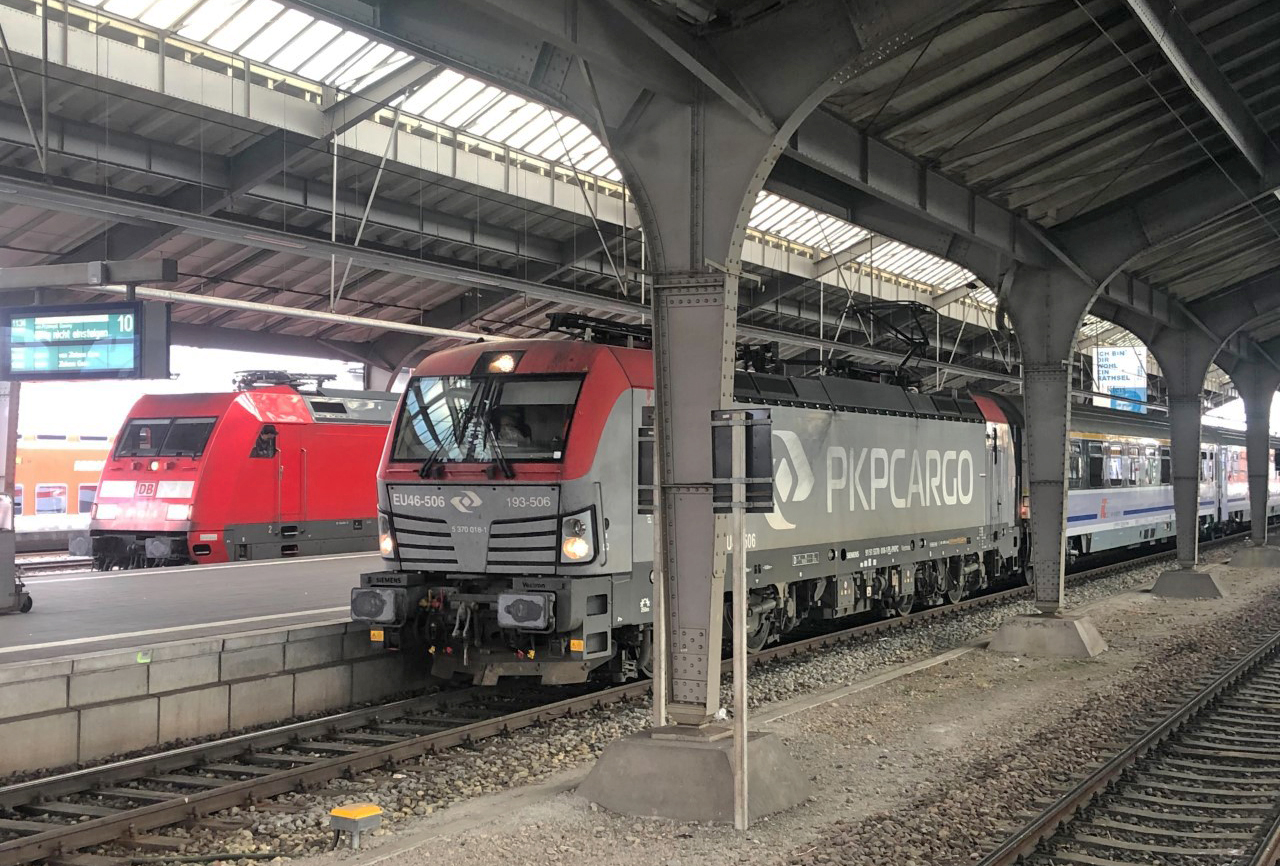 ---
KYIV, Ukraine — The invasion of Ukraine by Russia has led to millions of civilians, most women and children (men aged 18-60 can't leave) fleeing bombarded cities — some to the west of the country, with well over a million crossing into neighboring European nations since the war began Feb. 24.
The railway system in Ukraine, run by national rail company Ukrzaliznytsia, has become a target, with Russian missiles reported hitting rail stations in the capital city Kyiv and other cities such as Kharkiv, even as they are being used to evacuate people. Ukrzaliznytsia announced early in the conflict that all the rail lines linking Ukraine to Russia had been blown up by the Ukrainian military to prevent their use by the invading army.
Millions move west
Ukrzaliznytsia has been operating special trains heading west from Kyiv and other cities in the east and south. Many of these trains, often carrying over 100,000 people a day, have headed to the western city of Lviv. This city, about 50 miles from the Polish border, is so far mostly untouched by the Russian invasion.
From western Ukraine, hundreds of thousands have moved west by train, with others traveling by bus or car to the borders with neighboring Poland, Hungary and Slovakia.  The majority, so far, have traveled to Poland, which has rail and road links to Ukraine — although previously, hardly any international passenger trains crossed the border, carrying at best a few hundred people a week.
To help people move on from the border, rail companies —state companies as well as many newer private passenger operators — have quickly started operating multiple extra trains. One long-closed rail line over the border between Ukraine and Poland was made fit for use and reopened in a matter of days, with private Polish passenger company SKPL running trains. Other cross-border lines normally only used for freight have seen passenger trains introduced, again within days, to help move people west.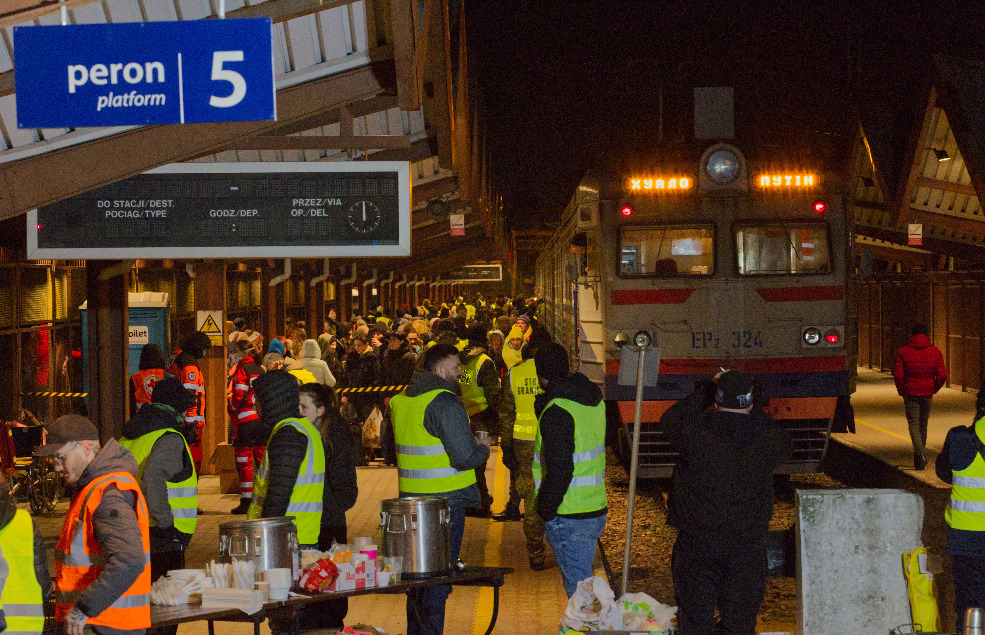 Privately owned passenger company RegioJet, based in Prague, is running daily trains to the Czech Republic from the Ukrainian border at the city of Przemyśl in Poland, where thousands of refugees are arriving daily. Traveling east from Prague to Przemyśl, the otherwise empty trains convey freight cars of supplies for people at the border or still in Ukraine. These have been collected or donated by people and companies in the Czech Republic thanks to Czech charity People in Need' (website here — in Czech, but browsers can translate).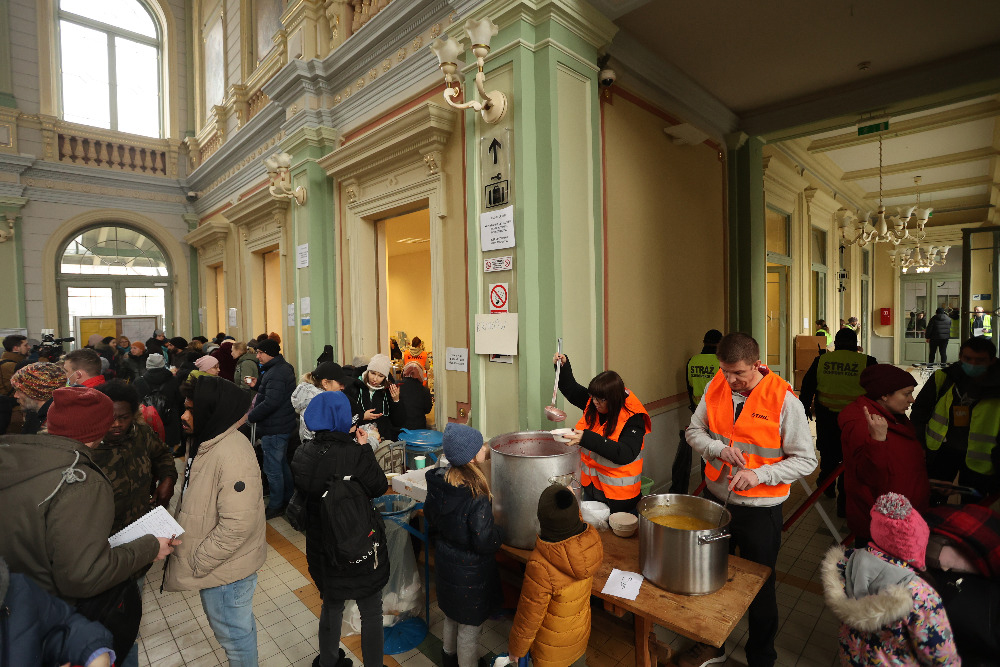 In Poland, national passenger company PKP Intercity has operated special trains, especially from the Przemyśl border station to Polish cities and to the German border station of Frankfurt (Oder).
Countries of the European Union countries have announced they will accept anyone who leaves Ukraine and allow them to stay for up to three years, so many refugees are heading to Germany and other EU countries, where in some cases friends or family already live.
Europe's rail companies have offered free travel and extra trains to people arriving from Ukraine. In Poland, rail stations have been turned into reception centers with food and help available, and across Germany free travel is offered to anyone with a Ukrainian passport or ID card, as many people have left the country with little or no money; even for those with money, rail fares in western Europe are five to 10 times higher than in Ukraine, where wages are much lower than in the EU.
Free travel for people with relatives further west is available, with international high speed operator Eurostar offering free travel to London for refugees with family in the UK, although the British government has yet to drop its visa requirements for people fleeing Ukraine, so it's not clear many will be able to use the option.
Russian rail system sees more military traffic, but international freight moves vanishing
The rail system in Russia was used extensively for the months long military build-up of forces, with some military units travelling thousands of miles from eastern Russia by rail. Some of these forces travelled as far west as Russian ally Belarus; as a result, exiled anti-Belarus government protestors have been reportedly trying to disrupt rail traffic by hacking into computer systems to delay the Russian trains. Reuters reports Ukrainian hackers are also targeting the Belarus rail system.
Russian State rail company RZD now finds itself under financial sanctions from the U.S. and European governments. It has also lost large amounts of lucrative container traffic on the China-Europe route, as shippers in China or customers in Europe switch to routes that avoid Russia. While the financial sanctions do not actually prohibit use of Russian freight trains, most customers are acting as if they do. The Chinese government has previously invested large amounts — probably hundreds of millions of dollars — to build up rail links between China and Europe, which until February saw over a hundred Asia-Europe freight trains every month.
So far, the rail supply industry has not followed the aviation industry's example, where Boeing and Airbus have withdrawn maintenance and supply contracts from Russia. All major European rail manufacturers hae activity in Russia:  Siemens built and maintains Russia's high speed rail fleet,'Alstom owns part of the largest Russian train building company Transmashholding; and Stadler has supplied EMUs to both Russia and Ukraine from its' factory located in Russian ally Belarus.