The union representing railroad maintenance of way employees, who rejected their tentative contract agreement earlier this month, are seeking additional sick leave benefits in negotiations with the U.S. Class I railroads.
The National Carriers' Conference Committee, which represents the railroads in collective bargaining, on Wednesday told the Brotherhood of Maintenance of Way Employees Division of the International Brotherhood of Teamsters that the railroads would not accept its contract proposal.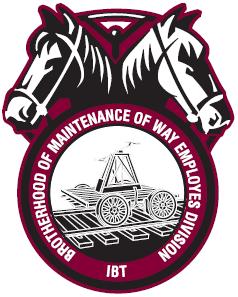 "The latest BMWED request for additional benefits is similar to a proposal which was carefully considered and rejected by President Biden's Presidential Emergency Board and comes weeks after the union entered into a tentative agreement that included the most generous wage package in almost 50 years of national rail negotiations," the NCCC said in a statement.
Labor leaders had backed the tentative agreement that had been reached with the railroads, noting that it included increases for travel expenses that the union had requested. The rank and file, however, rejected the contract, with 56% of those casting ballots voting against the deal.
"Now, following an unsuccessful initial membership ratification process, BMWED leadership is asking for additional benefits and threatening to strike, this time based on the easily disproven premise that union workers are not allowed to take sick leave," the NCCC said.
The BMWED this week encouraged its members to contact their senators and representatives regarding the need for paid sick time.
"The push for paid sick time off could potentially lead to Congressional action," the union said. "While we hope the carriers will acknowledge the concerns of their employees and negotiate with us, it is important that we are prepared for their unwillingness to address quality of life concerns."
The railroads say employees already have paid sick time.
"The health, safety, and wellbeing of rail employees is a top priority for all railroads. Rail employees can and do take time off for sickness and have comprehensive paid sickness benefits starting, in the case of BMWED-represented employees, after four days of absence and lasting up to 52 weeks," the NCCC said. "The structure of these benefits is a function of decades of bargaining where unions, including BMWED, have repeatedly agreed that short-term absences would be unpaid in favor of higher compensation for days worked and more generous sickness benefits for longer absences."
Union Pacific CEO Lance Fritz, speaking on the railroad's earnings call on Thursday morning, said UP and the union were still ironing out final details of their contract while voting was in progress. That meant union members didn't have a clear picture of how it would improve travel expenses, he explained. It's likely union members will approve the deal once they understand what it includes, Fritz predicts.
Six of the 12 rail unions have ratified their contracts with the railroads. Voting will conclude in mid-November, when the unions representing engineers and conductors tally their members' ballots.
The BMWED's rejection of the tentative agreement results in a "status quo" period where the union and railroads try to negotiate a new deal. That status quo period will extend to five days after Congress reconvenes, which is currently set for Nov. 14. Assuming Congress returns to session on the 14th there could be no "self help" — meaning a walkout — until after Nov. 19, the union said.