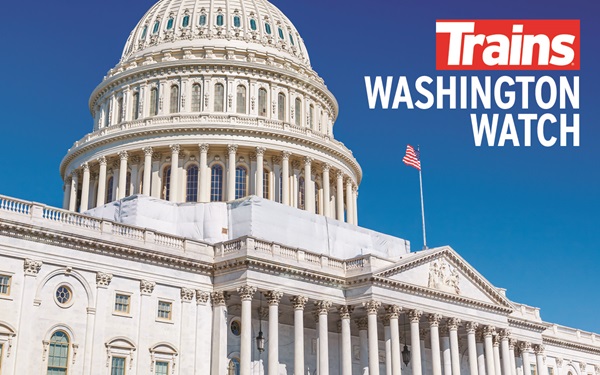 WASHINGTON — Two U.S. representatives from Ohio — Bill Johnson (R) and Emilia Sykes (D) — today introduced the Reducing Accidents in Locomotives Act, or RAIL Act, the latest legislative response to the East Palestine, Ohio, derailment.
The companion bill to the Rail Safety Act introduced earlier this month in the Senate [see "Senators propose tighter regulation …," Trains News Wire, March 1, 2023] includes many of the same provisions. Among features of the House bill are:
— A requirement for the Secretary of Transportation to develop new safety rules based on findings of the National Transportation Safety Board from its investigation of the East Palestine, Ohio, derailment, in conjunction with the Federal Railroad Administration, including regulations on train length and weight;
— Placement of hotbox detectors every 10 miles on tracks that carry hazardous materials;
— Advanced notification for state and other emergency-response officials regarding the transportation of hazardous materials;
— Increased funding for hazardous-material training for first responders;
— Strengthened requirements regarding safety placards to help first-responders identify hazardous materials at accident sites;
— Increased penalties for safety violations by railroads.
"Public safety transcends political parties and congressional boundaries, which is why I am proud to co-lead the Rail Act — bipartisan, commonsense legislation to prevent future train derailment disasters like we have seen in East Palestine and across the United States — with Rep. Johnson," Sykes said in a press release.
"The bipartisan RAIL Act would bring forth effective and responsible changes to the way the rail industry operates to help prevent railway accidents and keep communities across America safe," Johnson said in a release. "I look forward to working with Rep. Sykes to get this important legislation across the finish line."
The full text of the bill is available here.
Not included in the House version of the bill is a requirement for two-person crews, to the dismay of rail unions.
"The RAIL Act will help make the freight rail system safer for rail workers and communities like East Palestine," said Greg Regan, president of the Transportation Trades Department of the AFL-CIO. "We are committed to working with Congress on additional safety reforms. It's shameful that rail industry lobbyists are still prioritizing profits over people by opposing commonsense measures like two-person crew requirements."