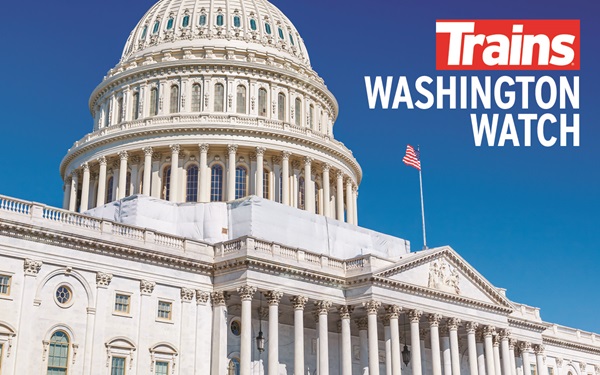 WASHINGTON — The Senate's passage of a $1.2 trillion infrastructure bill drew praise from a variety of rail observers and other interested parties Tuesday. The bill includes $66 billion for rail-related spending, including $58 billion for Amtrak.
Amtrak board chairman Tony Coscia said in a statement that the bill represents more than just this country's greatest level of investment in Amtrak and infrastructure in the past 50 years. It also highlights America's commitment to updating the rail network and improving the passenger experience for years to come." Coscia says the passenger railroad "is ready to rebuild core infrastructure, replace equipment and, with the FRA (Federal Railroad Administration) and state partners, bring more Amtrak service to more people across the nation, creating thousands of new jobs and reducing America's carbon footprint."
The bill's five-year grant authorization for Amtrak offers $1.1 billion to $1.57 billion annually for Northeast Corridor operations and $2.2 billion to $3 billion each year for national network funding.
It also includes a variety of reforms, including redefining the makeup of the Amtrak board to include the company's CEO, rather than its president; requires station agents at stations which saw an average of 40 passengers board or disembark during fiscal 2017; and increases oversight of long-distance route and service changes, as well as Amtrak's accounting practices.
Chuck Baker, president of the American Short Line and Regional Railroad Association, said in a statement that the legislation "recognizes small business freight railroads as an integral and essential piece of the freight rail network" and "marks unprecedented levels of investment in programs that are critical to our freight industry – like [grant programs] CRISI, RAISE, and INFRA – providing our members enormously expanded opportunities to compete for investment grants to implement new technology, upgrade aging track, rehabilitate bridges, and initiate important safety measures that allow us to better serve our customers." Baker urged the U.S. House of Representatives to "work to swifely move this legislation to the President's desk."
Association of American Railroads CEO Ian Jefferies, in a statement issued Aug. 2, when the current version of the bill was introduced, said, "This forward-looking legislation will make long-overdue investments in modernizing the nation's public infrastructure, improving safety and supporting economic growth well into the future."
The 2,702-page bill, available in full here, also includes $106.9 billion for public transit, an increase of 63% from current levels. American Public Transportation Association Paul P. Skoutelas said prior to its passage that the bill "offers a wealth of opportunities for multimodal investments that will include public transit and passenger rail as essential elements." An APTA update offers extensive details of the transit funding.