---
Traffic on the big six Class I railroads was a mixed bag in the third quarter, as three systems saw gains versus a year ago and three experienced volume declines.
For the third quarter, which ended Sept. 30, total volume on the big six systems was up an average of 0.5%, according to a Trains News Wire review of their weekly carload reports.
BNSF Railway outperformed the rest of the industry with 4.1% traffic growth in the quarter, led by 7.1% growth in its carload traffic thanks to strong gains in coal and chemicals.
Canadian National lagged the pack, with traffic declining 1.7% overall as intermodal tumbled 7.1%. Rival Canadian Pacific saw its traffic increase nearly 1% as its intermodal volume grew 8.5%.
In the East, CSX Transportation's volume was up across the board, producing an overall gain of 1.8% Norfolk Southern's carload volume spiked 5.2% for the quarter, but intermodal sank 4.9% to drive a nearly 1% decline in overall traffic.
Union Pacific's carload volume was up 5%, which was more than offset by a 7% decline in intermodal. Overall, its traffic was down 1% for the quarter.
Common threads among the big six systems: Coal volume was up as natural gas prices rose, and automotive traffic tumbled thanks to the ongoing computer chip shortage that has forced automakers to curb production.
The publicly traded Class I railroads will report their quarterly earnings this month. CN and Kansas City Southern will release their financial results on Oct. 19, followed by CP and CSX on Oct. 20. Union Pacific's quarterly numbers come out on Oct. 21, and NS closes out the earnings reports on Oct. 27.
BNSF, a unit of Berkshire Hathaway, is expected to report its quarterly results alongside its corporate parent in November.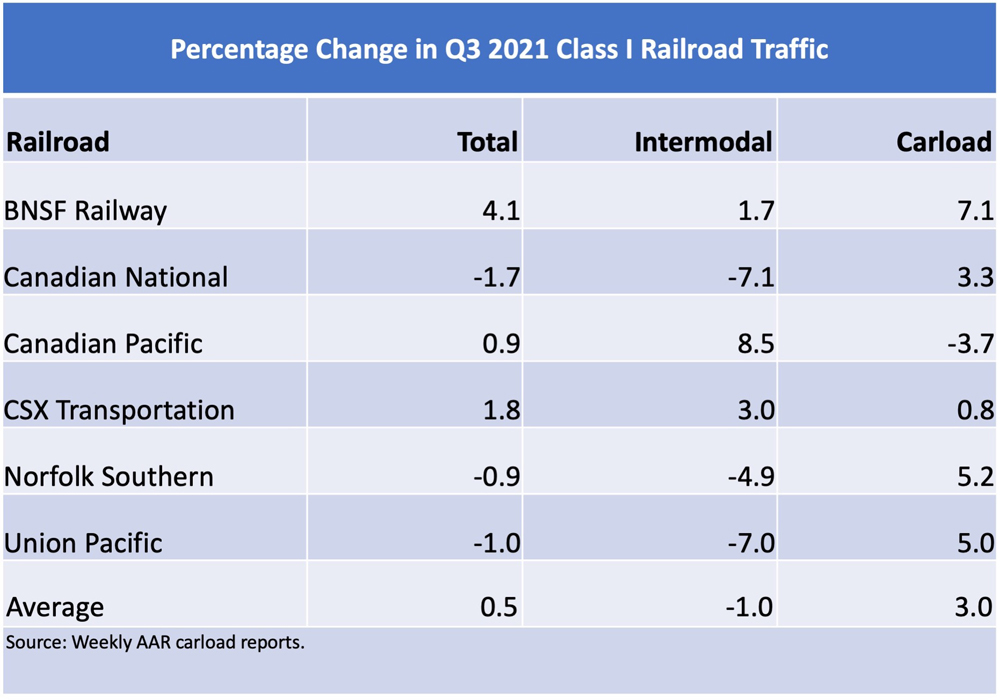 — Updated at 11 a.m. CDT to add table