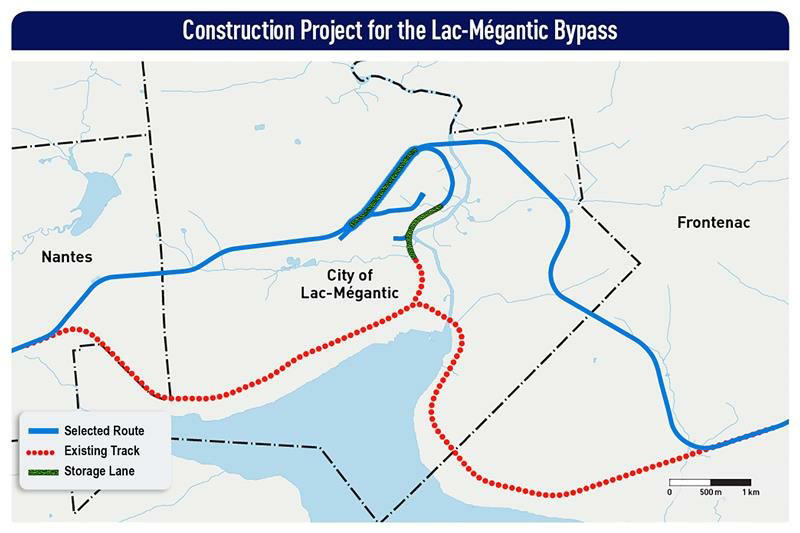 ---
LAC-MÉGANTIC, Quebec — In the latest step in the process of building a new rail bypass around Lac-Mégantic and neighboring communities, Transport Canada will begin public consultation on the project as of today (Jan. 21, 2022).
Through Feb. 4, residents are invited to comment in writing on the bypass plan, including comments on "the main structures of the project, construction activities, committees, and means of communication with stakeholders and communities, and railway operations," according to a press release.
Two online information sessions are also planned for residents on Jan. 27 to learn more about the project and ask questions — one from 1 p.m. to 3:30 p.m. and another from 6:30 p.m. to 9 p.m. More information for those interested in participating is available at this page on the Transport Canada website.
The 8-mile bypass will route Canadian Pacific's main line around the community devastated by the 2013 Lac-Mégantic diaster. It is being funded by the governments of Canada and Quebec.
"The Lac-Mégantic bypass is a priority for the Government of Canada," Transport Minister Omar Alghabra said in a statement. "We will continue to make every effort to carry out the project, always with the needs of the communities of Lac-Mégantic, Nantes and Frontenac in mind. I invite the community to participate in this consultation, which will allow us to obtain your comments on the implementation of the next steps of the project, including the construction and operation of the future railway line."