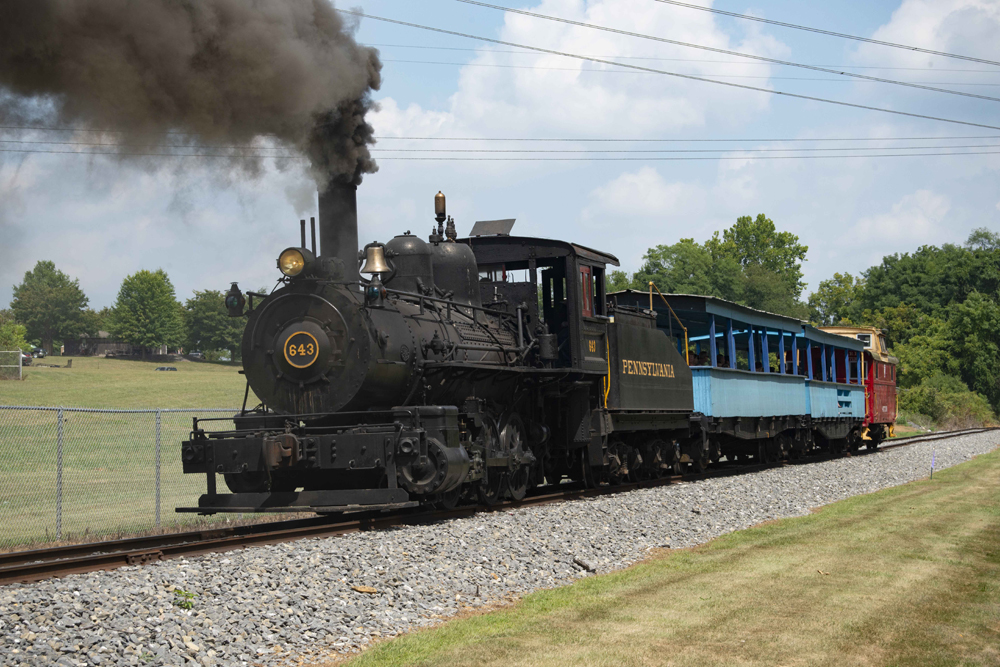 ---
GRANTHAM, Pa. — With steam-locomotive giants like Western Maryland Scenic 2-6-6-2 engine No. 1309 and Reading & Northern Class T-1 4-8-4 engine No. 2102 grabbing all the attention in the East this year, one historic steam operation in the region is flying under the radar — as it usually does.
And it's in the midst of two weeks of scheduled operation.
Williams Grove Railroad's ex-Pennsylvania Railroad 0-6-0 switcher No. 643 is steamed up and active on a modest mile of track 10 miles south of the state capital at Harrisburg. It holds the distinction, out of an estimated 25,000 PRR locomotives operated from 1848 to 1959, of being the only ex-Pennsy engine still in steam.
Built in PRR's Altoona (Pa.) Shops in June 1901, the 54-ton engine is one of 133 class B4/B4a engines built in Altoona or by Baldwin Locomotive Works of Philadelphia between 1892 and 1904.
The design was quickly superseded by PRR's heavier (85- to 90-ton) and highly successful B6-series fleet, of which 372 were built from 1902 to 1926. It was a B6sb-class engine, No. 5244, that was the last PRR locomotive in revenue steam service, retired in July 1959 off the Union Transportation Co. of New Jersey.
Isolated from the general railroad system, No. 643 shuffles two ex-Everett Railroad open cars and a steel PRR Class N5 cabin car (the PRR term for caboose) along well-ballasted track at the grounds of a parent organization, the Williams Grove Historical Steam Engine Association, 3 miles off U.S. Route 15. It's equipped with a sweet three-chime PRR passenger whistle, certainly not what it wore during its working life for PRR or Central/Phoenix. Fare for the 25-minute round-trip is $7.
The current west end of track pulls up beside the former Reading Co. Lurgan Branch, now part of Norfolk Southern's New Jersey-to-Atlanta Crescent Corridor. During a trip on Sunday, Aug. 28, engineers on NS intermodals and general freights trade horn/whistle salutes with No. 643 when it pauses next to the NS main to prepare to reverse back to the station.
Despite No. 643's deep heritage, PRR declared it to be obsolete as early as 1917, selling it to Central Iron & Steel Co. of Harrisburg (later, Phoenix Iron & Steel and still later, Phoenix Steel Corp.), where it toiled in obscurity for four decades. Sometime during that stretch, it lost its distinctive PRR-trademark squared-off Belpaire firebox when the steel mill contracted with the H.K. Porter Co. for a replacement boiler, which was of a conventional conical-stay design.
When the mill was dismantled about 1961, No. 643 — by then long renumbered No. 5 — was discovered hidden in a building. The then-recently formed Williams Grove association bought it with an eye to restoring and operating it.
Bill Medlin, a signal maintainer who has worked for various Pennsylvania short lines and worked on and around this one for 60 years, was present when PRR moved it the short distance from Harrisburg. It arrived via a temporary switch connection to PRR's 16-mile-long Dillsburg Branch, a feeder to the former PRR Cumberland Valley route, one of the earliest railroads (chartered 1831) in Pennsylvania.
The association's showcase event each year is a nine-day antique farm machinery reunion — the Annual Steam Show, now in its 64th season — drawing more than 400 steam- and gas-powered tractors, always held the week preceding and including Labor Day. Included are tractor-pull competitions, a daily tractor parade, a steam-powered sawmill, flea market, camping, live music and food trucks, and other attractions.
Trains run every day that week through the holiday weekend, which brings the season's heaviest rail patronage, according to Dean Faulk, a member of the all-volunteer staff. Retired from a state-highway-department career, he grew up nearby next to the Reading's Lurgan line and recalls the Iron Horse Rambles to Gettysburg as well as Reading's green-and-yellow "Bee Line" diesel freight road units.
Williams Grove trains run intermittently at other times of year — a special Train Days event is held each July, for instance ± and during other association events. But at those, power can be either No. 643 or a 1953 Vulcan 65-ton center-cab industrial diesel locomotive, No. 52, which arrived in 2010. Also on hand is Whitcomb diesel-mechanical critter, No. 8, also built in 1953. It served as the main passenger power from 2001 to 2006 when No. 643 last underwent an overhaul.
A schedule is available at the Williams Grove Railroad website.