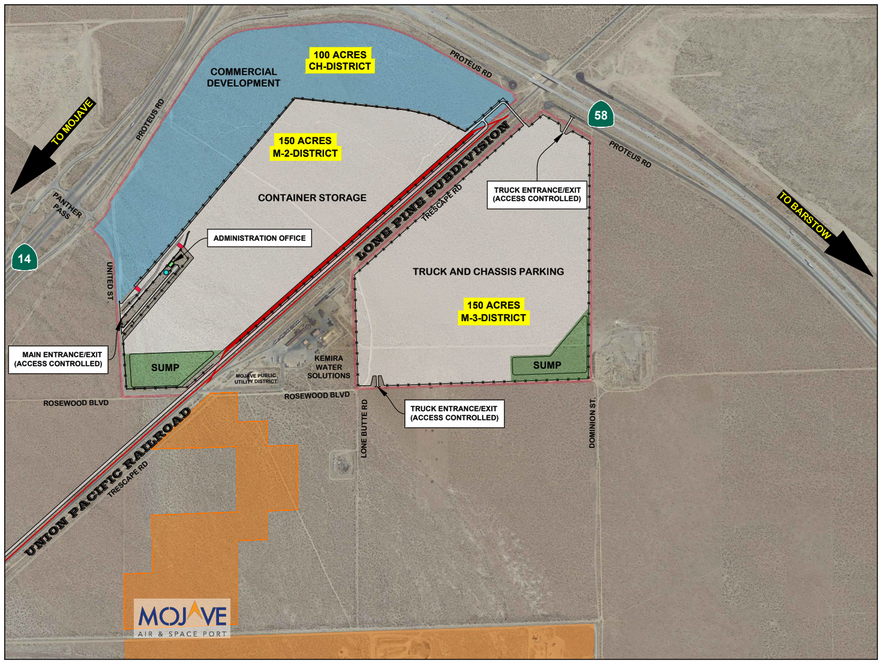 ---
MOJAVE, Calif. — Kern County, Calif., supervisors have approved a proclamation in support of the Mojave Inland Port, a planned 410-acre facility intended to receive and distribute up to 3 million containers per year from the ports of Los Angeles and Long Beach.
"The Mojave Inland Port is a fully permitted industrial site that will provide a solution for California goods movement at the ports," Lorelei Oviatt, Kern County director of planning, said in a press release from holding company Pioneer Partners, which is spearheading the project.
"This one-of-a-kind project will help unsnarl the congestion in the twin ports of Los Angeles and Long Beach; it will help the national economy by reducing pressure on the supply chain; it will help the local economy through job creation," said Pioneer Partners Chairman Richard Kellogg. "Goods will get to businesses and consumers faster and more efficiently. We can't wait to get started."
Plans call for groundbreaking in 2023 with the facility beginning operation in 2024. Pioneer Partners says it will work with Kern County officials to secure the necessary building permits.
Developer Greenbriar Capital says in a press release that the project will the California's first inland dry-land port and the largest in the U.S., and could support as many as 3,000 new jobs while generating an annual economic impact exceeding $500 million.
"Inland ports are a critical component to the future balance of our supply chain. They can provide flexibility and efficiency, all while relieving traffic congestion at critical choke points," said Trelynd Bradley, an official at the California Governor's Office of Business & Economic Development. "We appreciate the work that Pioneer's Mojave Inland Port proposal has done to help find new solutions to address our supply chain challenges."
The site is about 90 miles from the San Pedro Bay location of the two ports. Containers will arrive at the site astride Union Pacific's main line via shuttle trains, and can be distributed via state highways 15 and 58. There is also a 12,500-foot, heavy-lift runaway at the adjacent to the Mojave Air & Space Port.