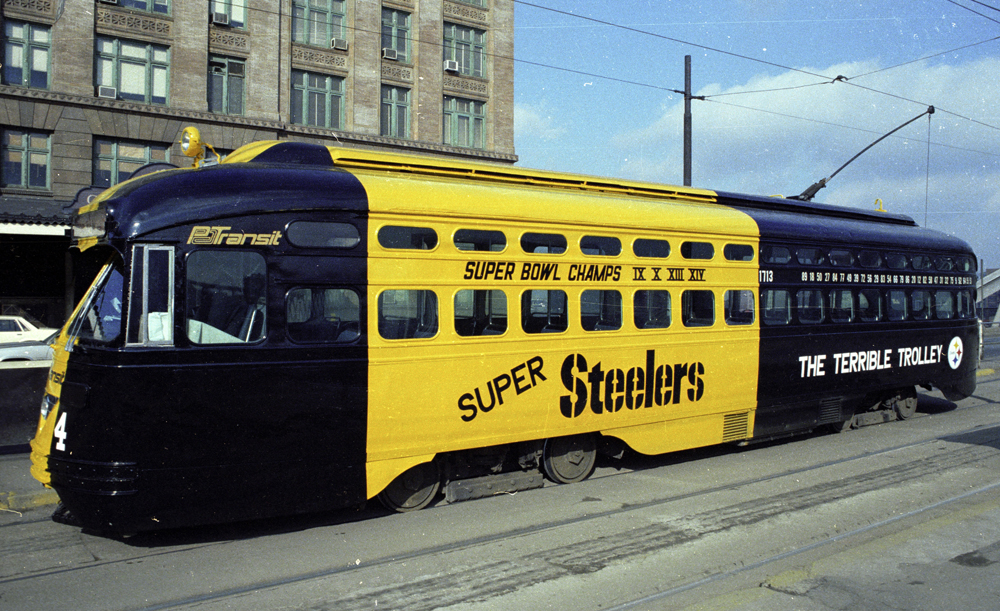 ---
WASHINGTON, Pa. — An icon of Pittsburgh transit and sports history, the "Terrible Trolley," has returned to Western Pennsylvania after 25 years in Ohio, with plans for its restoration to operating condition.
The Pennsylvania Trolley Museum has acquired former Pittsburgh Railways Co. Presidents' Conference Committee (PCC) car No. 1713, a 1949 product of the St. Louis Car Co., and will restore it to its most famous paint scheme. For about five years starting in 1980, it carried black and gold colors honoring the then-four-time Super Bowl champion Pittsburgh Steelers football team.
The Steelers won championships in 1975, 1976, 1979, and 1980. A 9-year-old girl, Kim Severs, wrote to Pittsburgh Mayor Richard Caliguiri to propose painting a trolley in black and gold to celebrate the team's successes. He passed her note along to the Port Authority Transit of Allegheny County, the public agency that operated the system. Within weeks, PAT had repainted Car 1713 with the Steelers logo and colors, as well as the jersey numbers of many of the team's star athletes.
It was termed the "Terrible Trolley," an allusion to the "Terrible Towel," a pep-rally gimmick cooked up by Steelers sportscaster Myron Cope, who urged fans to bring gold-colored dish towels to home games and twirl them during crucial on-field plays as a symbol of support. The Steelers then licensed and sold many thousands of Terrible Towel-branded items. Apocryphal or not, it seemed that the team always managed to pull off difficult or critical plays when fans waved the towels.
City's attachment to No. 1713
In all, the museum owns 51 cars, including several other PCCs from Pittsburgh, as well as PCCs from Philadelphia and Cleveland. But because of the public's emotional attachment, the importance of this car can't be overstated.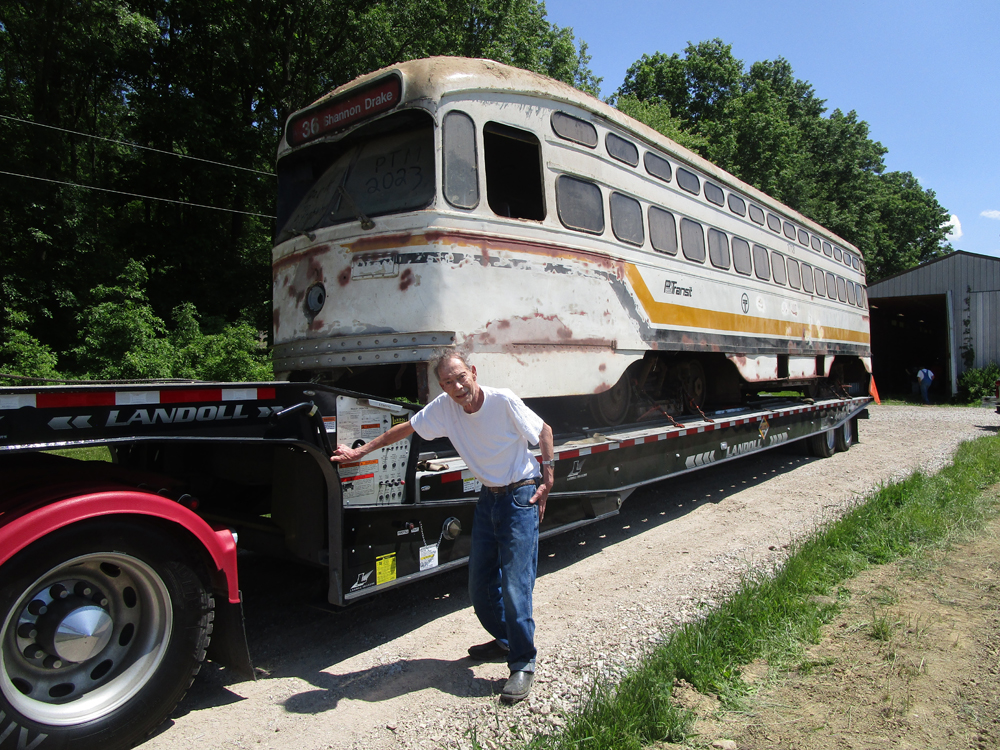 "This is more than just a trolley," said Scott Becker, executive director of PTM. "In the 1970s, Pittsburgh went through a lot of rough times." The city's once-dominant steel industry faltered, and the mills closed, he explained. Up and down the Allegheny, Monongahela, and Ohio valleys, tens of thousands of stable, high-paying jobs vanished.
"But the Steelers were doing well and gave [the public] hope," Becker said. "When [No. 1713] went down the street, people looked at it, and it got a lot of attention. We want to bring history to life. Why is [this car] relevant? It's important because of what it symbolized to people."
Starting in 1936, PRCo. bought 666 of the streamlined cars, the third-largest fleet in North America. Only Toronto, with 745, and Chicago, with 683, had more. The company once operated 600 miles of track on nearly 70 routes, but auto competition forced it to cut back. By the time the Port Authority took over in 1964, the PCC fleet had shrunk to 283 cars. PAT soon converted most routes to buses, whittling the streetcar lines to just three — the number that remains today with 26 miles of light-rail service, now rebranded as Pittsburgh Regional Transit.
As PAT ordered new light-rail vehicles, it rebuilt and remanufactured some of the remaining PCCs, and sold or scrapped the rest. No. 1713 was upgraded with a pantograph for use in PAT's downtown subway, and was repainted in the system's white scheme. Upon retirement about 1998, the car found its way to trolley historian and collector Ed Miller at Ashely, Ohio, near Columbus.
"He had the foresight to put it indoors [in a pole barn with tracks] and that's what saved it," said Becker. "He also obtained the correct seats that would have been used in the early 1980s (original 1949 style) and even repaired and repainted the seat frames. I think you could say that he was the steward of this car for 25 years."
Rescue from Ohio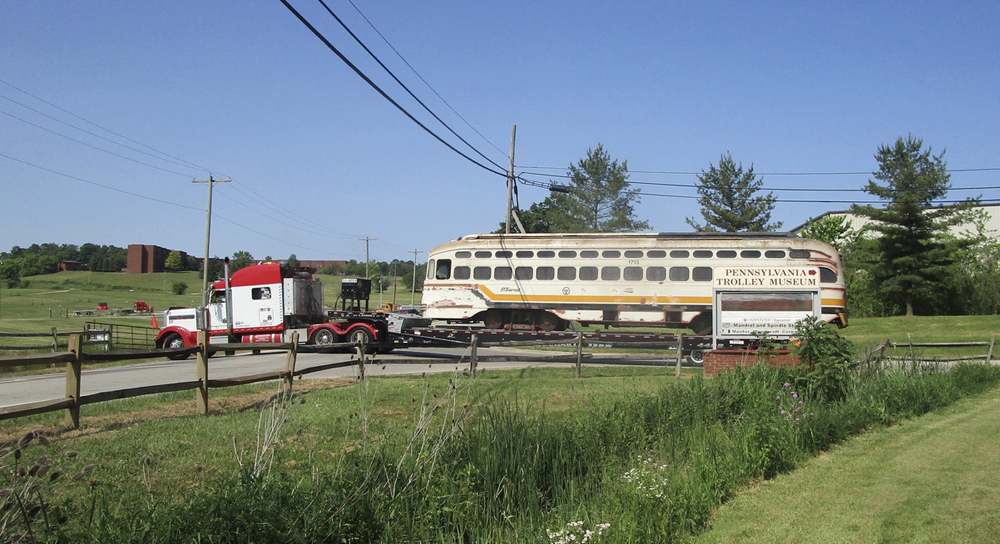 Earlier this year, PTM was researching the interactions between Pittsburgh's trolleys and its sports teams. Someone remembered that the former Terrible Trolley had escaped scrapping. Becker contacted Miller, who had just sold the building and was seeking a new home for No. 1713.
A trucking firm brought the car back to Pennsylvania; it arrived at PTM May 31. Already, a few of the museum's 150 volunteers have power-washed it inside and out, and have reactivated its interior lighting.
"We're working with a local body shop, Prime Collision Center, which has offered to paint the car, and PPG Paints (a Pittsburgh-based company) is donating the paints for it," said Becker.
PTM has contacted the National Football League and the Steelers organization and its owners, the Rooney family. All enthusiastically support the project. The rights to the Terrible Towel name (and sales revenue) were given years ago to a charitable foundation for people with disabilities, the Merakey Allegheny Valley School, which likewise has endorsed the idea.
In all, PTM owns nine PCCs, three of which operate with another soon to join them. In addition to maintaining exhibit, display, and education buildings, as well as station and waiting-shelter structures, PTM operates a 4-mile stretch of PRCo.'s former interurban route to Washington, Pa. The 28-mile-long line was largely abandoned in 1953. When delivered, No. 1713 was outfitted for longer-haul use (high-mounted headlight, steam-era pilot), so in revenue service, it regularly ran on what is now the museum's trackage.
Like the majority of cars in the collection, the 1713 is a broad-gauge vehicle. For reasons that have been lost to history, most traction companies in Pennsylvania used a 5-foot, 2½-inch gauge instead of the standard 4 feet, 8½ inches.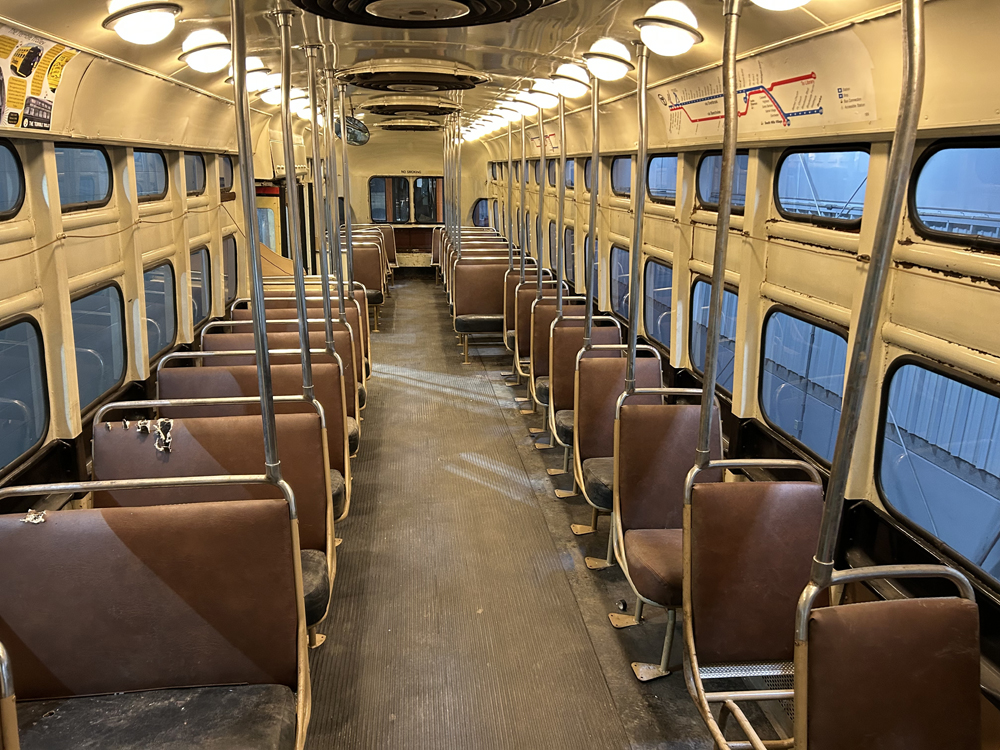 Another reason for acquiring the car, Becker said, is that Pittsburgh has a long and extensive history with specially painted trolleys, from patriotic designs during World War II to advertising slogans for auto dealers, Budweiser beer, the city's planetarium, Mohawk Airlines, and the Allegheny County Fair. In the 1970s, PAT painted a PCC in psychedelic colors (No. 1730, named "Mod Desire"), and another (No. 1742) to resemble the orange-and-blue wrapper graphics of Clark candy bars, which were manufactured in Pittsburgh.
"The Terrible Trolley really is a great example," he said. "We've wanted to do an ad car for a while, and this was the most famous."
Restoring the car to service will be a longer project, but should be achievable, Becker said, because PTM has an inventory of parts from scrapped PCCs.