---
LOS ANGELES — Travelers who choose business class on the Pacific Surfliner route between San Diego and San Luis Obispo, Calif., have always enjoyed more bang for the extra bucks. That's because Surfliner's version includes wine, snack packs, and morning pastries as well as soft drinks, coffee, and juice — all served by an attendant — as part of the ticket price.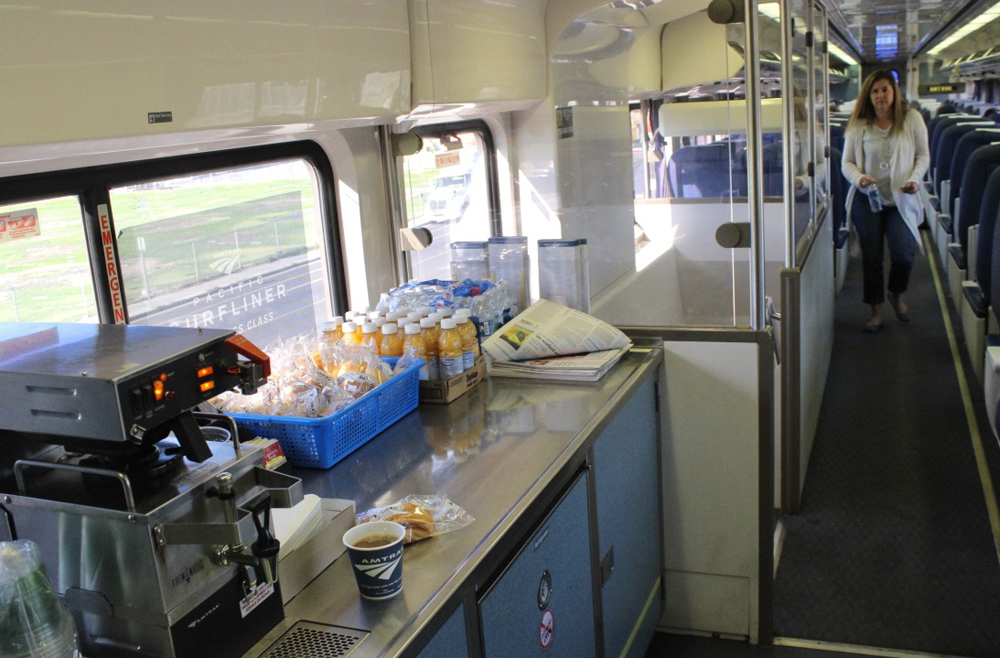 A non-alcoholic beverage voucher suffices in the category on most other Amtrak trains (except Acela, where complete tray meals and drinks are only served in First Class). Business class passengers who ride Empire Service round trips to and from New York City not operating beyond Albany-Rensselaer, N.Y., don't even have a staffed cafe.
Now the 10 original Pacific Surfliner business-class cars built by Alstom in 2000-2002 have been upgraded with new carpeting, curtains, and leather seat upholstery.
Though one was recently photographed headed back to California following a 4-year air brake certification and overhaul at Amtrak's Beech Grove Heavy Maintenance Facility near Indianapolis, all interior upgrades were done in Los Angeles by Amtrak mechanical department employees.  
"Our new seats and cushions use the same Federal Railroad Administration-approved smoke and flame-resistant material used on Acela," says Puja Thomas-Patel, marketing and communications manager for the Los Angeles-San Diego-San Luis Obispo Rail Corridor Agency (LOSSAN).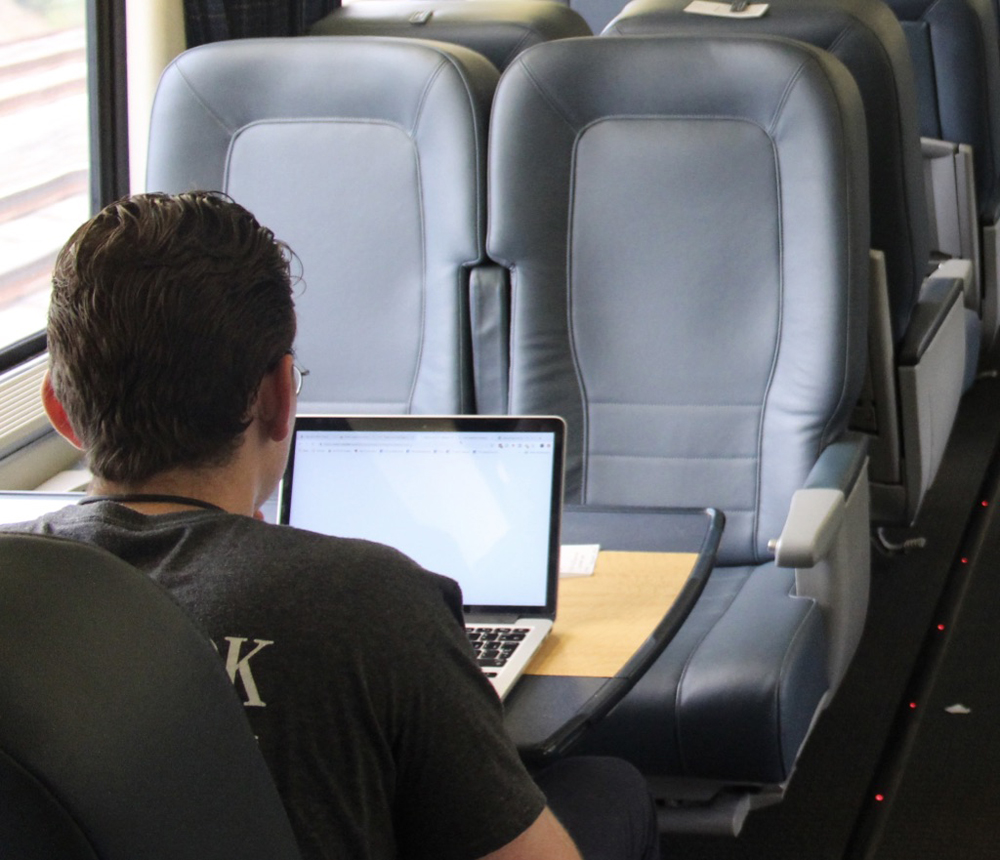 To add business-class capacity, the Surfliner cars are always paired with a standard Amtrak Superliner coach. Thomas-Patel tells Trains News Wire, "The Superliners are on a captured lease to LOSSAN and (interiors) remain the same, but are used as a second business-class car, as they have more legroom and are more comfortable." Both have 74 seats, she says, adding, "However, we typically sell (no more than) 140 Business Class seats per train."
Regarding the extra amenities, Thomas-Patel says afternoon and evening food offerings include snacks such as crackers, hummus, cookies, and jerky, with Truly Hard Seltzer recently added to the beverage selection.
The improvements might help cushion the inconvenience of a bus bridge between Irvine and Oceanside, Calif., and cancellation of two Los Angeles-San Diego round-trips [see, "Orange County agency approves emergency repairs …," Trains News Wire Oct. 4].
LOSSAN publishes a downloadable timetable at its website (not Amtrak's); all trains offer business class. The current installment shows modified schedules while the embankment hugging the Pacific Ocean beach near San Clemente is being repaired.