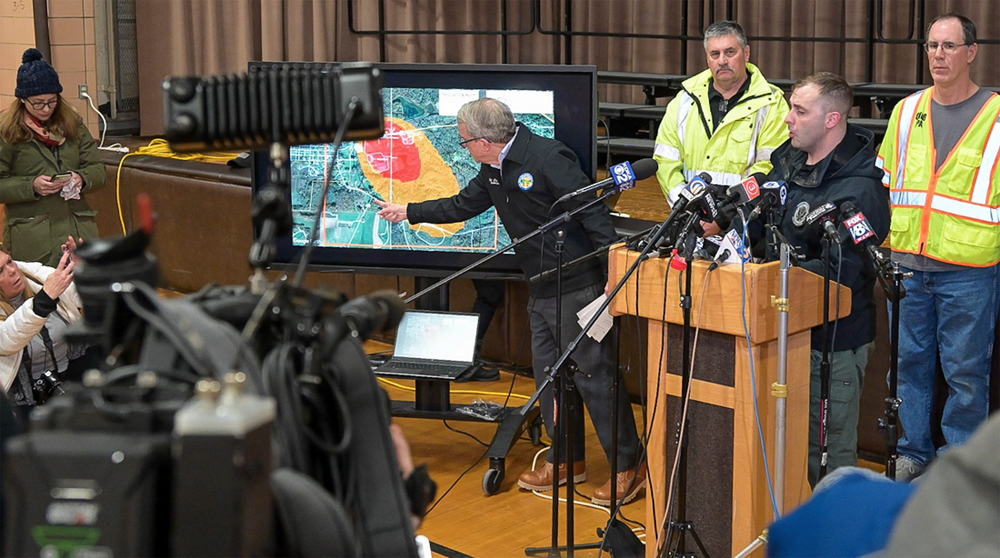 ---
EAST PALESTINE, Ohio — Ohio Gov. Mike DeWine said today (Tuesday, Feb. 7) that he expects Norfolk Southern to pay for the costs related to the derailment and fire in the community on the Ohio-Pennsylvania state line.
"They're the ones who created the problem," DeWine said in a report by the Wheeling (W.Va.) Intelligencer. "It's their liability. They're the ones who ought to pay for it."
DeWine said Monday's controlled release, in which a small charge was used to blow a hole in tank cars containing vinyl chloride, which was then drained and burned off, was selected from "two not-so-great choices" presented by the railroad, the other being to just wait out the situation. That became too risky because of the instability of at least one of the cars, so the choice was made to proceed with the controlled release.
But that process was delayed by about an hour because people in two vehicles breached the perimeter around area almost immediately after authorities finished clearing it, DeWine said,. He called that "unbelievable," but added,
CNN reports the cars carrying vinyl chloride are no longer burning, according to Norfolk Southern's Scott Deutsch, who also said four of the tank cars involved had been cleared from the accident site and were being inspected . But air- and water-quality monitoring continues to determine if it is safe to lift the evacuation order extending in a 1-mile radius from the site of Friday's 50-car derailment. East Palestine Fire Chief Keith Drabeck said the order will remain in place until the Ohio Department of Health, U.S. Environmental Protection Agency, and NS determine it is safe for residents to return, WMFJ-TV reports.
Cleveland.com reports DeWine and members of his administration are discussing whether they need to take more action regarding the condition of the state's rail network . While noting that rail regulation is primarily a federal responsibility, he said a situation like the one resulting from Friday's derailment in East Palestine "certainly grabs your attention.
"We need to figure out what the problem was. And we need to understand it," DeWine told Cleveland.com and the Cleveland Plain Dealer. "This is a state where a lot of railroads go through, and some of them are carrying some highly combustible and dangerous products. We need to make sure it's as safe as we can make it."