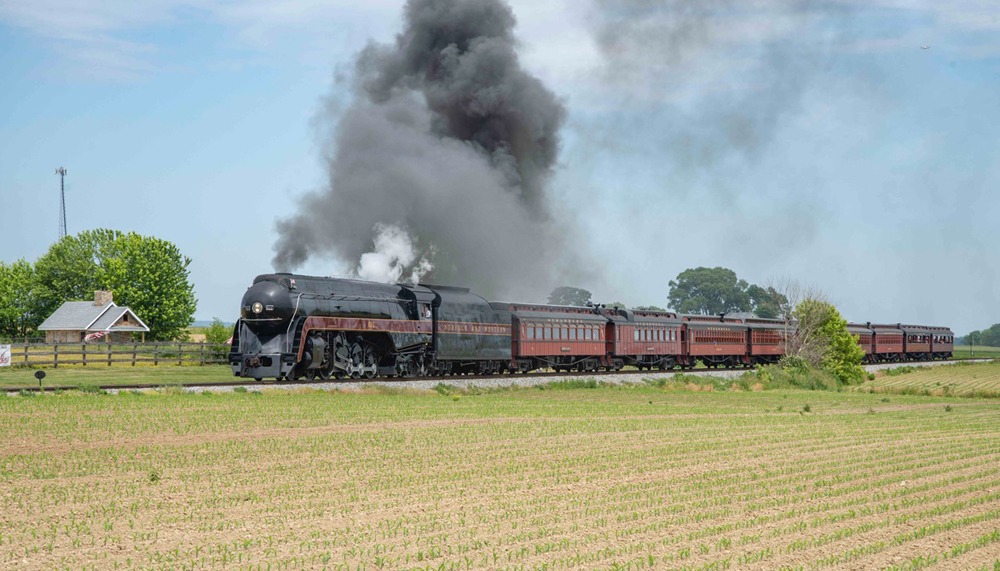 ---
STRASBURG, Pa. — Norfolk & Western J-class 4-8-4 streamlined steam engine No. 611 (Roanoke Shops, 1950) wrapped up a two-year stay at the Strasburg Rail Road tourist and short line over the weekend, and will soon be headed back to its home state of Virginia.
Owned by the Virginia Museum of Transportation, the engine had operated periodically on the 4-mile-long Strasburg since May 2021, following a shorter stay here in 2019. During both visits, it pulled regularly scheduled excursions; offered stationary and operating in-cab experiences; and performed maneuvers for a wide array of photo charters.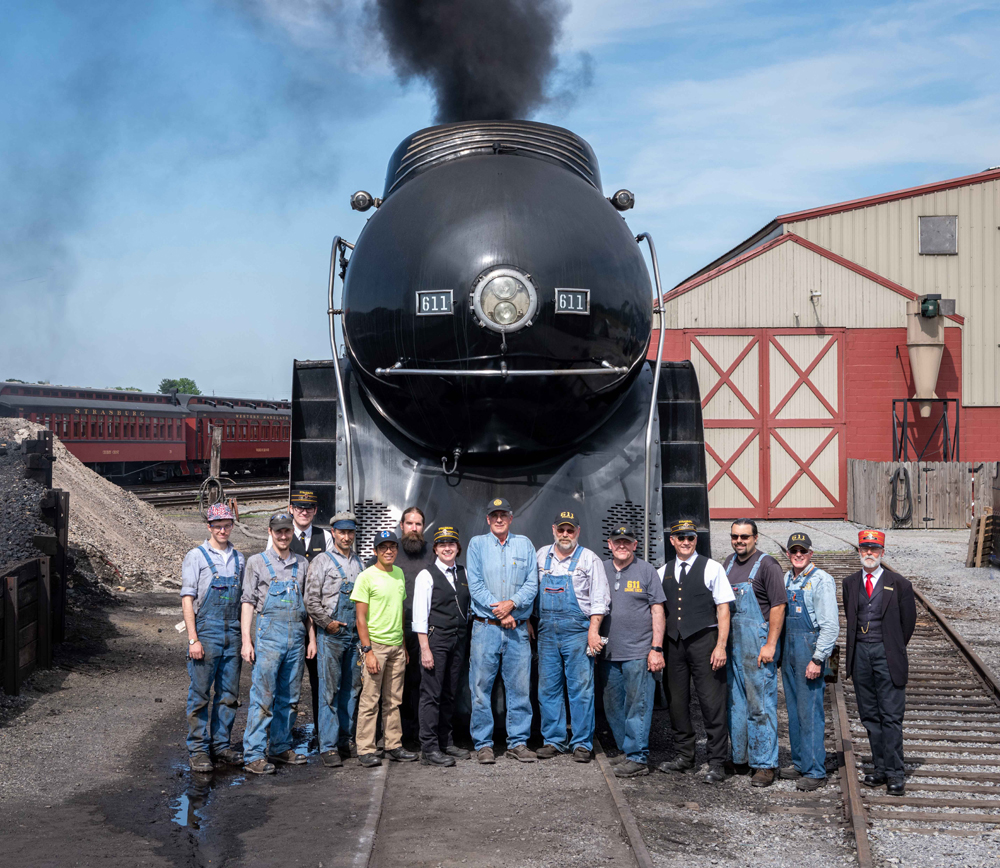 In addition, Strasburg's steam-shop employees performed inspection and maintenance on the engine. Moreover, in January, No. 611 moved for a few months across the street to the Railroad Museum of Pennsylvania for static display in the outdoor yard of the state-owned facility.
For its farewell tour at Strasburg, it ran two weekends of regularly scheduled passenger trains and cab rides. This weekend, it operated four or five round trips on Saturday, Sunday, and Memorial Day. It alternated train schedules with another former N&W locomotive, Strasburg's M-class 4-8-0 engine No. 475 (Baldwin Locomotive Works, 1906). The ex-N&W engines regularly met with their respective trains (seven cars behind No. 475, nine cars behind No. 611) at SRC's midpoint siding at Groff's Grove.
The Virginia museum's coal-hauling gondolas that accompany the engine on its travels are already spotted at the Leaman Place Junction interchange with Amtrak's Keystone Corridor at Paradise, Pa. Soon the engine, gondolas, and VMT tool car will be picked up by a Norfolk Southern crew and forwarded to Lancaster, Pa.; Columbia, Pa.; and NS's Enola Yard near Harrisburg, Pa.
From there, presumably, the consist will repeat and reverse previous movements via a special move down NS's Lurgan District and the NS "H Line" (Hagerstown, Md., to Roanoke, Va.) through the Cumberland Valley in Pennsylvania and the Shenandoah Valley in Virginia. VMT is based in Roanoke, a few blocks from the shop complex where No. 611 was built.
Crew members say discussions are under way for possible further operation of the engine at an undisclosed location, but declined to offer details.