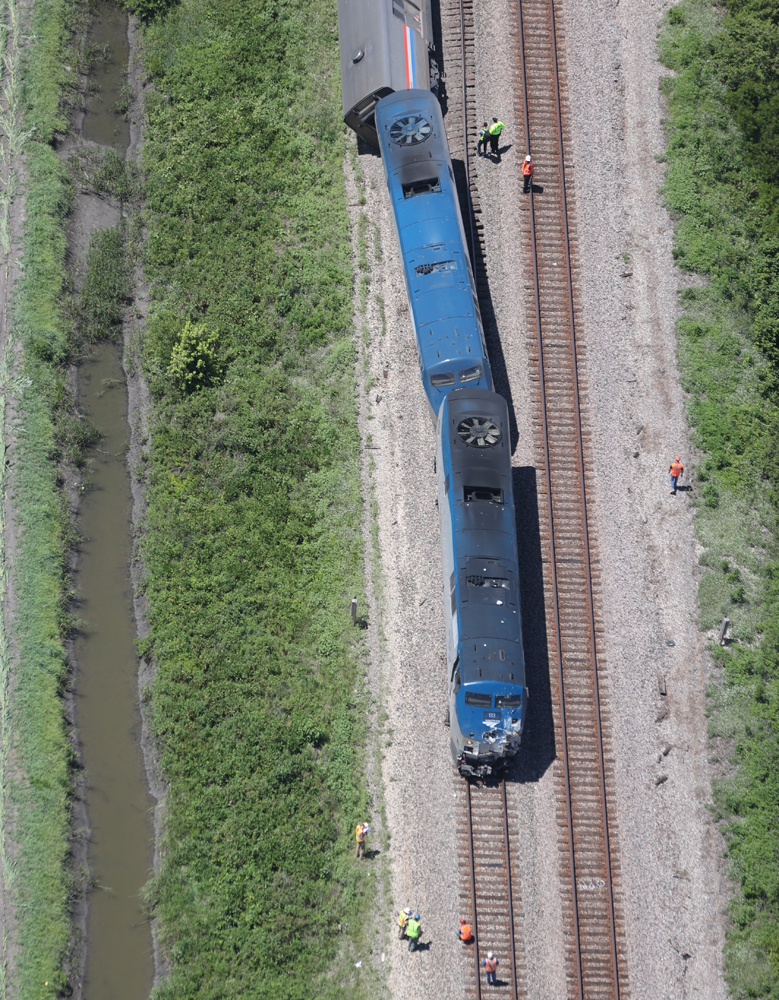 ---
WASHINGTON — The National Transportation Safety Board says grade-crossing design specifications and railcar crashworthiness will be among the factors it continues to examine as it investigates the fatal grade-crossing collision and derailment involving Amtrak's Southwest Chief.
The NTSB released its preliminary report Thursday on the June 27 accident near Mendon, Mo. The preliminary report outlines basic facts of the accident but does not draw any conclusions or make any recommendations as to corrective action; those will come in the final report, which can take up to 18 months.
The report says 270 passengers and 12 crew members were on board train No. 4 when it struck a fully loaded dump truck at the grade crossing for County Road 113, also known as Porsche Prairie Avenue, at about 12:42 p.m. The crossing on BNSF Railway's Marceline Subdivision had no gates or warning lights, but was protected by crossbucks and a stop sign as the truck approached from the south. The impact sent the truck into a ditch northeast of the crossing, while the two locomotives and all eights cars of the train derailed, with seven ending up on their sides.
Four people were killed, many others injured, and damage was estimated by Amtrak and BNSF Railway to be about $4 million.
The NTSB's investigation to date has included review of locomotive event and image recorders and the truck's engine control module, as well as interviews. The agency says it will also look at railcar design and survival factors as the investigation continues