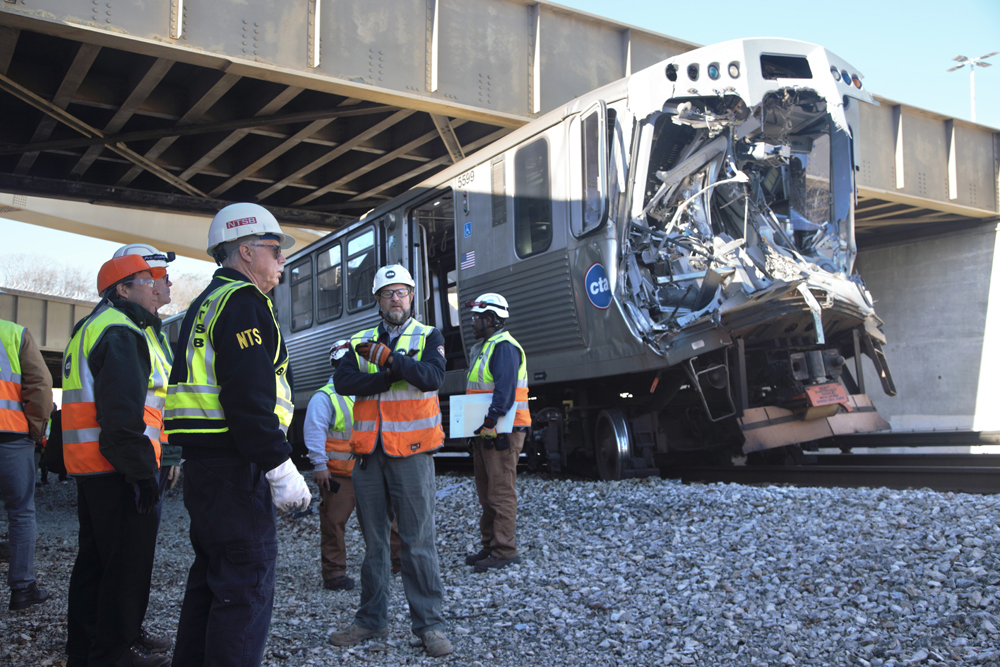 ---
CHICAGO — A design problem with the braking for the CTA equipment played a role in Thursday's collision between a Yellow Line train and a piece of train maintenance machinery, National Transportation Safety Board Chair Jennifer Homendy said today (Saturday, Nov. 18). Homendy was speaking at a press briefing on the investigation into the accident that injured 38 people.
Homendy said NTSB investigators have downloaded information from the train's event recorder and determined the two-car train was going 26.9 mph when it struck a "Snow Fighter" snowplow near the Howard Street station in the Rogers Park neighborhood on the city's North Side [see "Chicago L train hits maintenance equipment …," Trains News Wire, Nov. 16, 2023]. The event recorder set the time of the collision at 10:31 a.m.
The design problem, she said, stemmed from the fact that the CTA's braking algorithm called for the train to be able to stop in 1,780 feet, while a new system would call for 2,745 feet to stop. "The braking distance should have been longer," she said. "… That is a design problem. Why is it different today? Over time, cars get heavier, there are more passengers; we'll have to look at some changes that have been made to the system." Part of the NTSB's ongoing investigation, she said, will be determining remedies for the braking issue.
Homendy said investigators had also determined the train experienced some wheel slippage because of residue on the tracks.
Homendy said the snowplow was being used for training in advance of winter, and that several days of training had been scheduled. Six people were aboard the snowplow; she said preliminary information was that the snowplow was stopped at the time of the collision.
Investigators also viewed the inward- and outward-facing cameras from the cab of the train, as well as inward-facing cameras in both cars, she said. Other members of the NTSB team were conducting interviews with those on the snowplow.
Homendy said she could not say when the Yellow Line, which remains shut down at the accident scene, will resume operation. The equipment involved is still at the site.
"Once we complete our work and the railcars are moved," she said, "the CTA will still have to do some testing in that area to make sure everything is safe."
The complete briefing is available here.