SANDUSKY, Ohio – A 3-hour-plus drawbridge failure on Sunday afternoon (July 25) halted movements on Norfolk Southern's busy Chicago Line and stranded marine traffic on Lake Erie's Sandusky Bay.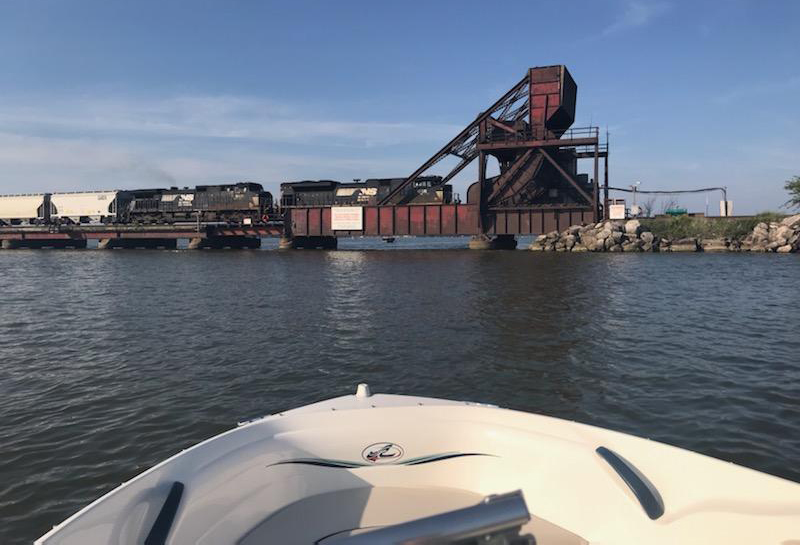 The bridge, a 1929 double-track rolling Scherzer-type drawbridge at MP 248 between Toledo and Sandusky, Ohio, was initially stuck in an up position, observers reported. But when the remote bridge operator was finally able to lower it, the span wouldn't lock into place, the operator told boaters who called the NS marine contact line.
The Chicago Line handles more than 50 trains a day, including intermodal, oil, and general merchandise freights, as well as Amtrak's Chicago-New York/Boston Lake Shore Limited and Chicago-Washington Capitol Limited. Freights began to back up both east and west of the bridge. Amtrak trains normally pass through the area late at night and weren't immediately affected by the bridge malfunction.
When the bridge was lowered, smaller craft such as jet skis could pass beneath the span despite NS warnings and an indication light that it was not safe to do so. Other craft, such as pleasure boats, were stuck on either side of the obstruction because of insufficient clearance. Some boaters docked their vessels, called for friends to pick them up, then returned hours later to find that an NS maintenance crew had repaired the issue and the bridge was opening and closing normally.
Normally, the bridge is raised and lowered in accordance with train traffic, with an NS radio call and phone number posted on the bridge for marine traffic to request an opening.