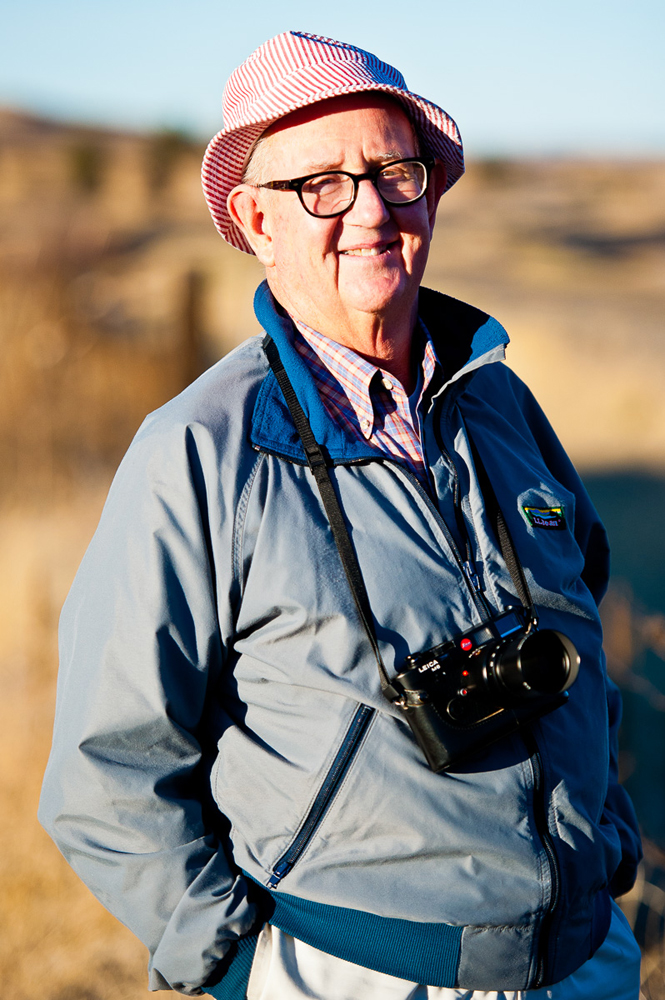 Ronald C. "Ron" Hill, a prolific photographer of Western railroad subjects but also other forms of transportation, died Jan. 23, 2023, at age 85. His work constitutes "an incredible body of both color and black-and-white photography," said Scott Lothes, executive director of the Center for Railroad Photography & Art, which had a close relationship with Hill.
Hill was a Denver-based retired attorney and for many years was a key figure in the development of the Colorado Railroad Museum in Golden, which he served as president 1981-1994, along with serving on the museum's board for more than 40 years. He was also active in the National Railway Historical Society, including serving as president of the Intermountain Chapter 1970-71.
Born in Fox Lake, Ill., on May 13, 1937, he moved to Denver in the late 1940s when his father took a teaching position at the University of Denver. Growing up, he was deeply influenced by both the Chicago railroad scene and the Santa Fe Railway, the latter of which he frequently witnessed during visits with his maternal grandparents in Lawrence, Kan.
Hill followed his father to the University of Denver, where he majored in both political science and English, and later earned a law degree from the university. After two years of service with the U.S. Army at Fort Riley, Kan., where he achieved the rank of captain, he formed his own law firm with partner Arthur Anstine. The firm grew to be called Anstine, Hill, Richards & Simpson; Hill sold his stake in 2008 and retired fully in 2015.
Throughout his life, Hill was devoted to photography, primarily using Leica and Hasselblad cameras. Lothes described Hill's approach in an obituary for the Center: "While trains and railroads were his primary subjects, he also photographed airplanes extensively as well as other modes of transportation, infrastructure, and landscapes from the 1950s through the 2010s. He frequently sought locations that conveyed the geographic features and other characteristics of Western railroads, and he liked to return to the same locations over the years to record their seasonal variety and changes through time."
All that work culminated in Hill's 2020 donation to the Center of 27,000 slides, negatives, and prints. To date, approximately 3,000 of these images have been digitized by the CRPA staff.
Hill was also an accomplished author, with a dozen railroad books to his credit, many completed with a group of co-authors that included such notable photographers as Bill Botkin, Jeff Brouws, Al Chione, Victor Hand, R.H. Kindig, and Dave Stanley. His first book, "Railroading West: A Contemporary Glimpse," was published in 1975 and sold out within two editions. Hill also had a strong interest in railroad art — with Chione, he co-authored "The Railroad Artistry of Howard Fogg" (Cedco, 1999).
The loss of Ron Hill is being deeply felt across the spectrum of railroad photography, especially by those who worked with him or went on safari with him, including Jeff Brouws, co-author of Hill's first book.
"We had decided to compile a book of photographs of our railroad images inspired by Dick Steinheimer's 'Western Trains,'" Brouws recalls. "Ron, being almost 17 years my senior and an established professional with his own law firm, supplied the confidence and follow-through on the project this 19-year-old lacked. I am eternally grateful to Ron for his guidance and determination to see the book into print; this friendly act of stewardship and collaboration provided me with a path forward, unknowingly in that moment orienting me toward my own life's calling. Since the actions of friends upon each other's lives often goes unnoticed or under-reported, I wanted to put my thanks to Ron on the record."