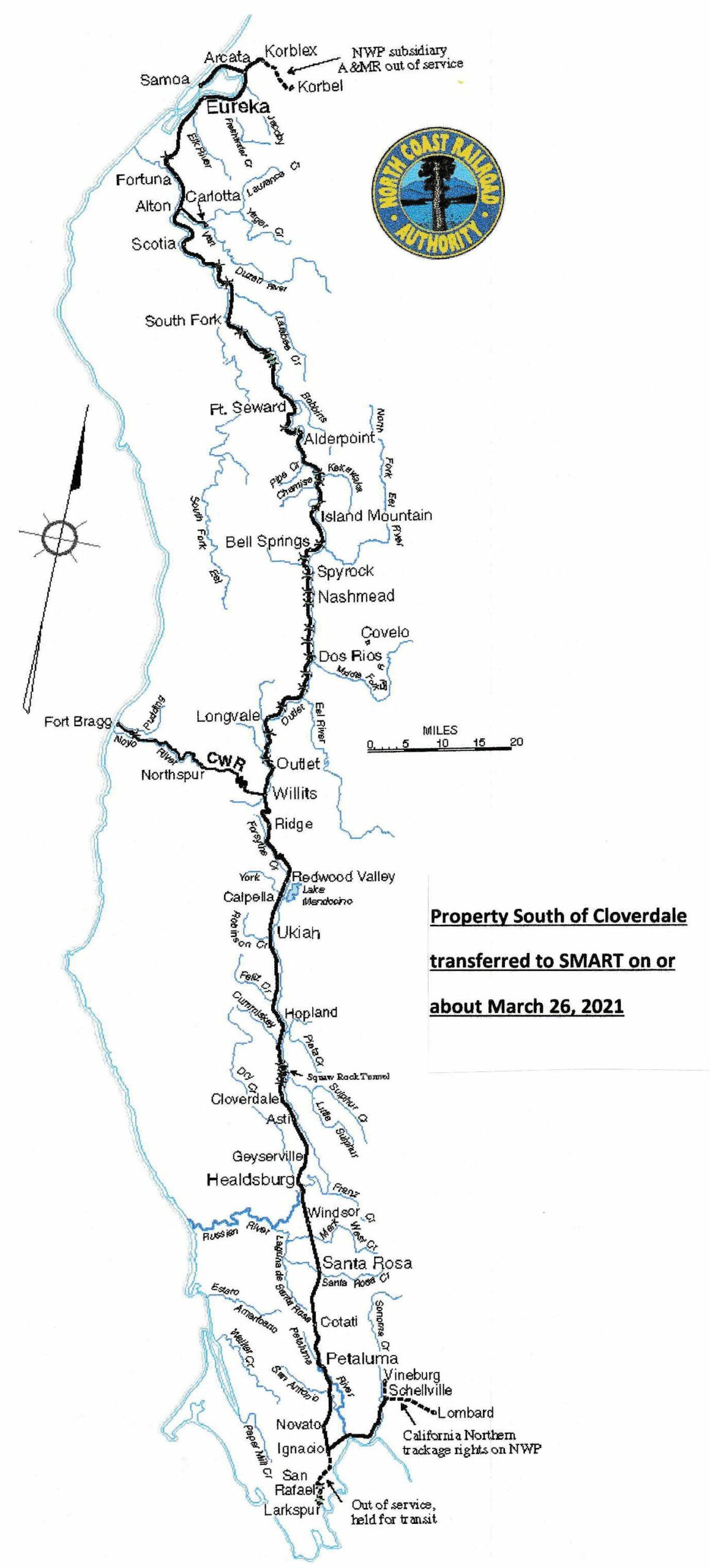 EUREKA, Calif. — Northern California legislators are decrying an effort they say would revive a long-defunct portion of the Northwestern Pacific Railroad as part of a plan to export coal from the Port of Humboldt Bay, Eureka's lightly used commercial port.
The Eureka Times-Standard reports the plan from the North Coast Railroad Co. came to light in an Aug. 16 filing with the Surface Transportation Board. That filing was in opposition of a request by the North Coast Railroad Authority to railbank 320 miles of former NWP route to allow construction of the proposed Great Redwood Trail.
In its filing, the North Coast Railroad Co. identifies its intention to acquire the rail line "and restore it to operating condition to support future, high-volume traffic flows. For the moment, it is sufficient to indicate that NCRCo, capitalized to the tune of $1.2 billion, will at the appropriate point … provide detailed evidence of need for the line as a railroad transportation asset, and shipper support for the same (and commitments to use the line)."
The rail authority's executive director, Mitch Stogner, told the newspaper the plan was "absurd," saying his agency's estimate was that it would cost more than $2.4 billion to restore the line, which would remain prone to the landslides and washouts which led to it being shut down in 1995.
Two legislators, U.S. Rep. Jared Huffman (D-San Rafael, Calif.) and State Sen. Mike McGuire (D-Healdsburg, Calif.), told the website Lost Coast Outpost that they had determined the North Coast Railroad Co. was a creation of coal companies seeking to transport Powder River Basin coal. And while they doubted the plan was feasible, both said they would work to block the proposal.
McGuire, in a press release, termed the company a "secret, clandestine operation — hiding behind an anonymous LLC in Wyoming" that "wants to ship million and millions of tons of coal," and termed the secrecy behind the project "completely offensive." McGuire said he would be announcing legislation to block the project.