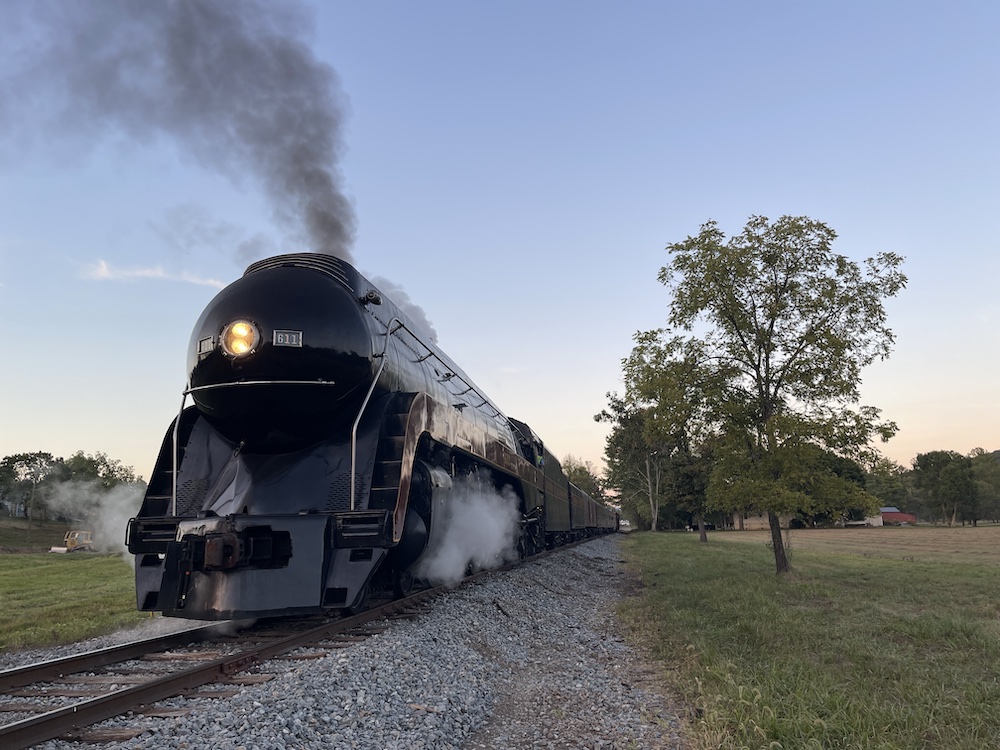 ---
GOSHEN, Va. — Norfolk & Western steam locomotive No. 611 completed a successful ferry move on September 14 from its hometown of Roanoke, Va., to the Buckingham Branch Railroad. The J-class 4-8-4 is currently stationed at the new Victoria Station siding in Goshen. According to a post on the Norfolk & Western Class J No. 611 Facebook and Instagram pages, "the 611 is not publicly accessible at this time while in Goshen. Victoria Station is private property."
"No. 611 and crew performed flawlessly on the ferry move," said Zac McGinnis, social media coordinator and member of the engine crew for the locomotive. "We were on the move from Roanoke around 9 a.m. and tied down on the new Victoria Station siding in Goshen around 7:30 p.m."
Though under steam, Norfolk Southern provided a diesel escort for No. 611 in addition to the auxiliary tender, tool car, N&W coach No. 537, Southern Railway lounge Crescent Harbor, and Santa Fe dome No. 501. The ferry move traversed the Class I railroad's Roanoke District to the Buckingham Branch's interchange at Waynesboro. The train was then towed in reverse to Goshen by the short line's own pair of diesels.
The locomotive is scheduled to run weekend fall excursions under the Virginia Scenic Railway banner, a passenger excursion operator for the Buckingham Branch. The half-day Shenandoah Valley Limited will depart Goshen at 9 a.m. and 2:30 p.m., each day on Oct. 6-8, 13-15, 20-22, and 27-29, in addition to Nov. 3-5. No. 611 will lead the train through the foliage of George Washington and Jefferson National Forest with diesels added to the other end of the train at Staunton for the return trip.
McGinnis reports that all parties involved have performed a lot of behind-the-scenes work in preparation for the upcoming excursions, including track work, land/site development, and passenger car upgrades. "Everyone from the [locomotive's owner] Virginia Museum of Transportation, Virginia Scenic Railway, and Buckingham Branch Railroad is excited for the opportunity to showcase No. 611 in the beautiful fall foliage of her home state of Virginia," he states. "These fall mainline excursions will be No. 611's first since 1994."
Visit the Virginia Scenic Railway website for more information and tickets.