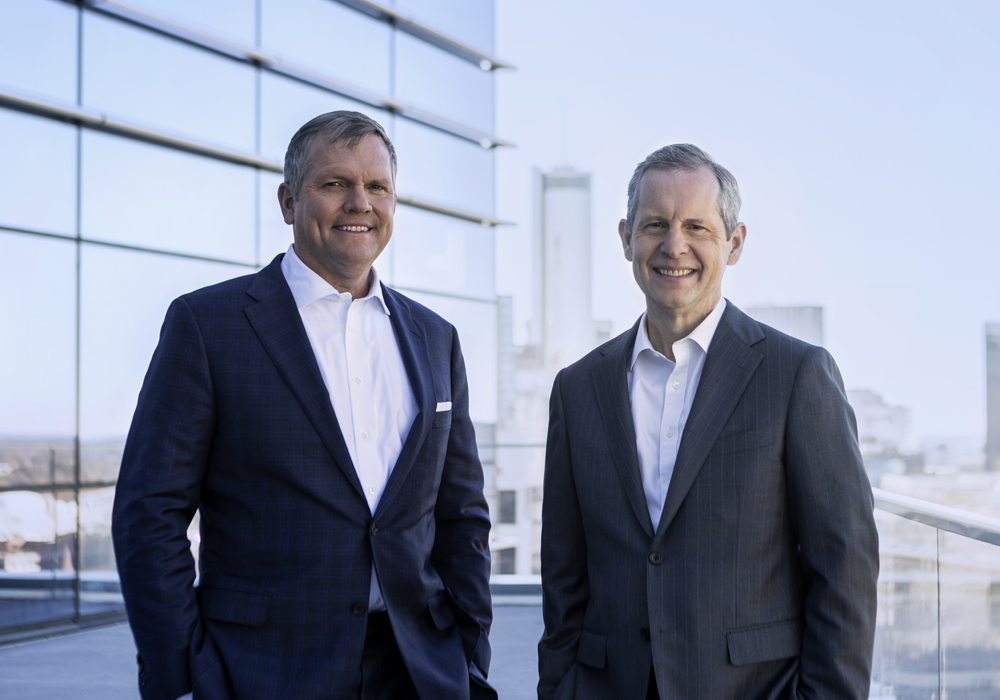 ---
ATLANTA – Norfolk Southern today named Alan Shaw as its chief executive officer, effective May 1, when current CEO Jim Squires will retire.
Shaw, the railroad's chief marketing officer, was promoted to president effective today. The NS management team now reports to Shaw, who has been with the railroad for 27 years and has served in finance, marketing, and operations positions.
"Jim is retiring at the top of his game," Steven F. Leer, Norfolk Southern's lead independent director, said in a statement. "Thanks to Jim's leadership, Norfolk Southern has a strong foundation for continued success. During his tenure he has increased shareholder value by more than $30 billion, implemented precision scheduled railroading, led the company through a freight recession and global pandemic, and brought company leadership together in a new, state-of-the-art Atlanta headquarters."
NS said that Squires and Shaw will continue to work closely together over the next five months to complete a smooth transition.
"Alan has a unique combination of skills and experience that prepare him to lead the company," Squires said. "He's a veteran railroader who understands operations and will drive continued improvement in service and efficiency. At the same time, he has an unparalleled understanding of our customers and the markets we serve, as well as the vision to grow shareholder value in our competitive, rapidly evolving industry."
NS credits Shaw with building the largest intermodal network in the East, tying the railroad more closely to consumers, and for innovations in customer technology, sustainability, and new services. Among them: the Thoroughbred Freight Transfer less-than-carload express service launched this year that won praise from Surface Transportation Board Chairman Martin J. Oberman.
"I look forward to working with Jim, our board of directors, and the entire team at Norfolk Southern to provide superior service to our customers, create compelling value for shareholders, and build on the momentum of our improving operating ratio," Shaw said.
Shaw, 54, inherits a railroad mired in an operational slump related to crew shortages. NS last month came under increased scrutiny from the STB as service has suffered and customer complaints have risen. NS executives have said that restoring service to normal levels is their highest priority.
Shaw joined NS in 1994. He served as group vice president coal marketing, group vice president chemicals, and vice president intermodal operations before becoming chief marketing officer in May 2015. He holds a degree in aerospace engineering and an MBA from Virginia Tech, is a graduate of the General Management Program at Harvard Business School, and also is a chartered financial analyst.
Before joining NS, Shaw was a nuclear project engineer for aircraft carriers at Newport News Shipbuilding.
Ed Elkins, vice president of industrial products, replaces Shaw as executive vice president and chief marketing officer. Elkins hired out as a brakeman with NS in 1988 and served as a conductor, locomotive engineer, and yardmaster before moving into marketing. He served as group vice president for chemicals and group vice president for international intermodal before assuming his current role in 2018.
Elkins, a veteran of the U.S. Marine Corps, graduated from the University of Virginia's College at Wise and earned an MBA from Old Dominion University. He completed the General Management Program at Harvard Business School.
James "Leggett" Kitchin, currently group vice president of domestic intermodal marketing and sales, will succeed Elkins as vice president of industrial products.  These appointments are also effective immediately.
Jeff Heller, vice president of intermodal and automotive, will retire March 1.  Shawn Tureman, currently group vice president of industrial products/chemicals, becomes group vice president of intermodal and automotive effective immediately and will succeed Heller as vice president upon his retirement.
Squires, a career NS man who served in law and finance positions before becoming chief executive on June 1, 2015, put his stamp on the railroad in several ways.
In his nearly 6½  years at the helm, Squires led the railroad through a merger battle, the continued decline of coal, the transition to a Precision Scheduled Railroading operating model, and the COVID-19 pandemic.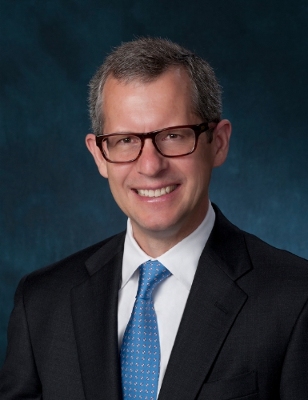 Squires was CEO for barely six months when Canadian Pacific CEO E. Hunter Harrison sought to merge with NS and implement his Precision Scheduled Railroading operating model. NS successfully fended off CP's unwanted advances while pursuing its own cost-cutting and efficiency plan.
While seeking to reduce NS's operating ratio to 65% and then 60%, Squires cut costs with an unsentimental eye, making symbolic moves like selling off the railroad's A-B-B-A set of executive F-unit locomotives and its Lay-By employee retreat on the Florida Gulf Coast.
Squires took significant steps to streamline the company, including paring its Triple Crown RoadRailer subsidiary, reducing the number of operating regions, moving dispatchers to a network operations center in Atlanta, consolidating Lake Erie coal docks, and shifting the NS headquarters to Atlanta from Norfolk, Va. The railroad's new headquarters building, officially opened during a ribbon-cutting ceremony last month, united the company under one roof for the first time since Norfolk & Western and Southern Railway merged to form NS in 1982.
Squires also broke Norfolk Southern's tradition of promoting from within. Outsiders were named to key management positions, including chief operating officer, chief financial officer, and chief legal officer.
But the biggest change was Squires' decision to adopt a Precision Scheduled Railroading operating model in late 2018, which has dramatically reshaped Norfolk Southern.
During the six-month CP merger battle, Squires unleashed full-throated criticism of Harrison's operating model, calling it a "short-term, cut-to-the-bone strategy that could cause Norfolk Southern to lose substantial revenues from our service-sensitive customer base." The PSR hyperfocus on a lower operating ratio, Squires contended, would drive away truck-competitive traffic.
But at an investor day in February 2019 he explained why NS changed its tune: "We decided to adopt Precision Scheduled Railroading because it works."
NS has undergone major changes since then. The railroad has idled the humps at six of its 10 classification yards, closed locomotive and car shops – including the historic Roanoke Locomotive Shop where N&W built its steam power – and shed more than a quarter of its employees, mostly through attrition.
The railroad also reduced the size of its locomotive fleet as it began moving tonnage in fewer but longer trains.
The operating changes, along with a combination of efficiency and productivity gains and rate increases, helped improve NS's operating ratio to 60% through the first nine months of 2021, down from 72.6% when Squires became CEO in 2015.
Squires also accelerated the adoption of technology at NS, including online tools that make it easier for customers to do business with the railroad.
The CEO change at NS is the third among Class I systems in the past year. Katie Farmer was promoted to BNSF Railway's chief executive on Jan. 1. Canadian National's JJ Ruest is stepping down in January amid a proxy contest involving activist investor TCI Fund Management. No successor has been named, but TCI is touting Jim Vena, CN's former chief operating officer, for the top job.
— Updated with full report at 8:29 a.m. CST.