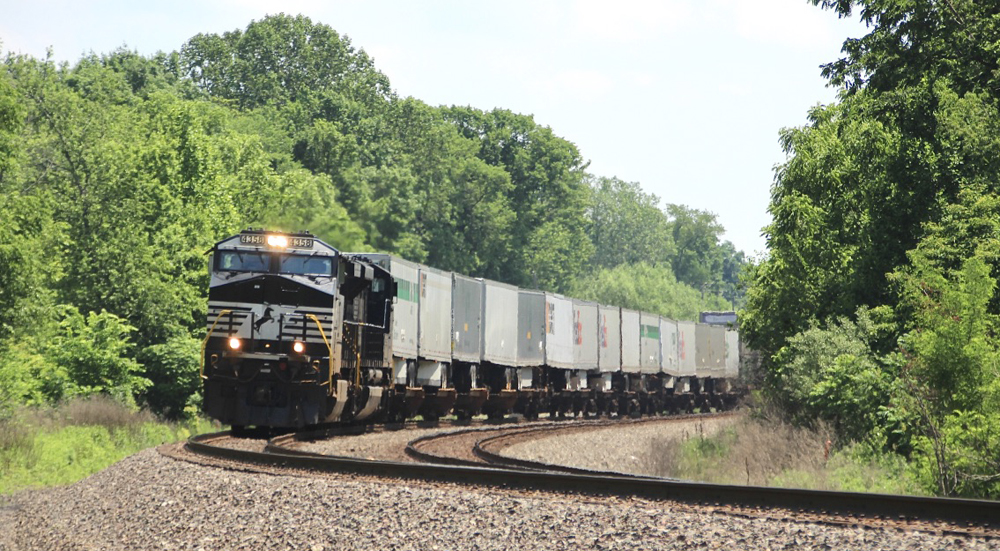 NORFOLK, Va. — Norfolk Southern set third-quarter records for revenue, profits, and operating ratio despite flat traffic volume, but a shortage of train crews and ongoing supply chain issues had an impact on the railroad's service levels.
Operating income surged 21%, to $1.1 billion, as revenue grew 14%, to $2.9 billion, NS reported today. Earnings per share grew 22%, to $3.06. The operating ratio was 60.2%, a third quarter record that was a 2.3-point improvement over last year.
Volume was flat for the quarter, with merchandise up 5%, intermodal down 4%, and coal up 9%. Supply chain disruptions hurt NS international and domestic intermodal volumes.
"Unprecedented demand from inventory restocking and consumer spending outpaced available capacity in the supply chain ecosystem," Chief Marketing Officer Alan Shaw says. "The combination of drayage shortages, warehouse productivity, equipment availability, labor force participation, and rail network fluidity pressured intermodal volume throughout the quarter."
NS is adding 1,100 leased chassis to its fleet this quarter, is adding more parking and container storage areas, and is expanding intermodal terminal capacity. "We're working on things we can fix ourselves," Shaw says.
With warehouses full, workers in short supply, and drayage capacity hit by a need for drivers and the chassis shortage and terminal congestion, it's unlikely the broader supply chain will improve until sometime next year, Shaw says.
Crew Shortages Affect Service
"Train speed and terminal dwell were generally flat vs. second quarter and do not reflect performance at desired levels," Chief Operating Officer Cindy Sanborn says.
NS is having trouble retaining train crews, particularly in critical areas of its network, and is having a hard time recruiting conductor trainees in an extremely tight job market. "It is having an impact on our network," Sanborn says.
NS did not provide on-time performance figures for the quarter or detail precisely how crew shortages affected service.
In many areas, NS has been able to offset the loss of employees by running longer trains, as well as operating double-length grain and coal trains across portions of their routes, Sanborn says.
"We've been hiring aggressively since the beginning of the year and we've ramped that program up throughout the year," CEO Jim Squires says.
The railroad has accelerated its hiring and training programs, which has more than tripled the number of conductors in training classes. But NS also is seeing higher than usual attrition among new conductors and trainees.
NS is offering perfect attendance and referral bonuses to current employees as well as signing incentives to new employees. It's also using "go teams" of experienced train crews who are willing to temporarily relocate to areas of the railroad that are short staffed.
"People are the backbone of the railroad, and we need to make progress on these initiatives to better manage the effects of a tight labor market," Sanborn says. "We are committed to having the right amount of resources in the right place at the right time, which will drive both cost control and service quality."
NS continued to move its tonnage in fewer but longer trains. The railroad employed 7% fewer people in the quarter compared to last year, yet handled 5% more gross ton miles on trains that were 10% heavier than a year ago. Train length was up 3%, and the number of active locomotives in the NS fleet dropped 2%.
To support the use of longer trains, NS has completed one siding extension project and has eight others under way, mostly in the Southeast. Train size has grown for nine straight quarters and has helped improve the railroad's fuel efficiency by 3% this year.
The crews of NS road trains now use mobile devices to report car pickups and setoffs in real time, which improves shipment visibility for customers. The railroad is expanding the program to its local trains.
Nearly all of the railroad's signal and track forces are now using the NS mobile app to request and receive track time, which increases safety and productivity because it eliminates conversations between crews and dispatchers.