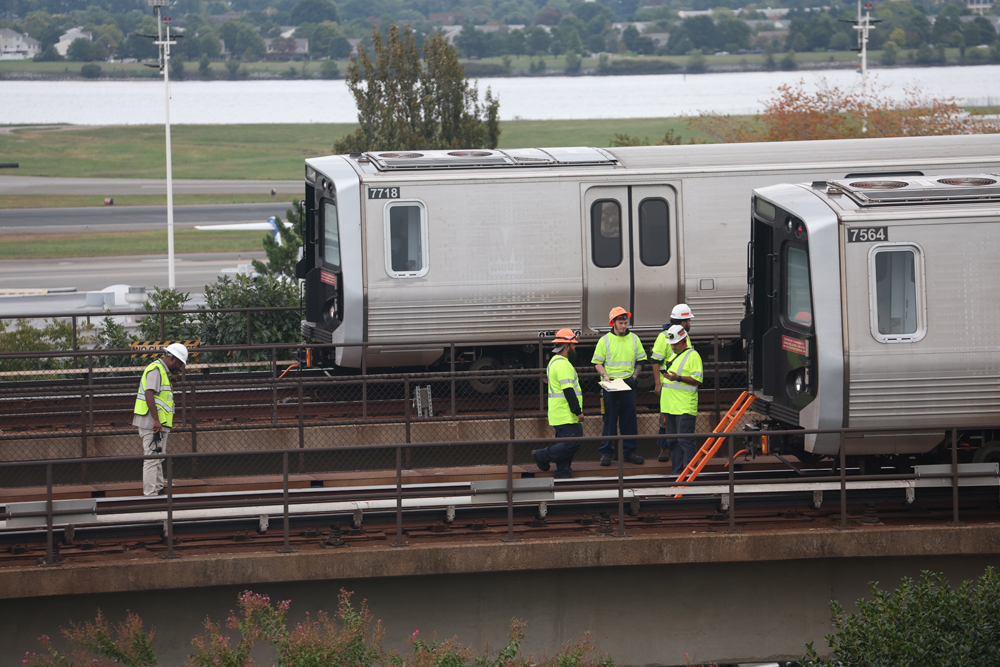 ---
WASHINGTON — No injuries were reported after a DC Metrorail train derailed Friday morning near Reagan International Airport, an incident Metro officials said was caused when the train struck an object that fell off a preceding train.
The derailment occurred about 10:45 a.m. and involved a southbound train heading toward the Franconia-Springfield station, the Washington Post reports. It has led Metro General Manager Randy Clarke to order inspections of the Metrorail system's oldest equipment, the 2000- and 3000-series cars. The first axle on the lead wheelset derailed after striking object just south of the airport station platform, Clarke told the Post.
The derailed train is one of Metrorail's 7000-series trainsets, which were found to have wheel defects after an October 2021 derailment in Arlington, Va. [see "DC Metro plan to repair wheels of 7000-series cars …," Trains News Wire, March 1, 2023]. But Clarke said there was no indication that equipment malfunctioned. Instead, it derailed after striking an object about 20 inches in diameter, said to be from a 3000-series train that had passed previously.
The independent Washington Metrorail Safety Commission said it had sent investigators to the site, but a spokesman said the preliminary indication was that "the train struck something as opposed to some other type of issue. We're still looking into details and trying to understand what Metro can do to mitigate the risk of this happening in the future."
Metrorail will conduct visual inspects of the 358 cars from the 2000 and 3000 series by Saturday, with more complete inspections within a week. Those cars, built by Italian manufacturer Breda, include 76 cars that entered service in 1982, with the rest dating to 1987. They are scheduled to be replaced by the 8000-series cars now on order from Hitachi and due to begin delivery in 2025.