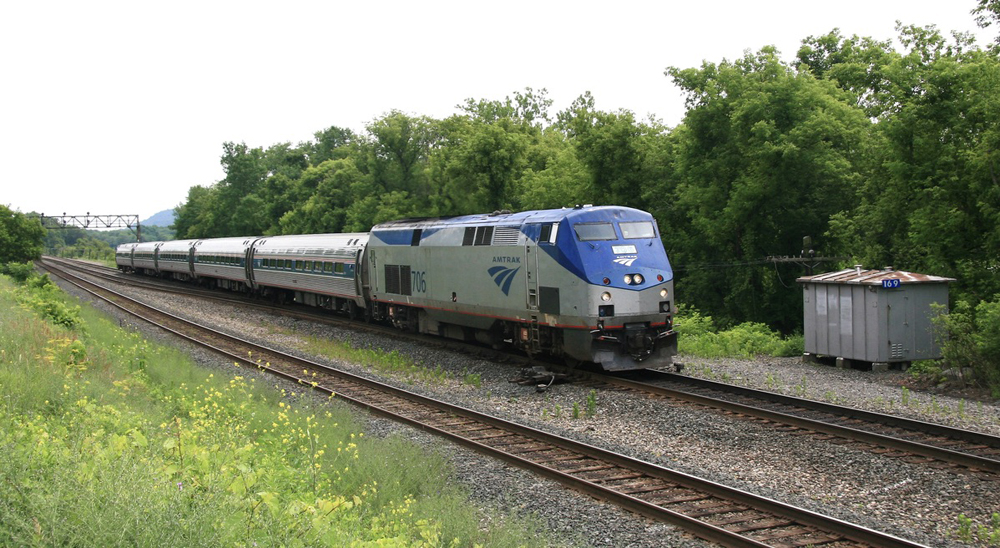 ---
ALBANY, N.Y. — A bus bridge was hastily set up Friday to ensure the inaugural run of the Ethan Allen Express from its new northern terminus of Burlington, Vt., wouldn't have to be cancelled. But getting travelers past a crumbling warehouse adjacent to the tracks that carry the Ethan Allen, Lake Shore Limited to Chicago, Maple Leaf to Toronto, and two Empire Service trains to Niagara Falls, N.Y. is much more difficult than it might seem.
No trains have moved past the long-vacant Central Warehouse building since Amtrak was notified of the danger late Thursday [See "Amtrak suspends rail service west …," Trains News Wire, July 29, 2022]. The Lake Shore Limiteds scheduled to pass the building Friday were both cancelled, as were all four other round-trips serving stations from Utica to Buffalo, N.Y., and beyond, on one of the busiest travel days of the week.
Amtrak was unable to secure buses and drivers on less than a day's notice to initiate a bus connection between Schenectady, N.Y., and the Albany-Rensselaer station. Another logistical issue is that all servicing of Empire Service cars and locomotives takes place at a maintenance facility just north of the station. With passage on tracks past the building prohibited, trains arriving from the west would have to be fueled, inspected and turned west of the threatening structure and thus away from those shops.
Beginning Saturday, Amtrak announced that Maple Leaf and Lake Shore Limited passengers would be bused to and from Schenectady, and the Ethan Allen bus bridge to Saratoga Springs, N.Y., would continue. Reportedly, nine buses are required for the Lake Shore transfer. The morning eastbound and midday westbound Empire Service trains will not operate beyond Albany.
Although Amtrak said the Lake Shore and Maple Leaf would operate, on Sunday evening only the westbound Lake Shore showed any available seats through Friday, Aug. 5, possibly because displaced passengers from the cancelled trains were still being accommodated.
Cumbersome detour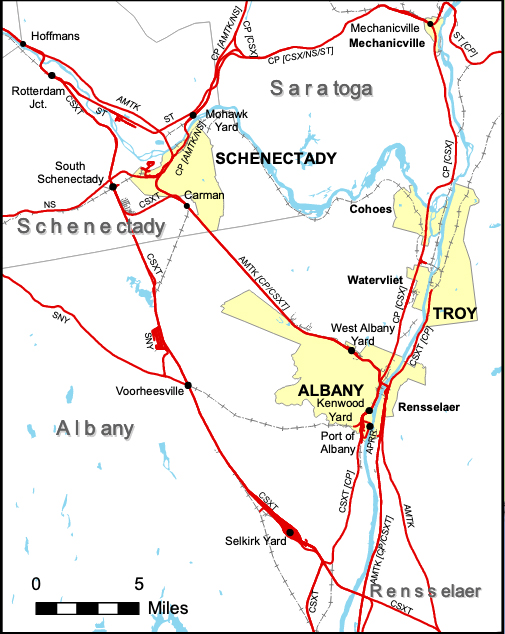 Is there another route? After Albany Union Station was closed in 1969 and the Albany-Rensselaer station was established on what had once been a freight bypass, the bridge across the Hudson River used by passenger trains was dismantled. This leaves  the former New York Central Lab Bridge past the warehouse as the only east-west option north of the station. Freight traffic to and from New England utilized the A.H. Smith Memorial Bridge, more than 10 miles south of the city, between Castleton-on-Hudson and Selkirk, to access Selkirk Yard from the former Boston & Albany "Post Road" tracks.
CSX trains still move that way through Selkirk to a point west of Schenectady at Hoffmans, N. Y., where the freight and passenger routes meet. If Amtrak trains were to detour through Selkirk and across the southern bridge from Hoffmans to a connection to north-south tracks on the east side of the Hudson to New York City, they would miss both Schenectady and Albany-Rensselaer.
Even then, the route through CSX's busy yard is mostly single track with lots of switching moves; it never was designed to handle passenger trains. There are two bypass tracks around the yard but they are often clogged. Sources tell News Wire that Amtrak is qualifying operating personnel to act as pilots, just in case a Selkirk detour option is considered. If that happens, however, trains would need to bypass Albany-Rensselaer or face a lengthy back-up move reaching the station from either the Boston or New York City routes. This would be especially problematic for the Lake Shore's Boston section, which had been previously slated for a bus substitution east of Albany this week because of track work.
Authorities are weighing the possibility of somehow protecting trains from falling debris, but for now, the city's state of emergency remains in effect, as do Amtrak's challenges.
— Update at 10:42 a.m. CDT  with additional details of area around Selkirk Yard.